Texas Supreme Court Blocks Abortion Providers From Challenging Law
The Texas Supreme Court ruled on Friday morning that abortion providers cannot sue state officials or regulators to overturn the law.
The court said that because state officials don't enforce the law, which relies on private civil actions in which officials and organizations are not allowed to be involved in enforcing penalties.
The law, which went into effect in September, bans abortions once a fetal heartbeat is detected, usually about six weeks into the pregnancy, before many women know they're pregnant.
It also allows lawsuits to be filed against the medical professional who performed the procedure, others who work at the clinic or anyone who "aids or abets" a woman seeking to have an abortion beyond six weeks, with a $10,000 reward if the suit is successful.
Data reported by Newsweek showed that the number of abortions plummeted by more than 3,000 cases in the first month of the law, and demand for abortion pills significantly increased in the months since one of the most restrictive abortion laws in the nation was enacted in September.
In the first eight months of 2021, between 4,200 and 5,600 abortions were reported per month in Texas, falling to just under 2,200 in September, according to state health department data reported by Newsweek.
"We have said from the beginning that abortionists' lawsuit should be dismissed," Texas Right to Life Director of Media and Communication Kimberlyn Schwartz said in a statement to Newsweek. "The Legislature clearly never intended state agencies to participate in enforcing the Texas Heartbeat Act, and the Supreme Court of Texas agreed.
"This is not the final step in the journey, as the case will now return to the Fifth Circuit Court of Appeals, but it affirms a positive path forward for the historic law. We're grateful that the Texas Heartbeat Act will continue saving thousands of lives, and we're hopeful that the judiciary will soon pave the way to protect all preborn children by overturning Roe v. Wade."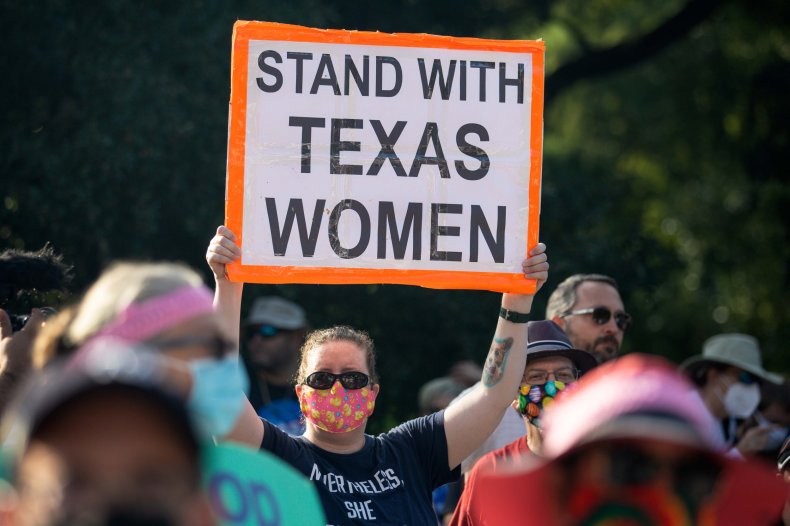 Last month, a Planned Parenthood of Greater Texas spokesperson told Newsweek that clinics in neighboring states belonging to Planned Parenthood saw an increase of more than 1,000 percent of patients coming from Texas ZIP codes in September compared to years prior.
The law has been the center of legal challenges since its inception, and has been sent back and forth between the U.S. and Texas supreme courts, as well as lower courts like the Fifth Circuit Court, which sent the case back to the Texas high court to answer the question it ruled on Friday.
"Today is a devastating day for people in Texas and anyone who believes in the right to control their own body, life, and future," Planned Parenthood President and CEO Alexis McGill Johnson said in a statement. "Over and over again the courts have failed Texans, who have been stripped of their fundamental right to abortion for more than six months now.
"Because of the U.S. Supreme Court's repeated refusal to intervene for more than half a year, Texans are living in a state of sustained chaos, crisis, and confusion — and there is no end in sight. Tragically, this attack on reproductive freedom now continues uninterrupted in Texas and across the country. Politicians have the green light to move forward with their own unconstitutional abortion bans, decimating access to abortion state by state, region by region."
The U.S. Supreme Court has declined to issue a definitive ruling on the law, addressing only portions of it while it also considers arguments it heard late last year over a Mississippi law that bans all abortions after 15 weeks.
The ruling in that case could have a significant impact on the Texas law, as well as current or pending abortion laws in dozens of other states depending on what impact the ruling has on the 1973 ruling in Roe v. Wade that guaranteed a woman's right to choose to have an abortion across the country.
Update 3/11/22, 1:16 p.m. ET: This story has been updated with additional information and context.