Texas Abortions Declined By More Than 3,000 Cases in First Month of New Law
Reported abortions in Texas fell by more than 3,200 in September of 2021, the first month that one of the most restrictive abortion laws in the country was on the books, according to newly released data from the Texas Health and Human Services Commission.
Nearly 2,200 procedures were reported in September, a sharp drop from the first eight months of the year, which averaged between 4,200 and 5,600 reported per month.
The new data shows the impact created by the Texas law that bans abortions without exceptions for rape or incest after cardiac activity is detected, which usually takes place around the sixth week of pregnancy.
Autumn Keiser, a spokesperson for Planned Parenthood of Greater Texas, said in a statement to Newsweek on Thursday that the first month of data "shows the very beginning of the devastating impact of S.B. 8, which has now been in effect for more than five months."
"It is unconscionable that thousands of Texans continue to be forced to travel hundreds of miles out of state to Oklahoma, New Mexico, Colorado, and other farther states to access their fundamental right to safe, legal abortion," Keiser wrote.
"Last September, Planned Parenthood health centers in surrounding states saw a 1,082% increase in patients with Texas zip codes seeking abortion compared to September 2019 and 2020. Every day that this devastating abortion ban remains in place means more Texans are denied the ability to determine when and how to become a parent along with increasing risk of poverty and negative health and educational outcomes."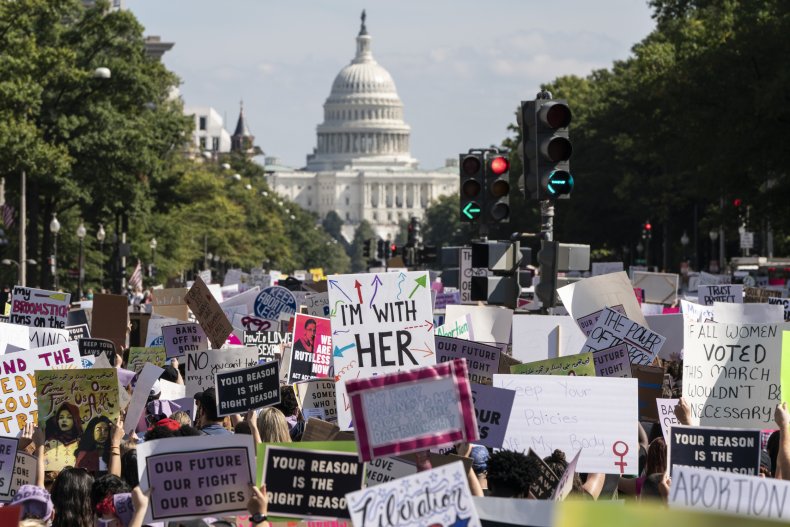 The data also aligns with the spike in patients reported by several abortion providers in neighboring states.
"We've heard from patients saying that some places that they've called to get care have a several-week waiting period," Dr. Bhavik Kumar, a Texas abortion provider, told Newsweek last month.
"We've heard from people who have traveled to another state and got into the clinic and found out that their appointments been canceled or rescheduled for some reason. They've had to make multiple trips back and forth to this clinic."
The Texas law has been the subject of several legal challenges up to and including the Supreme Court, which has refused to strike down the law as it considers a ruling in a separate case that could impact the Texas law.
The majority-conservative Supreme Court heard arguments in December over a Mississippi law that bans most abortions after 15 weeks, and is set to issue a ruling by this summer that could severely alter or entirely overturn the 1973 decision in Roe v. Wade that guaranteed a woman's right to have the choice to undergo an abortion.
Another controversial element of the Texas bill is the ability for private citizens to sue someone who performed an abortion or helped a woman receive one after the six-week restriction and receive $10,000 for doing so. Many have criticized the portion of the bill as allowing private citizens to pursue the lawsuits to receive the "bounty."
Last week, South Dakota lawmakers declined to hear a bill proposed by Republican Governor Kristi Noem that was similar to the Texas law, as they said it could complicate ongoing lawsuits the state is involved in over abortion restrictions and could be rendered irrelevant by the upcoming Supreme Court decision.
Significant restrictions are also being considered in states like Florida and South Carolina, among several others that have passed so-called "trigger laws," which would go into effect and restrict or outright ban on abortions if the Supreme Court overturns Roe.
Newsweek also reached out to Texas Right to Life for comment on the new data.
Update 2/10/22, 5:25 p.m.: This story has been updated with additional information and a statement from Planned Parenthood of Greater Texas.