Which States Have Banned Abortion After Supreme Court Overturned Roe?
After the Supreme Court overturned Roe v. Wade on Friday, abortion is expected to become illegal in about half of U.S. states where the constitutional right to terminate a pregnancy has not been codified into law.
Abortion-rights activists have long warned that allowing individual states to decide the legal status of abortion would immediately lead to bans in roughly 25 states.
Less than 10 minutes after the Court's ruling was released, Missouri became the first state to invoke its trigger law banning all abortions in the state, except in cases of medical emergencies. The 12 other states with trigger laws that would effectively ban all or most abortions are Arkansas, Idaho, Kentucky, Louisiana, Mississippi, North Dakota, Oklahoma, South Dakota, Tennessee, Texas, Utah and Wyoming.
Ten states had abortion bans before Roe, which could be enforced again, while five have near-total abortion bans that can now take effect.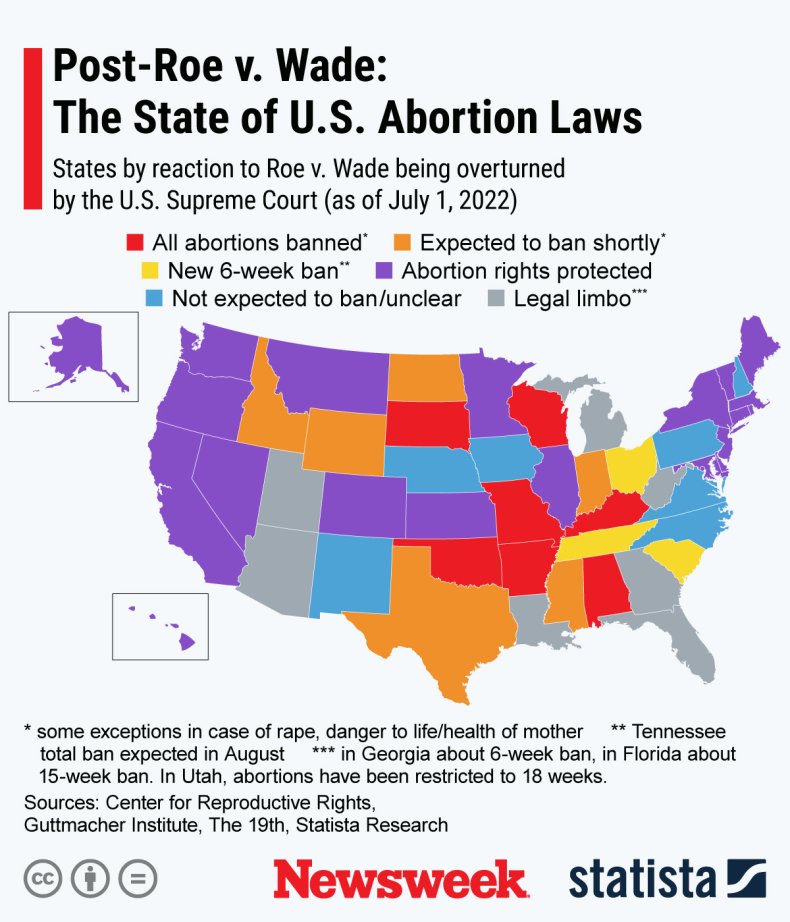 The above map from Statista shows expected state-level reactions to the overturning of Roe.
Here is a listing of the states that have begun limiting abortions following Friday's Supreme Court ruling:
Missouri
Missouri became the first state to end almost all abortions after state Attorney General Eric Schmitt issued an opinion triggering parts of a state House bill just minutes after the Supreme Court's decision.
"With this attorney general opinion, my Office has effectively ended abortion in Missouri, becoming the first state in the country to do so following the court's ruling," Schmitt said in a statement.
In his opinion, the attorney general said the state action "immediately restores Missouri's deeply rooted history and proud tradition of respecting, protecting, and promoting the life of the unborn."
"Missouri has been a national leader in the pro-life movement, and this leadership is reflected in its laws," Schmitt wrote.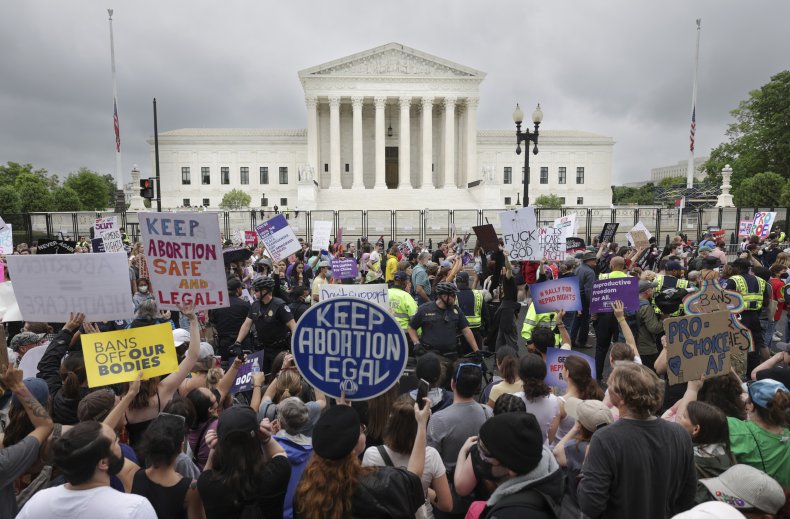 Louisiana
Attorney General Jeff Landry quickly followed Missouri's move on Friday, announcing that his state's trigger law banning abortion is officially in effect following the Supreme Court's Friday ruling in Dobbs v. Jackson Women's Health Organization.
"My office and I will do everything in our power to ensure the laws of Louisiana that have been passed to protect the unborn are enforceable, even if we have to go back to court," Landry said in a statement.
Under the law, anyone who provides or attempts to provide an abortion service could be charged with a felony punishable by up to 10 years in prison and fined between $10,000 and $100,000.
However, enforcement of the trigger law was temporarily blocked by a judge on Monday after a lawsuit was filed by the Center for Reproductive Rights, so abortions can continue for now. The next hearing is set for July 8.
South Dakota
Governor Kristi Noem confirmed that her state's trigger law would go into effect following Friday's ruling. She said all abortions in South Dakota are illegal "unless there is appropriate and reasonable medical judgment that performance of an abortion is necessary to preserve the life of the pregnant female."
Noem said the Legislature would hold a special session later this year to help mothers affected by the decision "know that there are options and resources available for them."
"Together, we will ensure that abortion is not only illegal in South Dakota—it is unthinkable," Noem said in a statement.
Kentucky
Kentucky is one of three states with a trigger law that goes into effect immediately, without further action by the Legislature. The other two are Louisiana and South Dakota.
The state's abortion ban makes exceptions only if a pregnant woman's life is in danger or if a provider performs a medical treatment that accidentally terminates a pregnancy.
The American Civil Liberties Union's branch in Kentucky announced that it would bring a legal challenge against the state's trigger law, arguing that "the Kentucky Constitution allows for the legal right to access abortion."
"Whatever shifting barriers anti-abortion judges and politicians put before us, we will never stop fighting for people's ability to make their own reproductive health care decisions, including whether and when to become parents," staff attorney Heather Gatnarek said in a statement.
Alabama
State Attorney General Steve Marshall said that state laws against abortion that have not been prohibited by a court are now in "full effect"—a reference to Alabama's pre-Roe ban, which prohibits all abortions except to save the life of the pregnant woman.
He also signaled that the state would move to lift blocks on a 2019 abortion ban, saying that his office "will immediately file motions to dissolve those injunctions."
"Any abortionist or abortion clinic operating in the State of Alabama in violation of Alabama law should immediately cease and desist operations," Marshall said in a statement.
Oklahoma
Oklahoma Attorney General John O'Connor certified the Supreme Court's decision to overturn Roe on Friday morning in his state, officially outlawing abortion under state statutes that make abortion at any stage a felony and punishable by prison time.
"Consistent with my oath and to fulfill my duties as the chief law officer of the State of Oklahoma, I will begin enforcement efforts immediately," O'Connor wrote in a certification letter sent to Governor Kevin Stitt, President Pro Tempore Greg Treat, Speaker Charles McCall and Secretary of State Brian Bingman.
Stitt, who has vowed to sign every piece of anti-abortion legislation that comes across his desk, signed Senate Bill 1555 into law in April. The law was set to go into effect as soon as O'Connor determined that Roe had been reversed.
Abortions in Oklahoma had already been civilly banned since May, except in cases of rape, sexual assault or incest or if they are necessary to save the life of the mother.
Arkansas
Attorney General Leslie Rutledge was joined by Governor Asa Hutchinson as she certified the overruling of Roe, effectively banning all abortions in the state except in cases to save the life of the pregnant woman.
Rutledge commended her state for being prepared to move swiftly on changing laws after Roe was overturned.
"Arkansas is already ahead of the curve," she said at a Friday news conference. "We were prepared in 2019 for this Court's opinion. It's almost as if we had a crystal ball, and I'm so glad we had that wisdom and guidance to have this ready."
Ohio
Attorney General Dave Yost said Friday evening that the state's 2019 "heartbeat bill"—which bans abortion after fetal cardiac activity is detected (about six weeks into pregnancy)—would take effect immediately. Previously, the law could not take effect because of Roe.
Ohio Republicans, who hold a supermajority in the Legislature, are also considering whether to pursue an all-out ban on abortion after lawmakers return to session in September. A successful vote could put the total ban into effect early next year.
Utah
The state implemented its trigger law on Friday, banning all abortions except in rare circumstances "involving rape, incest or medical emergency," after the Legislature's general counsel determined the law now "meets the legal requirements to take effect." The law also makes it a second-degree felony to perform an abortion.
While there are exceptions, they are so narrowly written that doctors say they do not protect most patients with medical complications. Also, victims of sexual assault can seek an abortion only if they have filed a police report.
A day after the law went into effect, the Utah branch of Planned Parenthood filed a lawsuit against it, seeking a temporary restraining order and injunctive relief to prevent it from being enforced.
Saying that the trigger law violates the state's constitution, the state branch argued that Utah residents have rights that include the "right to determine the composition of their families and whether and when to become parents [and] their entitlement to be free from discriminatory state laws that perpetuate stereotypes about women and their proper societal role."
On Monday afternoon, a judge granted a temporary restraining order immediately blocking the state's ban from being enforced for 14 days while a preliminary injunction is scheduled.
Mississippi
Mississippi—the state in the Dobbs v. Jackson Women's Health Organization case that led to the overturning of Roe—certified that the state's trigger law will take effect July 7, effectively banning abortions except in cases to save the life of the mother or in cases of rape or incest.
"Mississippi's laws to promote life are solid and thanks to the Court's clear and strong opinion in Dobbs v. Jackson Women's Health Organization, they can now go into effect," Attorney General Lynn Fitch said in a press release. "We argued before the Court in December that it was time to end special rules for abortion cases, and we are pleased that the Court did just that, returning this important issue to the people to decide through the political process."
Diane Derzis, the owner of Jackson Women's Health, told WLBT on Monday, "The law in Mississippi says we have 10 days to remain in business from the moment the attorney general signs the certification. So that means that we will be open for the next 10 days, and we will be seeing patients for the next 10 days."
South Carolina
On Monday, state Attorney General Alan Wilson confirmed to WLTX that South Carolina's Fetal Heartbeat Act, which bans abortion once a heartbeat is detected, has taken effect. Courts had previously blocked it from being enforced because of the Roe precedent.
Governor Henry McMaster has perviously voiced support for a stricter statewide ban that does not allow exceptions for rape or incest. Following Friday's ruling, he said that he would "immediately begin working with members of the General Assembly to determine the best solution for protecting the lives of unborn South Carolinians."
"Knowing the membership, the body [of the state Legislature]...I would be surprised if we don't have further legislation," Republican Speaker Pro Tempore Tommy Pope told WBTV.
Tennessee
A court allowed the state's six-week abortion ban to take effect on Tuesday, after a long-standing injunction from a lower court was lifted.
The state attorney general's office had filed an emergency motion just hours after Roe was overturned on Friday, arguing that the state "has a valid interest in protecting the lives of unborn Tennesseans."
The state is now expected to enforce two different abortion laws—the other being a pre-Roe ban that goes into effect 30 days after Friday's decision—in less than one month. Doctors can face felony charges under both.
Iowa
On Tuesday, Governor Kim Reynolds asked a court to lift an injunction on the state's "fetal heartbeat" abortion ban that was ruled unconstitutional in 2019. At the time it was signed into law, it would have been the most restrictive abortion law in the country, but it never went into effect.
Under current law, abortions in Iowa are banned after 20 weeks of pregnancy, with saving the life of the mother the only exception.
North Dakota and Wyoming
These two states—along with Missouri, Oklahoma, Arkansas, Utah and Mississippi—have trigger bans that would go into effect with certification from a state attorney general, governor or other specified official now that Roe has been overturned.
Wyoming would need certification by the governor, while North Dakota would require a recommendation from the attorney general, which would then need to be approved by the legislative council.
Indiana
On Tuesday, Attorney General Todd Rokita asked the courts to lift injunctions against several abortion laws in the state, including:
bans on abortions based on race, sex or disability
bans on a common second-trimester abortion procedure that Rokita's office referred to as a "dismemberment abortion"
a requirement that parents be notified if a court allows a minor to get an abortion without parental consent.
"Indiana has a long history of defending life," Rokita said in a statement, "and the Supreme Court has recognized these contributions. Indeed, the Dobbs decision expressly cited multiple Indiana cases — such as our battles to outlaw discriminatory abortion and require respectful disposition of the bodies of aborted babies."
Idaho and Texas
These two states, as well as Tennessee, have bans that are expected to go into effect 30 days after the overturning of Roe.
Since September, Texas has banned abortions after about six weeks of pregnancy, with enforcement through civil actions. But the state could see a pre-Roe abortion ban take effect in the next month.
On Monday, Planned Parenthood filed a lawsuit in Idaho's Supreme Court to try to block the state's trigger law from taking effect once the 30 days are up.
Georgia
On Friday afternoon, Georgia Attorney General Chris Carr filed a brief asking the U.S. Court of Appeals for the 11th Circuit to lift the injunction against his state's heartbeat bill, which bans abortions at six weeks of pregnancy.
While abortion remains legal in Georgia, state Democrats have begun sounding the alarm that procedures could soon be criminalized once the six-week ban goes into effect.
"As of today, the threats to our right to choose are no longer theory," gubernatorial nominee Stacey Abrams said in a video shared on her social media. "It is a fact that in Georgia forced pregnancy is now the law of this state."
She went on, "As your next governor, I will continue to defend a woman's right to choose and to protect the rights of all."
She noted that her Republican opponent, Governor Brian Kemp, signed the heartbeat bill into law in 2019.
Update 6/24/22, 3:23 p.m. ET: This story was updated to include Oklahoma, Arkansas and Georgia.
Update 6/27/22, 2 p.m. ET: Updated to include Ohio, Utah and Mississippi, as well as the news that Louisiana's trigger law was blocked by a lawsuit.
Update 6/27/22, 5:48 p.m. ET: Updated to include South Carolina, as well as the news that Utah's trigger law was blocked by a lawsuit.
Update 6/28/22, 1:01 p.m. ET: Updated to include Tennessee.
Update 6/28/22, 3:48 p.m. ET: Updated to include Iowa, Indiana and the lawsuit in Idaho.