Missouri Bans All Abortions Minutes After SCOTUS Ruling Overturning Roe
Minutes after the Supreme Court struck down Roe v. Wade Friday morning, Missouri became the first state to invoke a trigger law banning all abortions in the state, except in cases of medical emergency.
Missouri Attorney General Eric Schmitt issued an opinion that would trigger parts of a state House bill that outlaws almost all abortions in the state, with no exceptions for rape or incest.
"With this attorney general opinion, my Office has effectively ended abortion in Missouri, becoming the first state in the country to do so following the court's ruling," Schmitt said in a press release.
He announced the move on Twitter at 10:16 a.m., less than 10 minutes after the Supreme Court's ruling was released.
Schmitt's quick action in Missouri is what abortion rights advocates had feared and warned would happen if Roe, which legalized abortion nationally in 1973, was overturned by the Supreme Court. Twelve other states have similar trigger laws that would place a near-total ban on abortion once the protections under Roe end.
In a statement responding to Friday's court ruling, Planned Parenthood said the decision "opens the floodgates for states across the country to ban abortion."
Quoting Justice Stephen Breyer in his dissent, the nation's largest single provider of reproductive health services responded, "For millions of women, Roe and Casey have been critical in giving them control of their bodies and their lives. Closing our eyes to the suffering today's decision will impose will not make that suffering disappear."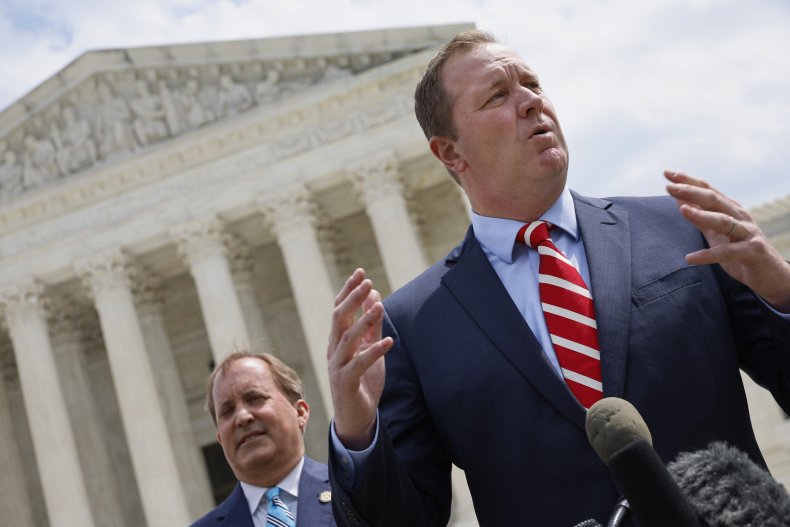 While signing his opinion, Schmitt called Friday "a monumental day for the sanctity of life."
"This opinion immediately restores Missouri's deeply rooted history and proud tradition of respecting, protecting, and promoting the life of the unborn," the attorney general wrote. "Missouri has been a national leader in the pro-life movement, and this leadership is reflected in its laws."
Shortly after Schmitt's announcement, attorneys general in Louisiana and Arizona also signaled they would follow suit.
"My office and I will do everything in our power to ensure the laws of Louisiana that have been passed to protect the unborn are enforceable, even if we have to go back to court," Louisiana Attorney General Jeff Landry said as he announced that the state's trigger law was officially in effect.
"As the chief legal officer for our state, I will continue defending Louisiana's pro-life laws and working to ensure the health and safety of women and their babies," he added.
On Friday morning, Arizona Attorney General Mark Brnovich said his state's 15-week ban on abortion would go into effect in about 90 days, while not explicitly saying if the pre-Roe ban in Arizona is now in effect.
Update 6/24/22, 11:35 a.m. ET: This story has been updated with additional information and background.