Full Text of Supreme Court Ruling Overturning Roe v. Wade
The U.S. Supreme Court on Friday formally overturned its 1973 decision in Roe v. Wade that legalized abortion nationwide.
The decision arrived not long after Politico published in May a leaked draft opinion that showed a majority of the Court's conservative justices were poised to strike down Roe. Their decision came after hearing arguments on a Mississippi law that was a direct challenge to the landmark abortion-rights case.
Roe protected women who seek an abortion "without undue restrictive interference from the government," as guaranteed under the 14th Amendment. The 1992 decision in Planned Parenthood v. Casey, which mostly protected that same right, is also repealed under the Court's new ruling.
Read the full text of the ruling below, using the sidebar to scroll through the opinion:
President Joe Biden has indicated that he has explored using an executive order to help women seeking abortions.
"I don't think the country will stand for it," Biden said during a June 8 appearance on Jimmy Kimmel's talk show. "There's some executive orders I could employ, we believe. We're looking at that right now."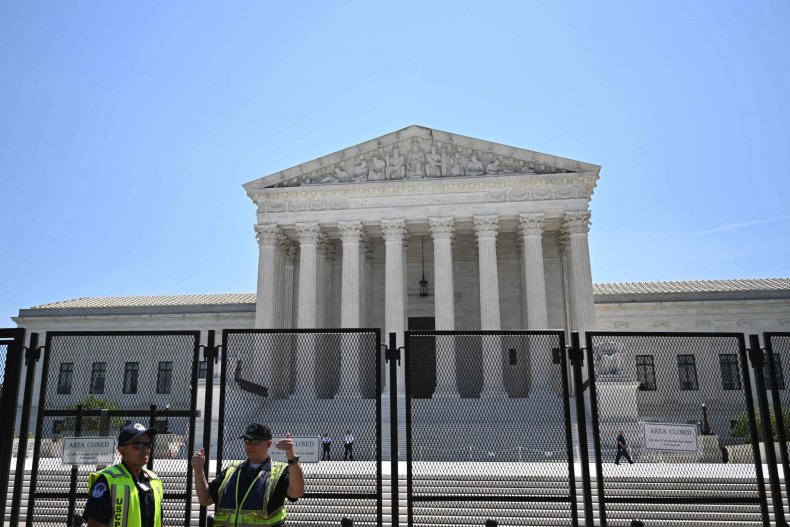 White House press secretary Karine Jean-Pierre also addressed the possibility of such action during a June 16 briefing. She said, "The administration continues to explore every possible option in response to the anticipated Supreme Court decision."
Newsweek spoke with Doron Kalir, a clinical professor of law at Cleveland State University whose scholarship has focused on such topics as statutory interpretation and federal courts, about possible moves Biden and progressive Democrats could make to protect the right to an abortion.
"There are talks right now about a current reaffirmation of Roe via the Congress. That's a pie in the sky. Not even all the Democrats are united in terms of abolishing the procedural means that will prevent them from doing that," Kalir said.
"So since Congress is not going to enact the right to an abortion federally, state laws will be free to enact their own, and then there's really no recourse, legally, to do so," he said.
The case that led to the Supreme Court's decision to overturn Roe is Dobbs v. Jackson Women's Health Organization. Last December, the court heard arguments in the Mississippi case, which centered on a state law that makes most abortions illegal after 15 weeks of pregnancy, or about two months earlier than the period specified in Roe.
The Mississippi Legislature enacted the law in 2018, but it never went into effect because of legal challenges. The Jackson Women's Health Organization provided evidence to a federal appeals court that showed that fetal viability is not possible at 15 weeks. In 2021, Thomas Dobbs, the state health officer at the Mississippi Department of Health, filed a petition to the Supreme Court, which then took up the case.