A Supreme Court draft opinion that was leaked earlier this week showed that a majority of justices are poised to strike down Roe v. Wade nearly 50 years after the ruling in the landmark case was issued.
In the opinion, which was obtained by Politico and later confirmed as authentic by the court, Justice Samuel Alito writes that "Roe was egregiously wrong from the start." While the court has stressed that the draft opinion does not reflect a final decision, the prospect that the U.S. could soon roll back abortion rights has raised many questions about how, when, and where Americans could be impacted if Roe v. Wade is struck down.
Newsweek spoke with Doron Kalir, a clinical professor of law at Cleveland State University whose scholarship has focused on topics such as statutory interpretation and federal courts, to answer some of those questions.
If Roe v. Wade is overturned, what changes in the U.S. will we see immediately?
I think there are three steps that we're about to see gradually. The first is that 28 states already have trigger laws in the making or already on the books, just awaiting the day in which the court will indeed confirm that this draft opinion is the majority opinion of the Supreme Court. On that day, 28 state laws will spring into action and we'll have different levels of restrictions, but basically it will eliminate the right of abortion across those states.
The second stage will be the fight for personhood. That will be the notion that the unborn life is a person under the Constitution and therefore should receive all the protections under the 14th amendment and otherwise. That will turn the act of abortion actually into active murder, and that will criminalize abortion. So, from a Constitutional affirmative right, the act of abortion will turn into a negative criminal activity.
Finally, I think that the final goal would be a federal ban on abortion. So, instead of what we're talking about now, which is a federal acknowledgement or reaffirming of Roe v. Wade, the third stage of overruling Roe v. Wade after acknowledging personhood would be a federal ban on on abortions across all 50 states, which is the opposite of what we have now.
How would a federal ban come into being and what would it entail?
Presumably, under a Republican-controlled Congress and a Republican president. Not now of course, but in years to come. That will be one of the major policy and talking points that is already in the making, if you're reading or listening to that kind of talk radio.
So, we will have a federal prohibition across all 50 states, which, again, would negate even this opinion by the Supreme Court, which is extremely, extremely unusual in that it allows most of the states to restrict abortion. Some states actually have confronted that with countermeasures, affirming the right for abortion and welcoming people from other states to do so. But a federal ban on abortion, if it arrives, and I hope it won't, will prohibit that as well. We're really looking at a series of steps that only begins with the decision of today.
If Roe v. Wade is overturned, do you expect more states to move to restrict abortion rights?
I think that it's a great talking point and it seems to be a good selling point for many nominees in red states. I think that, very interestingly, the next issue on the ballot or on the agenda is to restrict not only the right to an abortion in their own states, but to attempt to dissuade people from traveling to other states to gain an abortion.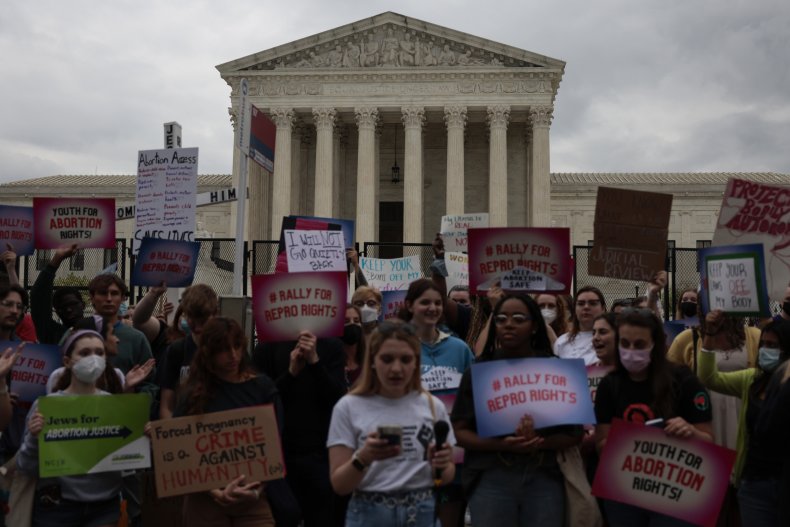 Would you expect those restrictions to be more along the lines of outright bans or be modeled after Texas and Oklahoma, where it's more on civilians to enforce?
It's a very interesting question. I'll answer it in two ways. The restriction in Texas is temporary in that it is enforced by vigilantes because they knew that the state officials cannot enforce that ban simply because, on the books, there was a constitutional right for an abortion. So, once a state official would have enforced that ban, you could have gone to court and issued an injunction against them. This whole scheme that they built — that people would tell on each other — was designed to bypass this restriction on state officials to enforce an abortion. No such restriction will happen the day the Supreme Court will affirm this [draft] opinion, and therefore I really expect that Texas will have a complete ban on abortion.
In terms of whether it will be a nuanced ban starting at 15 weeks like the Mississippi law at issue or an outright restriction, including no exception for rape and incest — which I must stress is horrific — I think that the states will start to do what is called a race to the bottom where each governor from a conservative state will claim that he is the one that restricts the most. Very soon, that race to the bottom will end with a complete restriction in almost every red state on the entirety of abortion from the beginning with no exceptions, which, of course, is almost dystopian. I mean, we're talking about it as if that's what's going to happen, but as we are standing today in 2022, the United States is literally looking at going backwards 50 years in terms of women's rights, in terms of human rights, in terms of equality, in terms of progress. But if you're asking me what the states will do, they will race to the bottom. Each conservative [state] House and governor will declare that they are the ones that are more restrictive than others, and so they will have to compete. Very quickly, it will devolve into a complete restriction in every red state.
Without Roe v. Wade in place, is there any legal recourse for people to challenge state laws?
Very little. The way this Supreme Court opinion is written currently, and Justice Alito referred to that, the federal test in order to validate those restrictions would be a rational basis test, which is literal speak to "anything goes." When you have a rational test, that means that the state can declare almost any rational at once. As long as that rational basis can stand the smell test, it's fine. Women's health, interstate commerce, anything that the state comes up with, unless proven to be wrong and that it's almost an impossibility legally, the court will allow such legitimate state interests to survive. Therefore, there will be really no recourse.
There are talks right now about a current reaffirmation of Roe via the Congress. That's a pie in the sky. Not even all the Democrats are united in terms of abolishing the procedural means that will prevent them from doing that. So, since Congress is not going to enact the right to an abortion federally, state laws will be free to enact their own, and then there's really no recourse legally, to do so. Maybe in 10 years, in 15 years, maybe in 30 years, the Supreme Court personnel will again be replaced and new justices will think that it wasn't such a bad idea to protect women's rights. Maybe then we will restore Roe v. Wade, and then all those state laws again will be put on the shelf until a conservative majority again takes control of the court.
Circling back to the travel aspect, many are worried that if Roe v. Wade is overturned, people in areas with strict bans will be prohibited from traveling out of state to get an abortion. Do you think this is a valid concern, and if so, how would those laws work?
This is an incredibly valid concern. First, I wanted to suggest that the right to travel is a right that exists on the book, but for many women in this country — those who can't leave their job or two jobs for the few days that they would require in order to travel and don't have the means to do it, and maybe would have to leave a kid at home —it's simply an impossibility even under the best circumstances. Think of traveling from a state like Texas, which is huge, even to neighboring states. This is truly unfortunate that even under the best circumstances, many women in this country would not be able to travel to the nearest abortion clinic, which may not be near at all. But even that, Missouri and other states say, is not good enough because they may sue you if you are going to go to another state. Their rationale, just to explain it, is that: "We wouldn't allow you to go to another state to steal or to murder someone. Therefore, we would not allow you to go and commit that crime." But it's absolutely not a crime to have an abortion. In fact, as we speak here today, it's still a constitutional right.
If it goes to the states, it means that it is allowed in certain states. Therefore, I really cannot understand the rationale of those who would say: "If you move across state lines, we will sue you." The means to enforce [travel restrictions] is both statewide and in terms of vigilantes, meaning people will tell on other people, on their neighbors. "I know she went to to the next state over and returned after having an abortion." And they will be allowed to sue them in court. If you're asking me how courts would decide in those cases, it's anyone's guess. I would suggest that the lower courts would protect women's rights to travel across state lines because this is the controlling United States Supreme Court precedent and common sense. But if you're asking me what would happen when this case eventually arrives again at the hands of Justice Alito, I cannot say. I would probably say that he would write: "When we said that there was a right to travel, we never intended that that would be the right to travel in order to commit something that we just declared so wrong."
Some have voiced concerns that the overturning of Roe v. Wade could put other landmark decisions or precedents like same-sex marriage and contraception on the line as well. What do you think is the likelihood that overturning Roe could lead to other freedoms like these being imperiled?
I think the answer to that, and my hair stands as I'm saying it, is absolutely yes. Perhaps the most frightening thing about this opinion, and there are many, is the ease with which Justice Alito waives his magic wand and strikes out 50 years of established jurisprudence. Many a justice on the Supreme Court did not feel religiously, or perhaps even morally, that abortion is the right thing to do. Yet they knew well to separate their moral convictions and religious beliefs from the law of the land. This is no longer the case. We have a majority on the Supreme Court that is exceptionally religious. Five out of the six are Catholic, and they believe that their religious beliefs and their moral convictions should dictate the law of the land. With a stroke of a pen, they can reverse 50 years of jurisprudence that suggests that women have the right of autonomy over their own body.
I think that the opinion is wrong on many levels, but that perhaps is the most infuriating of it all, that it puts in danger decades and decades of civil rights and human rights in this country that [could be] eliminated with a stroke of a pen by one justice. We'll have to see if this is the Supreme Court majority opinion, but I think that that strikes a blow at the heart of the entire edifice of progress in this country and may lead us back decades, if not centuries.
Responses have been lightly cut and edited for clarity.