What Joe Biden Has Said About Roe v. Wade
President Joe Biden has repeatedly committed to upholding the landmark abortion rights decision in 1973's Roe v. Wade and promised to codify reproductive rights into law.
The president's commitment could soon be tested after Politicopublished what appeared to be a draft majority opinion from the Supreme Court striking down Roe and the follow-up case, Planned Parenthood v. Casey, which largely affirmed the finding in Roe.
Biden has pledged his support for abortion rights and argued that the Court's decision in Roe must be upheld and he has also criticized attempts to unpick the landmark case.
In January, Biden issued a joint statement with Vice President Kamala Harris on the 49th anniversary of the Roe decision, saying the constitutional right to an abortion "is under assault as never before."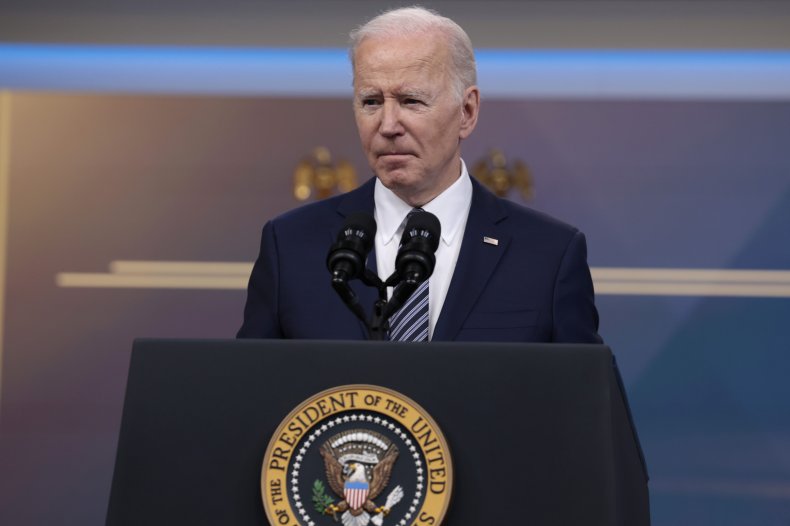 "It is a right we believe should be codified into law, and we pledge to defend it with every tool we possess," the statement said. "We are deeply committed to protecting access to health care, including reproductive health care—and to ensuring that this country is not pushed backwards on women's equality."
That statement pointed to abortion restrictions in Texas and Mississippi—the Mississippi law is the subject of the leaked draft opinion—and said the administration "strongly supports efforts to codify Roe."
"We must ensure that our daughters and granddaughters have the same fundamental rights that their mothers and grandmothers fought for and won," Biden and Harris said.
The statement also expressed support for the Women's Healthcare Protection Act, a bill would codify abortion rights into law.
The legislation was passed by the House of Representatives but Republicans in the Senate successfully prevented it from advancing further.
Biden has made similar statements in support of Roe in the past, often via his official Twitter account. He took specific aim at the Texas Senate Bill (SB) 8, which effectively bans all abortions after six weeks of pregnancy, on the day the law went into effect, on September 1, 2021.
"Texas law SB8 will significantly impair people's access to the health care they need—particularly for communities of color and individuals with low incomes," Biden tweeted.
"We are deeply committed to the constitutional right established in Roe v. Wade and will protect and defend that right," the president said.
In December, a majority of the Supreme Court justices declined to grant a stay of SB 8 while a challenge to it makes its way through the lower courts. The law has an unusual enforcement mechanism that does not involve state officials but empowers private individuals to sue anyone who "aids or abets" and unlawful abortion.
Those who sue successfully could be paid at least $10,000 in what critics of the law have described as a bounty.
The president has also previously said he wants to enshrine abortion rights in law, tweeting on the 47th anniversary of the ruling in January, 2020: "We must codify Roe into law and fight back against any state laws that violate it."
And in October, 2020, Biden wrote: "Roe v. Wade must remain the law of the land."
That tweet also contained a video of Biden answering a question at a town hall event. When he was asked about the possibility of Roe being overturned, Biden said: "The only responsible response to that would be to pass legislation making Roe the law of the land. That's what I would do."
The leaked draft opinion on Roe is not final and the Court's ultimate decision will not be known until the justices release their formal opinion. If Roe is overturned, Biden may face even greater pressure to protect abortion rights at the federal level.
Many Democrats have already called for Roe to be codified through legislation in reaction to the Politico report, and some have said the Senate filibuster should be abolished to accomplish this.
Newsweek has asked the White House for comment.
Follow Newsweek's live blog for the latest updates on Roe v. Wade.