Senator Bernie Sanders and Representative Alexandria Ocasio-Cortez have led calls for abortion rights to be protected through legislation following an apparent leak of a draft Supreme Court decision that would overturn 1973's Roe v. Wade.
Sanders, the independent senator for Vermont who caucuses with the Democrats, took to Twitter on Monday and called for Roe to be codify in federal law following the release of the draft by Politico, while Ocasio-Cortez was quick to make the same suggestion.
"Congress must pass legislation that codifies Roe v. Wade as the law of the land in this country NOW," Sanders wrote. "And if there aren't 60 votes in the Senate to do it, and there are not, we must end the filibuster to pass it with 50 votes."
"People elected Democrats precisely so we could lead in perilous moments like these- to codify Roe, hold corruption accountable, & have a President who uses his legal authority to break through Congressional gridlock on items from student debt to climate," Ocasio-Cortez tweeted.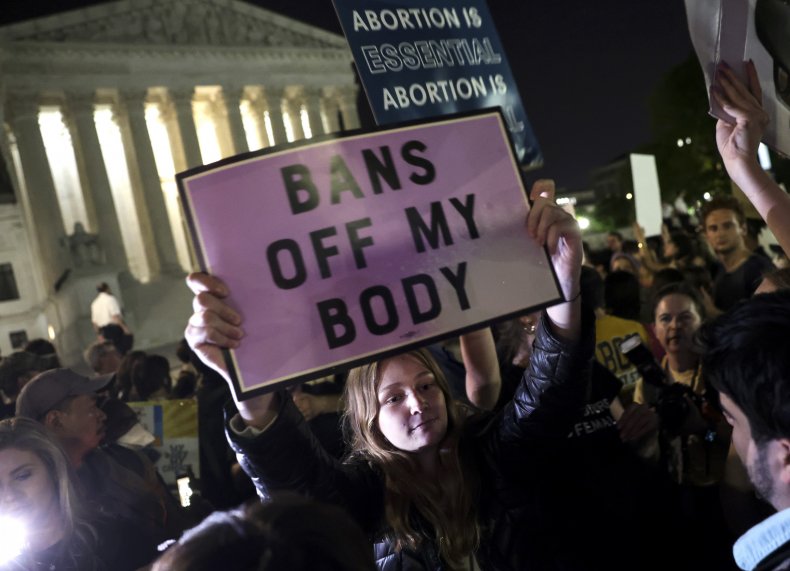 "It's high time we do it," she said. The Democrat, who represents New York's 14th district, added: "If we don't, what message does that send? We can't sit around, finger point, & hand wring as people's futures + equality are on the line."
"It's time to be decisive, lead with confidence, fight for a prosperous future for all and protect the vulnerable," she said. "Leave it all on the field."
Sanders' call to end the Senate filibuster may indicate the high political stakes if the draft opinion obtained by Politico is an accurate reflection of the Court's intentions.
It would be necessary to reform the filibuster if Democrats are to have any chance of passing federal legislation that codifies similar rights to those guaranteed by Roe and the follow up ruling Planned Parenthood v. Casey.
Other Democratic members of Congress also called for action, with Representative Ted Deutch of Florida's 22nd district saying a ruling striking down Roe "would mark a giant leap back in time for women and for America."
"As 'the people's elected representatives,' we must act," Deutch tweeted.
Representative Tony Cárdenas of California's 29th district called on the Senate to pass the Women's Healthcare Protection Act. That bill would codify abortion rights in law. It was passed by the House but Republicans in the Senate successfully prevented its advancement.
"It's long past time the Senate pass the Women's Health Protection Act to protect abortion access in every state. The clock is ticking," Cárdenas wrote.
Senators Raphael Warnock of Georgia and Richard Blumenthal of Connecticut both called on the Senate to pass that legislation in tweets on Monday, while Senator Amy Klobuchar of Minnesota said the Senate must "codify Roe v Wade into law."
Senator Kirsten Gillibrand of New York tweeted: "We must codify the right to an abortion into federal law—even if it means eliminating the filibuster."
Representative Jan Schakowksy of Illinois' 9th district tweeted: "Roe was not the start of abortions, it was the end of women dying from them. We must and we will fight back with everything we've got. The Senate must end the filibuster and codify Roe into law."
Representative Marilyn Strickland of Washington's 10th district said: "Access to reproductive health care is a fundamental right."
"Congress must codify Roe into law. I will continue fighting to ensure that happens," she wrote.
On Monday, Politico obtained what it described as a draft of a majority opinion written by Associate Justice Samuel Alito in February in an unprecedented leak from the nation's highest court.
That 98-page draft opinion showed a majority of the justices appeared poised to overturn the landmark abortion rulings in Roe and Casey.
Citing "a person familiar with the court's deliberations," Politico reported that Justices Clarence Thomas, Neil Gorsuch, Brett Kavanaugh and Amy Coney Barrett had voted with Alito in conference.
The Court has been considering the constitutionality of a Mississippi law that bans most abortions after 15 weeks of pregnancy. However, if the leaked draft is genuine, that does not mean the Court has made its final decision. That will not be known until the justices release their formal opinion.
The Supreme Court has not yet commented on the draft opinion and the legislative steps available to Democrats if Roe is overturned are not immediately clear.
Speaker of the House Nancy Pelosi and Senate Majority Leader Chuck Schumer released a joint-statement on Monday saying that if the report of conservative justices voting to overturn Roe was accurate this "would go down as an abomination, one of the worst and most damaging decisions in modern history."
Update 05/03/22 04.29 a.m. EDT. This article was updated to include comments from Democratic members of Congress and information about the joint-statement by Nancy Pelosi and Chuck Schumer.