The District Department of Transportation in Washington, D.C., announced Friday that the Frederick Douglass Memorial Bridge is closed due to "safety concerns" after a Roe v. Wade protest blocked the bridge, which is south of the U.S. Capitol.
The closure is expected to remain until further notice, according to the department. Meanwhile, the Metropolitan Police Department initiated a full departmental activation through Tuesday in response to the protests at the U.S. Supreme Court, according to a statement by the D.C. police department.
The department added that the D.C. Homeland Security and the Emergency Management Agency are actively monitoring the situation and sharing information with federal partners.
The law enforcement response came shortly after the Supreme Court ruled Friday morning in Dobbs v. Jason Women's Health Organization to overturn the nearly 50-year-old Roe v. Wade decision that allowed women to have abortions nationwide.
The landmark 1973 ruling protected women who are seeking an abortion "without undue restrictive interference from the government," guaranteed under the 14th Amendment. Planned Parenthood v. Casey from 1992, which mostly protected the same rights, was also repealed under the new court decision.
The SCOTUS decision came nearly a month after Politico obtained a leaked draft in early May stating a majority opinion of the court's justices who backed overturning Roe v. Wade.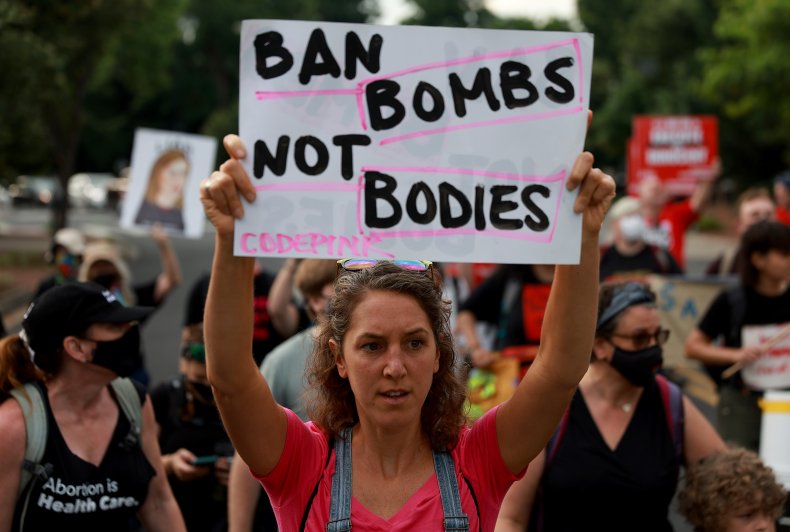 "We hold that Roe and Casey must be overruled," Associated Justice Samuel Alito wrote in the leaked draft opinion that he also authored. "It is time to heed the Constitution and return the issue of abortion to the people's elected representatives."
After the SCOTUS opinion was leaked, abortion-rights and anti-abortion rights protests broke out across the country and large crowds rallied outside the Supreme Court. Some activists also protested outside the homes of Justices John Roberts and Brett Kavanaugh.
Now that Roe v. Wade has been overturned, some states could enact their so-called "trigger" laws to ban women from having abortions. This means that the procedure would become immediately illegal or restricted in 13 states and potentially more because some states still have the pre-1973 bans on their books that could instantly go into effect.
The 13 states are Arkansas, Idaho, Kentucky, Louisiana, Mississippi, Missouri, North Dakota, Oklahoma, South Dakota, Tennessee, Texas, Utah and Wyoming. Alabama and West Virginia don't have trigger laws but have constitutions that ban abortion rights' protections.
A recent poll found that almost 24 percent of men believe that a woman should be charged with murder if she gets an abortion. The finding comes as part of an Economist/YouGov poll that surveyed 1,500 Americans, from May 8 to May 10, asking whether they think "that a woman who has an abortion that violates state law should or should not be charged with murder?"
Twenty-five percent of men said they are "not sure" while 51 percent said that women who get abortions shouldn't be charged with murder.
Update 6/24/22, 1:30 p.m. ET: This story was updated with additional information.