Video of Abortion-Rights Rally Outside Kavanaugh's House Tops 2M Views
A video showing abortion-rights activists rallying outside the home of Supreme Court Justice Brett Kavanaugh this weekend has been viewed more than 2 million times.
Activists have planned several protests outside of the residencies of conservative justices after a leaked draft opinion outlining their intention to overturn the landmark Supreme Court case Roe v. Wade was made public earlier this week. Abortion-rights supporters have blamed the issue on the makeup of the court, which is currently comprised of six conservative leaning justices, including Kavanaugh, and three liberal leaning justices.
Outside of Kavanaugh's home in Chevy Chase, Maryland, on Saturday, a group of abortion-rights activists were seen carrying signs while chanting, "We will not go back."
"You don't get to take away my bodily autonomy and get [to] enjoy your Saturday at home. You can do one or the other," one protester, Nikki Enfield, told local news station WUSA9.
Another protester, Lacie Wooten-Holway, told The Washington Post Saturday that Kavanaugh is her neighbor, and that she organizes candlelit gatherings in front of his house. Wooten-Holway said she feels obligated to do so, as she has had an abortion and is a survivor of sexual assault.
"I organize peaceful candlelit vigils in front of his house....We're about to get doomsday, so I'm not going to be civil to that man at all," she said.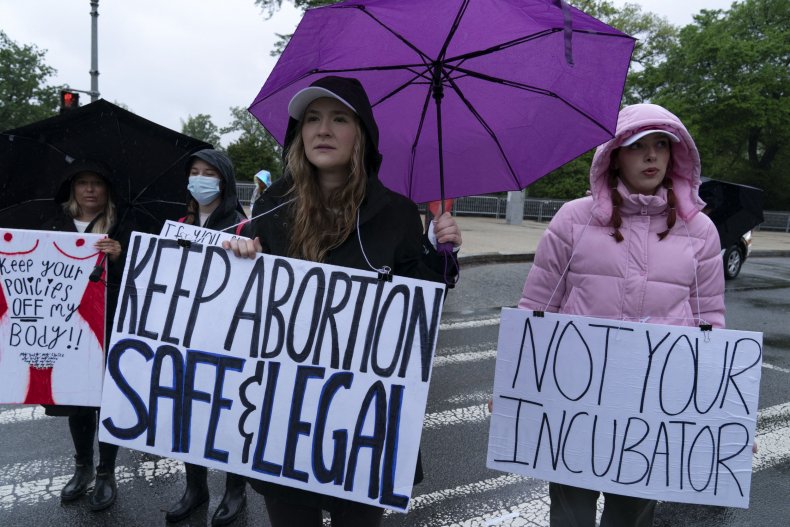 Kavanaugh was appointed to the Supreme Court by former President Donald Trump in 2018. His nomination was met with controversy, with multiple women accusing him of sexual misconduct while he was a student in high school and college. In more recent days, Kavanaugh has come under fire for past comments in which he reportedly referred to Roe v. Wade as "settled law." Republican Senator Susan Collins, who is in support of abortion rights, said she voted to confirm Kavanaugh to the court in part because she felt he would not attempt to overturn federal abortion protections.
Protesters later marched from the justice's house to the nearby home of Chief Justice John Roberts, where they could be heard chanting that "the world is watching," according to video footage posted on Twitter.
Police were on standby during the gatherings, but the protests remained peaceful and there have not been any reports of arrests. Activists are now planning additional protests in the coming days outside of the home of conservative Justice Samuel Alito, who penned the leaked draft opinion.
"Justice Alito thinks he can take away our rights. But our rights are fundamentally ours. We're showing up to tell him in person," the activist group Shutdown DC posted about a vigil that will take place Monday.
The protests have been met with mixed views, with some community members and Republicans condemning activists for publishing the justices' homes online. On Fox News, host Rachel Campos-Duffy even encouraged on Sunday Virginia's attorney general to prosecute the protesters for potential "hate crimes."
In Chevy Chase, one community member could be heard sparring with protesters on Saturday, according to the Post, stating, "I think you vote, and you expand the court. You don't go to a guy's house."
White House press secretary Jen Psaki said earlier this week that President Joe Biden "obviously wants people's privacy to be respected," but that the federal government does not disagree with peaceful demonstrations.
"The president's view is that there's a lot of passion, a lot of fear, a lot of sadness from many, many people across this country about what they saw in that leaked document," she told reporters.
Newsweek contacted the Supreme Court for additional comment.