What Susan Collins Says Brett Kavanaugh Told Her About Roe v. Wade
After a leaked U.S. Supreme Court draft opinion late Monday reportedly showed that a majority of justices voted to overturn Roe v. Wade, past comments from Senator Susan Collins regarding Justice Brett Kavanaugh have resurfaced.
Though a Republican, Collins has asserted that she is in favor of abortion rights and was seen as one of the GOP swing voters who could have opted to vote against Kavanaugh's confirmation. Yet she decided to back the conservative Kavanaugh, a Trump administration nominee, in a 50-48-1 vote to the court in October of 2018.
Resurfaced comments from Collins show that she said on several occasions that Kavanaugh told her he viewed Roe v. Wade as a "settled law" and deeply rooted precedent. Kavanaugh has not directly confirmed that he made these statements to Collins.
The report that the Supreme Court is poised to roll back abortion rights nearly 50 years after the landmark Roe v. Wade decision has sparked outrage among Democrats and support among Republicans, even as many condemn the unprecedented leak of the draft opinion authored by Associate Justice Samuel Alito and obtained by Politico.
While the draft opinion does not mean that the ruling is final, protesters swarmed to the Supreme Court in Washington, D.C., following the leak to demonstrate against the prospective decision.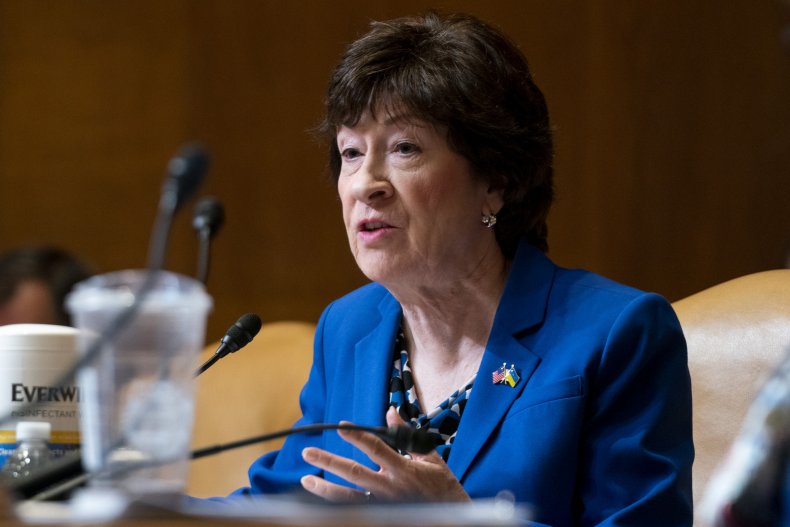 A video showing several clips of Collins' past comments on Kavanaugh's Roe v. Wade stance showed that in one 2018 appearance on CNN, she said that she does not believe he would overturn the decision. Collins said Kavanaugh noted that Roe was reaffirmed years later by another high-profile case, Planned Parenthood v. Casey, and that "it was precedent on precedent."
She added that Kavanaugh said that "it should be extremely rare that it be overturned."
When asked during the appearance whether she had full confidence, Collins responded: "I do."
In another clip included in the video, Collins said that Kavanaugh said he agreed with what Chief Justice John Roberts said at his own confirmation hearing about Roe v. Wade being "settled law."
In another appearance from Collins on the show 60 Minutes Overtime, she said: "I could not vote for a judge who had demonstrated hostility to Roe v. Wade because it would indicate a lack of respect for precedent. What Judge Kavanaugh told me, and he's the first Supreme Court nominee that I've interviewed out of six who has told me this, is that he views precedent not just as a legal doctrine, but as rooted in our Constitution."
But the leaked draft opinion shows that Kavanaugh was aligned with the majority. According to Politico, Alito wrote in the document: "We hold that Roe and Casey must be overruled. It is time to heed the Constitution and return the issue of abortion to the people's elected representatives."
In a statement shared with Newsweek, Collins said: "If this leaked draft opinion is the final decision and this reporting is accurate, it would be completely inconsistent with what Justice Gorsuch and Justice Kavanaugh said in their hearings and in our meetings in my office. Obviously, we won't know each Justice's decision and reasoning until the Supreme Court officially announces its opinion in this case."
Newsweek reached out to Kavanaugh via the Supreme Court for comment.