Roe v. Wade Protest as Furious Abortion Activists Swarm Supreme Court
Abortion protests have erupted in Washington, D.C., outside the Supreme Court with videos of demonstrations starting to go viral.
Protestors took to the streets following a report by Politico that indicated that the Supreme Court is prepared to strike down the landmark Roe v. Wade decision, according to an initial draft majority opinion.
"We hold that Roe and Casey must be overruled," Alito wrote, according to Politico. "It is time to heed the Constitution and return the issue of abortion to the people's elected representatives."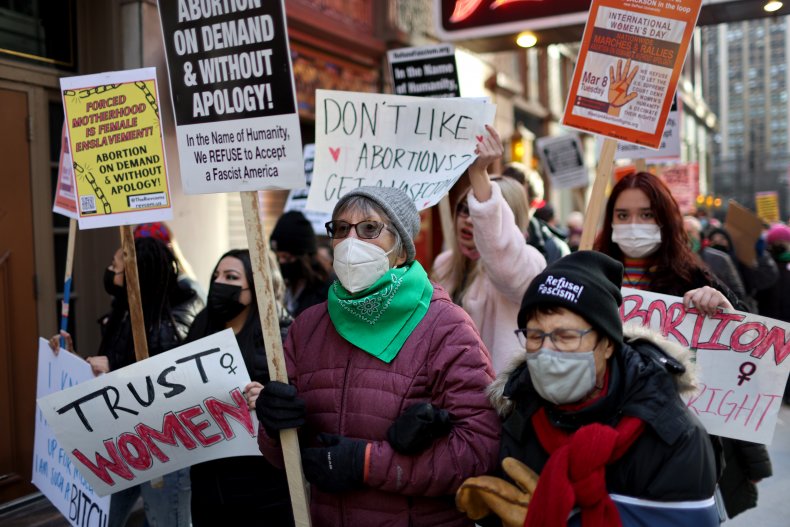 The 98-page document is not the final say, and its release during a pending case, a legal challenge in Mississippi, was a first in the high court's modern history, Politico said.
In 1973, the court found there was a constitutional right to abortion by a vote of 7 to 2. This decision was again highlighted in 1992 and reaffirmed in the court case of Planned Parenthood v. Casey.
One video of protestors outside the Supreme Court has been viewed over 300,000 times. Daily Beast reporter Zachary Petrizzo shared the clip to his Twitter page and captioned it: "Things are growing increasingly tense outside of the Supreme Court tonight.
In the video demonstrators can be heard chanting "abortion is healthcare" while holding up signs and banners.
A different video, which has over 70,000 views, shows a group of protestors listening to a woman speaking through a megaphone at the demonstration. Another showed counter-protestors have also gone to the Supreme Court.
In a video posted by National Review reporter Nate Hochman a man and a women can be seen attempting to shout over one another.
Another video posted by Hochman showed the scale of the protest.
"Crowd of protestors is growing quickly, and pushing toward the barricade that the handful of guards put up earlier tonight," he wrote as a caption.
"Chants of 'fascist scum have got to go,' interspersed with the names of the Conservative Justices."
The video so far has over 270,000 views.
Some people and groups have taken to Twitter to voice their frustration against the potential decision by the Supreme Court.
The Planned Parenthood Twitter page shared the initial Politico report and highlighted the decision was not yet final.
"Let's be clear: This is a draft opinion. It's outrageous, it's unprecedented, but it is not final. Abortion is your right, and it is still legal," the page wrote as a caption.
Speaker of the House of Representatives Nancy Pelosi voiced her concerns on her Twitter page.
"If the report is accurate, the Supreme Court is poised to inflict the greatest restriction of rights in the past fifty years-not just on women but on all Americans," she wrote in a tweet.
"The Republican-appointed Justices' reported votes to overturn Roe V. Wade would go down as an abomination, one of the worst and most damaging decisions in modern history," she wrote in a follow up tweet.
"This at the expense of tens of millions of women who could soon be stripped of their bodily autonomy and the constitutional rights they've relied on for half a century."
Update 05/03/22, 3:54 a.m. EDT: This article has been updated to include information on tweets by Planned Parenthood and Nancy Pelosi.