California Wildfire Risk Raised With Offshore Winds and Dry Conditions Expected Over the Weekend
While most of the recent wildfires in California have been contained, the risk of new fires starting will rise again over the weekend with heavy winds increasing the possibility in both Northern and Southern California. Offshore wind systems, strong Santa Ana winds to the south and low humidity due to the late arrival of California's wet season are all factors that could spark new outbreaks, according to AccuWeather.
California's wet season usually begins at the start of October, but low humidity and dry vegetation so far this fall have factored into ongoing fire safety concerns, including for the coming weekend. "Any gusty winds coupled with the prevailing dry conditions can increase the fire threat across the region," AccuWeather meteorologist Max Gawryla stated.
A storm system could appear in the U.S. Northwest on Friday and will travel south into the Rocky Mountains. As high pressure builds with the storm's arrival, heavy gusts of wind will increase in Northern California on Saturday. The gusts are expected to reach between 20 and 40 mph in mountain regions and 35 to 55 mph in the canyons and mountain passes. Warmer conditions are expected throughout the weekend, due to offshore winds.
Northern California residents should plan to be on high alert Saturday, while Southern Californians are encouraged to prepare for increased fire risk on Saturday evening thought Sunday as the pressure system moves closer.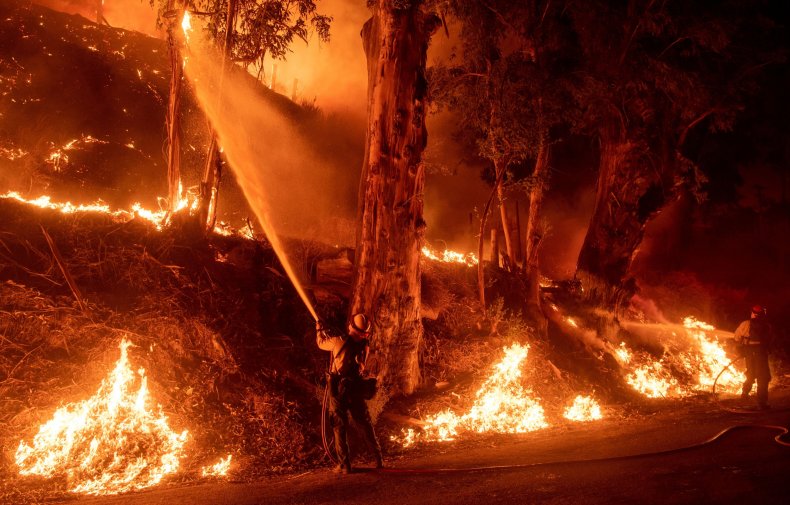 Under such conditions, a small spark can quickly develop into a larger fire. The increased wind speed can cause both new and existing fires to spread at increased rates. In the San Diego area, "[t]he humidity on Sunday for inland areas will fall to around 10 percent. Those winds combined with the low humidity will bring a period of elevated fire weather," The National Weather Service reports.
The Santa Ana winds, dry gusts that originate from high-pressure systems entering the Great Basin, have been forecast to die down at the beginning of next week. "As for winds, there is the potential for moderate Santa Ana winds Sunday and Monday. With the warm, dry and breezy conditions, elevated fire weather conditions are likely for all areas with the possibility of critical fire weather conditions across sections of Ventura and Los Angeles counties," NWS reports.
AccuWeather has forecast some rain in Northern California early next week, but showers will not dip far enough south to officially begin the wet season. "The 2019-2020 season will likely be the third latest start to the wet season as rain-free conditions look to continue into this weekend," Gawryla noted.