California Fire Update: Many Fires Fully Contained, While Risk Continues
While many of the California wildfires have been fully contained, a few new blazes have begun and the National Weather Service (NWS) has issued forecasts, which show possible fire weather conditions. As previously reported, the risk of wildfires in Southern California remains high for the rest of the year.
According to the NAPSG Live Fire Web App, the Mankin fire began on Friday at 11:26 a.m., and the San Diego area fire began at 7:39 p.m., Friday.
Many fires have been mostly contained, including Hill, Cow and Hillside, which are all over 90 percent contained, according to NAPSG.
In the latest fire weather outlook from NWS, elevated fire conditions are expected in parts of Southern California, including the San Diego area. The NWS forecast predicts a weak offshore wind event.
"The lack of stronger mid- and upper-level support will preclude strong surface winds and widespread low surface relative humidity," according to the forecast. NWS also reported that this will cause "one last day of elevated fire-weather conditions."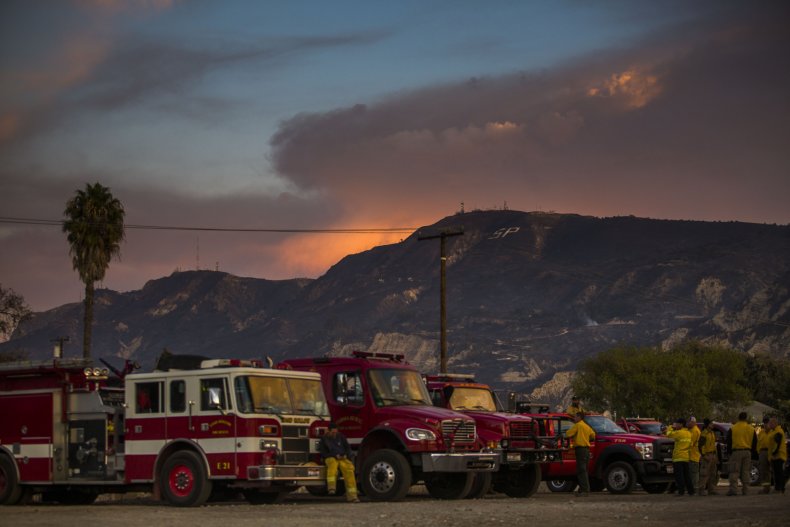 The Wildland Fire Assessment System from the United States Forest Service reported severe fires in many areas including San Diego, Santa Ana, Oxnard, Santa Maria, and Kings Canyon National Park. Many other areas also face high and very high levels of fire danger, according to the map -- including parts of Los Angeles, Sacramento and Bakersfield.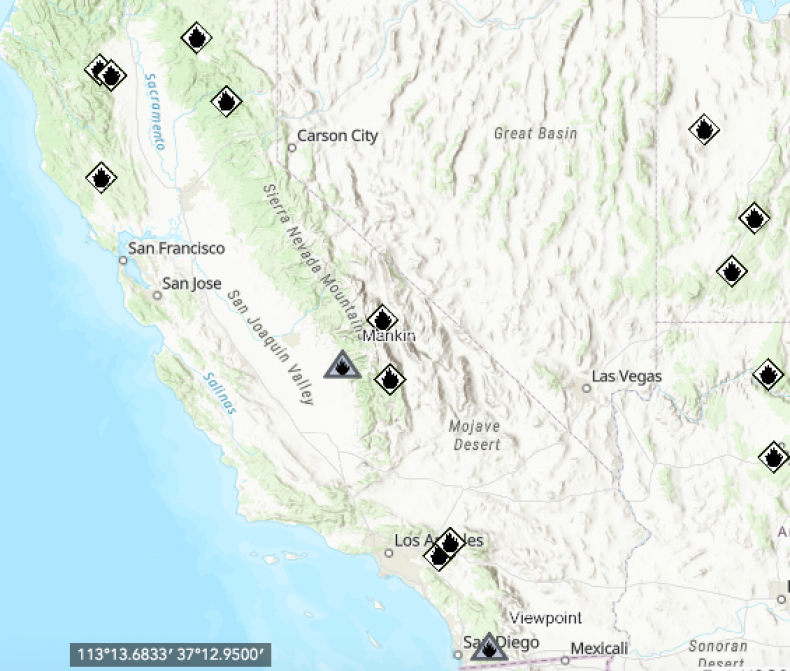 Ranch Fire
The Tehema County Ranch Fire is currently 55 percent contained, as of Friday night. According to Cal Fire, 2,534 acres have burned. There are no road closures, and three people have been reported injured.
Taboose Fire
The Taboose Fire, which is burning in Inyo County, is currently 85 percent contained as of Thursday, according to PJ Doherty maps. Over 10,000 acres have burned. The Taboose Fire is not a Cal Fire incident.
Cow Fire
The Inyo County Cow Fire is 98 percent contained, according to PJ Doherty, and 2,025 acres are estimated to have burned.
Kincade Fire
One of the larger fires that has spread through California has been fully contained, since Wednesday and evacuations have been lifted. An Air Quality Health Advisory has been in effect since Tuesday. Sonoma County warned "changing weather conditions over the next few days will lead to increased air pollution."
Hillside Fire
While not a recognized Cal Fire incident, the Hillside fire in San Bernadino has been reported as 95 percent contained, and only 200 acres are estimated to have been burned.