California Fires Update: Thomas Blaze Is Now Among Worst Wildfires in State's Modern Era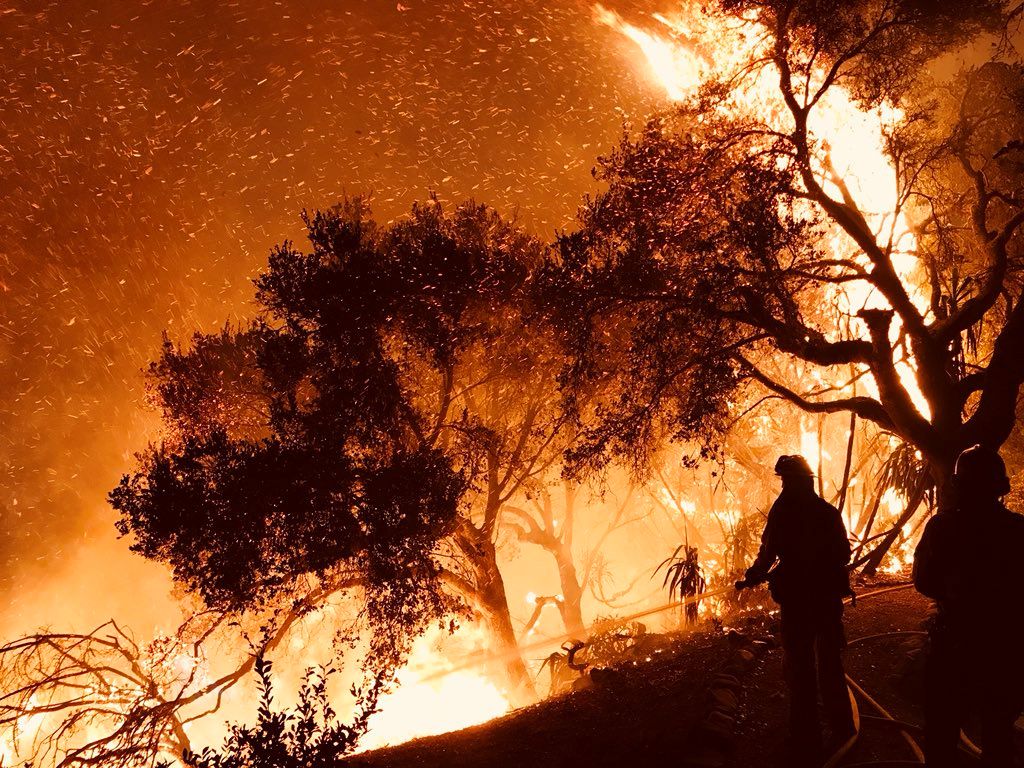 A wildfire sweeping across California is now bigger than New York City and along with six other blazes has consumed more than 1,000 buildings and forced thousands, including many of the state's celebrity residents, from their homes.
The Thomas Fire in Santa Barbara County alone has destroyed 683 homes and is burning across 231,700 acres. According to updates Monday night, the fire is only 20 percent contained and has caused more than $48.6 million in damages.
Firefighters fought the blaze as it burned up kilometers of dry brush and timber and grew to a size that places it among the top five largest California fires of the modern era. More than 98,000 people have been evacuated in Southern California.
The fire burned into the Santa Barbara County foothills on Sunday and threatened the communities of Carpinteria and Montecito. Just northwest of Los Angeles, Montecito is home to such celebrities as Oprah Winfrey, Jeff Bridges and Drew Barrymore.
On Sunday, actor Rob Lowe—known for his roles in Parks and Recreation and The West Wing—live-streamed as his family evacuated their home nearby. "Hope everybody's getting out safe like we are, and thanks for the prayers and thoughts. And good luck to the firefighters, we need you!" he wrote on Instagram.
Related: Republican tax bill will end benefits for California wildfire victims
"Our house is under threat of being burned. We just had to evacuate our pets. I'm praying for everyone in our community and thankful to all the incredible firefighters," tweeted talk show host Ellen DeGeneres.
The flames are being pushed west by winds, according to an assessment by the California Department of Forestry and Fire Protection. Dry conditions, high temperatures and a large amount of combustible material mean the Thomas Fire will continue to grow both west and north. The fire follows a yearslong drought in California.
In 2007, the area was struck by the Zaca Fire, which burned more than 240,000 acres.
"I'm just devastated overall. This is the worst I've seen," Barbara Nimmo, who manages several mansions in the area, told CNN. "We're from here. We know fires, and we feel absolutely dedicated to our clients," she said, adding that she is staying put.
Several other smaller fires are also burning nearby in California, but these are more contained. The Rye Fire west of Valencia, in the city of Santa Clarita, has burned 6,049 acres but is 96 percent contained. The Creek Fire east of Sylmar, a Los Angeles neighborhood, has burned 15,619 acres and is 98 percent contained.
In addition to the damage caused by the fires, smoke inhalation is posing a threat. In Montecito, people are being covered in ash and smoke has reduced visibility to just a few feet, according to The Times-Picayune.
Smoke from wildfires can produce air quality equivalent to that near a coal-burning power plant, Helene Gardner, an air quality expert at University of California, Santa Barbara, told the paper. Particles from the fires can lodge in people's lungs.
"When I look out my window and see someone bicycling, I think, No, no, no, get off your bike and walk!" she said.