California Gov. Newsom Declares State of Emergency for L.A. County Amid Violence in U.S.'s Second-Largest City
California Gov. Gavin Newsom has declared a state of emergency for L.A. County and sent the National Guard to help quell violence in Los Angeles amid protests over the death of George Floyd.
"California approved the city and county's request to deploy members of the National Guard to assist Los Angeles and neighboring communities," Newsom's office said in a news release on Saturday night.
Los Angeles Mayor Eric Garcetti said on Saturday he had asked Newsom to send 500 to 700 members of the National Guard to help local law enforcement deal with the worsening looting and vandalism in the county's second-largest city.
"The California National Guard is being deployed to Los Angeles overnight to support our local response to maintain peace and safety on the streets of our city," Garcetti announced on Twitter on Saturday night.
Earlier on Saturday, Garcetti expanded a curfew, initially just for downtown Los Angeles, to the entire city from 8 p.m. on Saturday to 5:30 a.m. on Sunday. Those traveling between work, for medical purposes, or those who are emergency responders are exempt from the curfew, Garcetti said.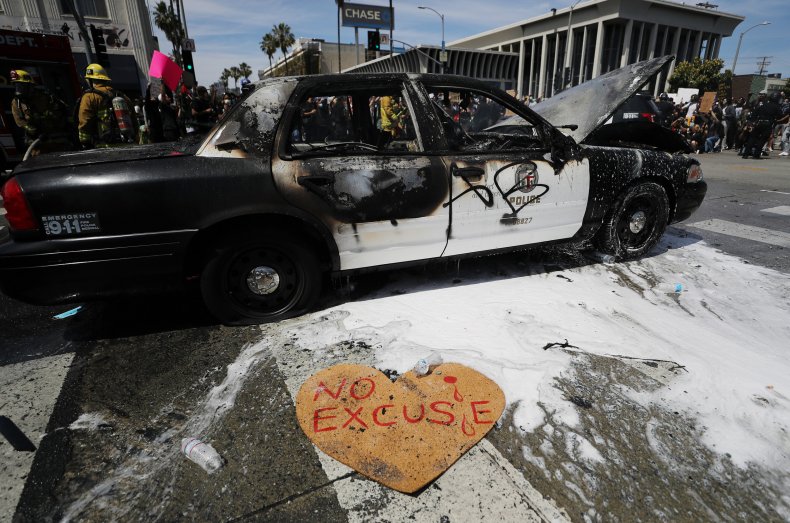 The announcement came after the Los Angeles Police Department declared an "unlawful assembly" in the Mid-Wilshire area. "From Melrose to 6th St and La Cienega to La Brea. Residents should stay inside. Business should close. Those on the street are to leave the area immediately," the LAPD said in a tweet.
People smashed windows, looted stores and set fires in Los Angeles on Saturday. A number of police cars were torched and officers used batons to move the crowd of protesters back and fired rubber bullets as they chanted "Black Lives Matter," the Associated Press reported.
Looters descended on the upscale Grove shopping mall on Saturday evening, TheLos Angeles Times reported, vandalizing and taking goods from a number of stores including Nordstom, Sephora and the Apple store. A reporter and photographer for The Times were also injured by police during the protests.
A police kiosk was set on fire, but officials were able to extinguish it before it spread, the newspaper reported
As protests heated up in cities across California including San Francisco on Saturday, Newsom warned violent instigators to stay away.
Newsom said the state is monitoring violent extremist organizations amid signs that some "violent actors may be attempting to use these protests for their own agendas.
"Over the last few days, we have seen millions of people lift their voices in anger, rightfully outraged at how systemic racism is allowed to persist," he said in a statement on Saturday.
"Every single day, people of color are disadvantaged and discriminated against. Black and Latino men in particular face mortal danger all across this country simply because of their race. Every person who has raised their voice should be heard."
He added: "In California and across the country, there are indications that violent actors may be attempting to use these protests for their own agendas,"
"To those who seek to exploit Californians' pain to sow chaos and destruction, you are not welcome. Our state and nation must build from this moment united and more resolved than ever to address racism and its root causes."
The protests started in Minneapolis where Floyd died on Monday after a police officer kneeled on his neck for more than eight minutes in an incident that was captured on camera and widely circulated.
The officer, Derek Chauvin, was arrested on Friday and charged with third-degree murder and second-degree manslaughter. He and three other police officers have been fired.
Despite Chauvin's arrest, the protests have continued and spread to cities all over the country. Some have been peaceful, but others—in cities including Minneapolis, New York City and Atlanta—have erupted into violence.