California Governor Gavin Newsom Launches Opposing Petition to Fight Recall Campaign
California Governor Gavin Newsom is launching his own opposing petition to fight the recall campaign against him.
In an email sent from the governor's re-election campaign, Newsom's team rolled out a new effort to counteract the looming recall, writing, "Join Stacey Abrams, Bernie Sanders, and Elizabeth Warren: add your name to our NEW petition of Californians who say they OPPOSE the Republican Recall of Governor Gavin Newsom." The email included a link to a form in which people are asked to provide their names, email addresses and zip codes.
Unlike a typical petition, like the one against Newsom, a spokesman for the governor's campaign told The Sacramento Bee that the new push is a way to collect contact information from supporters.
"Online petitions are a basic tool used by non-profits, advocacy groups and campaigns on both side of the aisle to organize supporters online and help people get engaged in causes," spokesman Nathan Click wrote in a statement. "Anyone who has visited an online petition site like Change.org will understand how common-place these efforts are."
The petition's website, "Stop the Republican Recall," claims that the efforts to remove Newsom from office are led by a coalition of "national Republicans, anti-vaxxers, Q-Anon conspiracy theorists and anti-immigrant Trump supporters."
The governor's campaign said it has been endorsed by a number of prominent Democrats, including Senators Bernie Sanders, Elizabeth Warren, Cory Booker and Alex Padilla, Representatives Katie Porter and Ro Khanna, voting rights activist Stacey Abrams and Democratic National Committee Chair Jaime Harrison.
The website's "recall opponents" page includes quotes from Newsom's supporters backing the governor and his leadership amid the coronavirus pandemic.
"Governor Newsom has courageously led California through a global pandemic — putting health, science and equity at the center of the state's response," Abrams is quoted as saying. "Republicans fought him every step of the way. Now, they are trying to overturn his election. Californians must stop the Republican recall."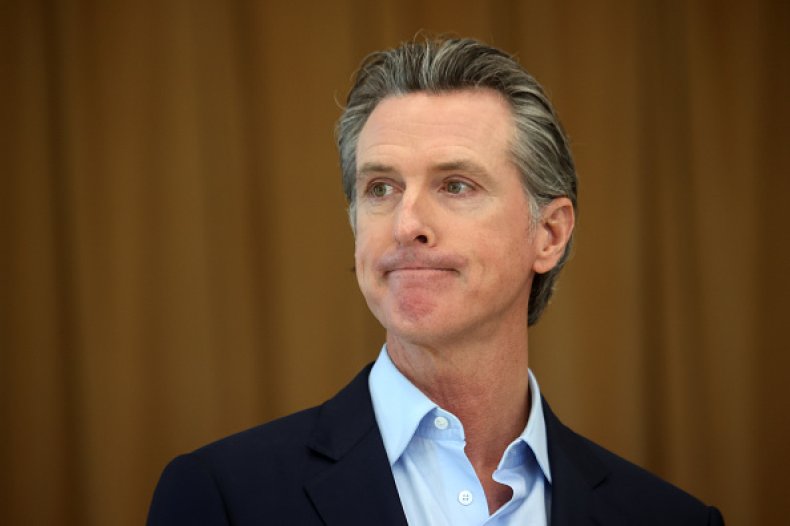 The petition to recall the California governor, Recall Gavin 2020, has received more than 2 million signatures, and with the final deadline past, Californians will find out in the coming weeks if the recall will get on a ballot. Counties have until April 29 to certify the results of their verification of signatures. If there are enough valid signatures—1,495,709—voters should expect the special election to take place in October or November.
In dozens of emails sent from Newsom's campaign—occasionally signed by his endorsers—the governor's team criticizes the recall effort for taking money from conservative figures and groups like Mike Huckabee and the Republican National Committee.
"Instead of fighting COVID-19, Republicans are pulling a page from the Trump playbook and attacking Californians. In fact, a Republican recall will cost the state $100 million – money that could be used to help vaccinate our communities," the campaign's website reads.
The committee is being funded by the California Democratic Party, Professional Engineers in California Government PECG-PAC and philanthropist Stewart Resnick.
Newsweek reached out to Recall Gavin 2020 for comment but did not hear back before publication.