California Heat Wave Update as Record Temperatures Could Cause Blackouts
Much of Southern California remains under an excessive heat warning, with the state's grid operator warning that the high temperatures could lead to blackouts.
The state is facing a prolonged late-summer heat wave, with temperatures expected to reach as high as 115 degrees Fahrenheit in some parts, the National Weather Service (NWS) said.
"An impactful, long duration heat wave is expected from the beaches to the desert through Labor Day," the San Diego office of the NWS wrote on Twitter on Tuesday. "High to very high heat risk will impact the coast and valleys by Sun & Mon. Plan ahead now so you can stay cool and hydrated, especially if you have outdoor plans."
An excessive heat warning is in effect from 11 a.m. on Wednesday until 8 p.m. Monday across a vast swath of Southern California, including Los Angeles County.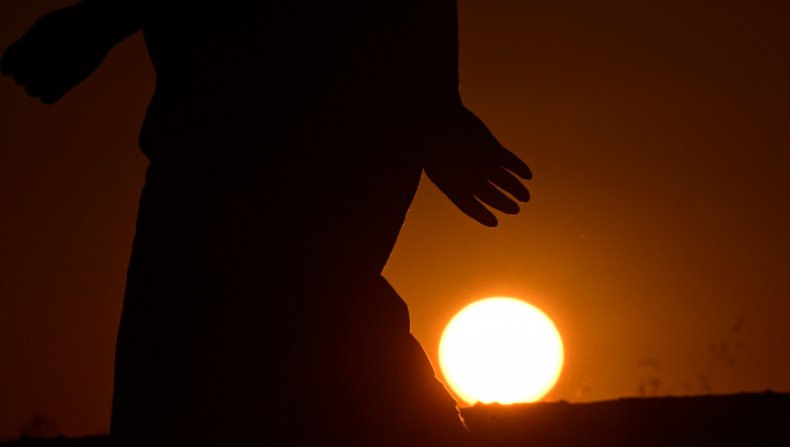 "Dangerously hot" conditions are expected, according to the NWS, with peak temperatures of 95 to 112 degrees expected through Saturday, and 100 to 115 degrees on Sunday and Monday.
In Los Angeles County, temperatures could reach 112 degrees in Woodland Hills on Wednesday, while Burbank is forecast to see temperatures surge as high as 106 degrees.
Downtown Los Angeles could see a high of 93 degrees on Thursday, 94 degrees on Saturday and up to 100 degrees on Sunday.
The forecasts prompted California's power grid operator to warn that residents will likely need to conserve energy over the holiday weekend to avoid blackouts.
The California Independent System Operator (CAISO) issued an order restricting maintenance operations from August 31 through September 6 to ensure that all generators and transmission lines are in service. It said the peak load for electricity is expected to exceed 48,000 megawatts on Labor Day.
"If weather or grid conditions worsen, the ISO may issue a series of emergency notifications to access additional resources and prepare market participants and the public for potential energy shortages and the need to conserve," CAISO said in a news release. "The power grid operator expects to call on Californians for voluntary energy conservation via Flex alerts over the long weekend."
During a Flex alert, consumers will be urged to reduce energy usage between 4 p.m. and 9 p.m. when the system is most stressed.
"The top three conservation actions are to set thermostats to 78 degrees or higher, avoid using large appliances and charging electric vehicles, and turn off unnecessary lights," the grid operator said. "Lowering electricity use during that time will ease strain on the system, and prevent more drastic measures, including rotating power outages."
Meanwhile, the torrid conditions are likely to produce unhealthy levels of smog in inland areas of the South Coast Air Basin, the South Coast Air Quality Management District (AQMD) warned in an advisory.
"Elevated temperatures increase emissions of chemicals leading to ozone formation and enhance ozone formation rates," the South Coast AQMD said. "This long duration and intense heat wave will likely cause unusually high and persistent levels of ozone pollution."