California Highway Patrol Denies Permit for Pro-Trump Rally at State Capitol
The California Highway Patrol denied the permit for a pro–Donald Trump rally at the state Capitol building in Sacramento following last week's attack on the U.S. Capitol.
The Let Freedom Right event, which was planned by former GOP congressional candidate Chris Bish, aimed to host 3,000 people on Sunday in a protest against the outcome of the presidential election.
The event was previously listed on the California Highway Patrol's calendar but was removed after the violent pro-Trump riot at the U.S. Capitol last Wednesday, which resulted in five deaths.
California Highway Patrol officer John Ortega said in an email to The Sacramento Bee on Wednesday that the permit was "denied because the proposed number of attendees are more than what's being allowed as a result of COVID-19 and due to the potential for civil unrest this weekend."
Bish told the paper she offered specific security plans to the California Highway Patrol to keep attendees safe.
"I asked that the barriers stay in place, that California Highway Patrol control ingress and egress through one of the side entrances, either on the north or the south, so we could keep people safe," she said.
"I was going the extra mile to keep the people who wanted to peacefully assemble safe from counterprotesters," Bish added.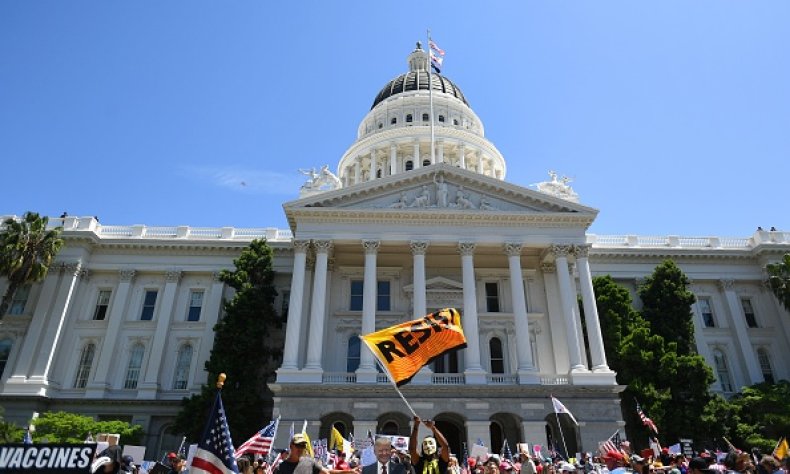 The FBI warned in an internal memo reported by CNN on Tuesday that it has information on plans for armed demonstrations in all 50 states, as well as demonstrations planned for Washington, D.C., ahead of President-elect Joe Biden's inauguration on January 20.
"In light of reports of more demonstrations, I urge that there must be no violence, no lawbreaking and no vandalism of any kind," Trump said in a statement on Wednesday. "That is not what I stand for and it is not what America stands for. I call on all Americans to help ease tensions and calm tempers. Thank you."
State and local officials in California plan to increase security measures around the Capitol in the upcoming week. Governor Gavin Newsom said he is prepared to call in the California National Guard if needed.
"Everybody is on high alert in terms of just making sure that everybody is safe and protected, people's free speech can be advanced, but there's no violence," Newsom said during a Monday news conference. "I can assure you, we have a heightened, heightened level of security."
Newsweek reached out for comment to the California Highway Patrol and Bish but didn't hear back in time for publication.
: –