California Hit With 1K Fraudulent Unemployment Claims Per Day, Audit Blames Newsom for Inaction
A new audit of California's unemployment agency found that the state was hit with over 1,000 suspicious claims per day at the start of the pandemic amid reports that the agency paid billions of dollars to fraudsters, while faulting the administration of Governor Gavin Newsom for "significant missteps and inaction."
A Thursday report from California State Auditor Elaine Howle said that the Employment Development Department (EDD) was severely underprepared to combat fraud and did nothing to stop paying fake claims for months.
So far, the state has paid at least $10.4 billion to fraudsters, with an additional $20 billion under review.
The EDD has been under intense fire in recent weeks after investigations have shown the agency's poor management and lack of protections cost state taxpayers billions. In some cases, millions of dollars worth of fraudulent claims were paid out to criminal gangs and prisoners.
"Because of EDD's ineffective management and reactive operations, it was unprepared to deal with the claim surge and ensure legitimate claimants receive assistance promptly," Howle said in a statement given to Newsweek on Friday.
"Its failure to act promptly to reduce fraud, poor decisions, and disjointed approach to fraud prevention and detection led to billions of dollars in improper payments," she added.
Howle's report found that during the first four months of the pandemic, only two people at the agency were responsible for manually reviewing and stopping 1,000 daily suspected claims.
Newsom has consistently blamed the fraud issues on the federal government, due to the expanded benefits program and loosened eligibility rules.
Erin Mellon, a spokesperson for the governor, previously said that the Trump administration "failed to provide leadership to prevent and investigate national and international criminal attacks on unemployment systems."
But Thursday's report shows that the federal government repeatedly warned California to increase its fraud protections early on in the pandemic.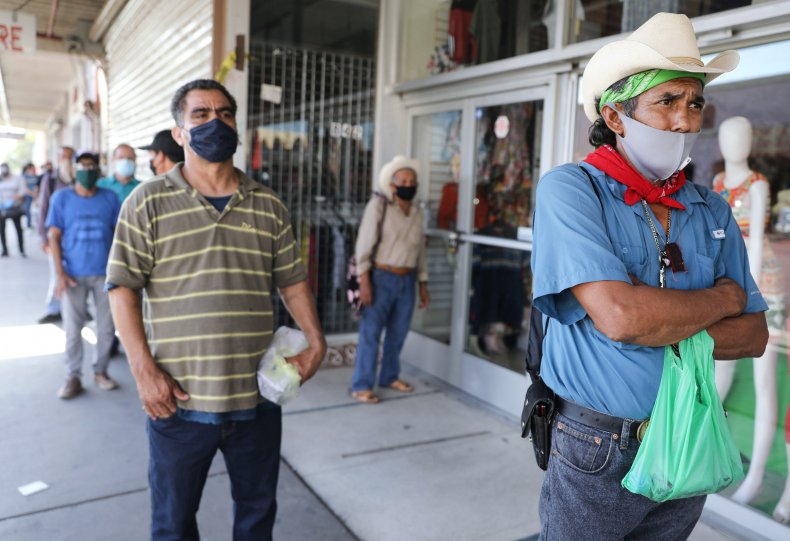 In May, the U.S. Department of Labor's Office of the Inspector General told the state that it was likely to see $1.2 billion in fraud, after a surge of 2.9 million new claims were filed through the agency.
"Despite repeated warnings from the US Department of Labor in April and May 2020, EDD paid about $10.4 Billion in payments from March through December that it has since determined could be fraudulent," Howle told Newsweek Friday.
It wasn't until July that the agency began implementing a new automated process to flag claims. Even then, the audit found that the agency continued to pay fake claims.
In total, Howle found the state "paid almost as much to suspicious claims as it prevented," estimating the state prevented $12.8 billion in likely fraudulent payments while paying least $10.4 billion — a number that will likely increase in the coming months.
Thursday's report also noted that the EDD received complaints from over 1,000 people per day saying that their identity had been stolen to claim fraudulent unemployment benefits. But from April to October, the agency responded to less than 2 percent of these fraud reports.
Howle warned that because of this, it is likely that thousands of people will owe taxes on this spring on benefits they never received. She said the EDD will likely be even more overwhelmed in the coming weeks as those people call the agency to seek help.
"Without a concentrated focus, EDD risks unnecessarily delaying assistance to victims of identity theft, who will remain in precarious tax situations until EDD completes its work," Howle said.
In response to Howle's report, Loree Levy, the deputy director of public affairs for the EDD, told Newsweek Friday that the agency "appreciates the work of the state auditor."
"[The EDD] is prepared to implement all recommendations from both reports released this week – on top of what we are already doing to further fortify our fraud fighting capabilities," she said.
Levy explained that the EDD estimates they've prevented $60 billion in fraudulent claims –more than Howle suggested – and noted that 95 percent of fraudulent payments were associated with the pandemic unemployment program that is "particularly susceptible to fraud."
"With more advanced tools, processes, and partnerships in place at the federal, state and local level, the EDD is well positioned to proceed in 2021 protecting the unemployment benefit programs and better serving Californians truly in need – modernizing EDD systems to expedite claims and improving the EDD Customer experience," Levy added.
Updated 4:48 pm ET: to include a statement from Loree Levy, the deputy director of public affairs at the EDD.