San Francisco Man Brings Dead Raccoon into McDonald's and Puts it on Table—Causing Panic and Store Closure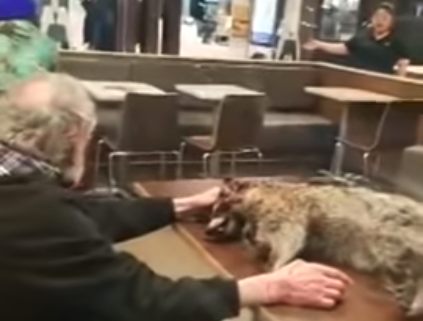 A San Francisco McDonald's was forced to close last Sunday after a man shocked patrons by bringing a dead racoon into the restaurant and placing it on a table.
The incident occured at a McDonald's on Potrero Avenue and 16th Street last Sunday, the San Francisco Chronicle reported. Graphic footage of the incident was first streamed to Facebook Live by user Chris Brooks, 54, who said he was visiting the fast food chain for breakfast.
Read more: Ohio teacher accused of masturbating in front of students is arrested
The footage shows a bearded man briefly sitting beside the dead animal at the table. "This motherf***er brings a dead ass racoon into McDonald's," Brooks is heard narrating in the clip, later spread on Reddit. "This [expletive] is crazy, I'll tell you, only in San Francisco."
About two minutes later, a man in gloves picks up the deceased racoon by the tail, takes it out of the restaurant and places it into a trash can—as blood drips from the animal to the street. The cellphone footage shows the raccoon's blood was also left over the McDonald's floor.
"Somebody needs to call the health department," Brooks said, getting into his car to leave. "They need to lock the door I wouldn't eat sh** out of there," he then told passersby.
According to local outlet KGO-TV (ABC7 News), the Department of Environmental Health confirmed the store was shut so staff could ensure the area was properly cleaned. Agency director Stephanie Cushing stated: "We want to assure the public that McDonald's addressed the problem appropriately they cleaned it, sanitized it, which is the main thing for us."
In a statement obtained by Fox News the McDonald's boss, Scott Rodrick elaborated: "Staff cleaned and sanitized the entire dining room and reopened the restaurant two hours later. The health department visited the restaurant...and cleared the restaurant for full operations."
Deputies from the San Francisco Police Department told the San Francisco Chronicle the man in the video was evaluated after officers were called to the scene at around 7 a.m. Sunday.
"He didn't meet the criteria [for a psychiatric detention]," officer Adam Lobsinger told the newspaper.
"We always offer services. The city has a number of services. When we do a mental health detention, that's a little more in-depth. That means you're a threat to yourself or to others."
It was reported the man may have been homeless, but law enforcement did not confirm whether or not he had a fixed address. According to Fox News, the man was released after being evaluated. The full video was uploaded to YouTube (graphic scenes and explicit language throughout.)