California Man Discovers Huge Rare Snake in His Couch
A California man discovered an extremely rare seven-foot-long Vietnamese blue beauty rat snake curled up on his couch.
Alex Trejo, who owns snake removal service So-Cal Rattlesnake Removal, arrived at the home in Lakeside, San Diego, after a frantic call from the homeowner, he told KGTV in a broadcast.
"You would be more likely to find a Rolex sitting on the ground than you would a snake like this," he told KGTV.
The snake, also known as the cave racer snake, is native to eastern and southeastern regions of Asia. It prefers tropical forests and caves and can grow up to eight feet long. While it is clear the snake escaped from its owner, Trejo was unsure how it came to be curled up on the couch.
Trejo told Newsweek he often gets calls to remove rattlesnakes that have wandered into properties.
An Escaped Pet
"This snake was so rare because it was a Vietnamese blue beauty rat snake, a snake found only in Asia. So it was someone's pet that had escaped!" he said.
In a video posted to his Instagram page, Trejo can be seen wrangling with the huge snake, holding it by the tail.
At the beginning of the footage, Trejo shows the camera where the snake had been lurking on the corner of the couch.
"You won't believe what snake this is, this is absolutely insane," Trejo says in the video. "This is incredible, I can't believe this snake is in this home."
After Trejo removes the snake from the couch and holds it by the tail, it can be seen keeping its head poised towards him.
"I don't even know what to do right now," Trejo tells the camera.
As Trejo attempts to gently move the snake's head, it lunges at him, cutting the snake catcher off mid-sentence.
The snake is not venomous but has a powerful bite. It did not manage to bite Trejo but snagged his T-shirt.
"Look how big this snake is guys," he says to the camera. "I don't know how it got in the house, now this snake is unhappy, you can see him opening his mouth."
In the video, the snake catcher says he has "no clue" where the snake came from, as it is not native to the state.
Following the rescue, Trejo found that the snake was ill with an upper respiratory infection. This was most likely caused by it being outside a controlled environment, in a foreign climate.
Trejo told KGTV it is now being treated by one of his friends who specializes in exotic animals.
"We really are keeping our fingers crossed hoping the snake makes it," he told KGTV.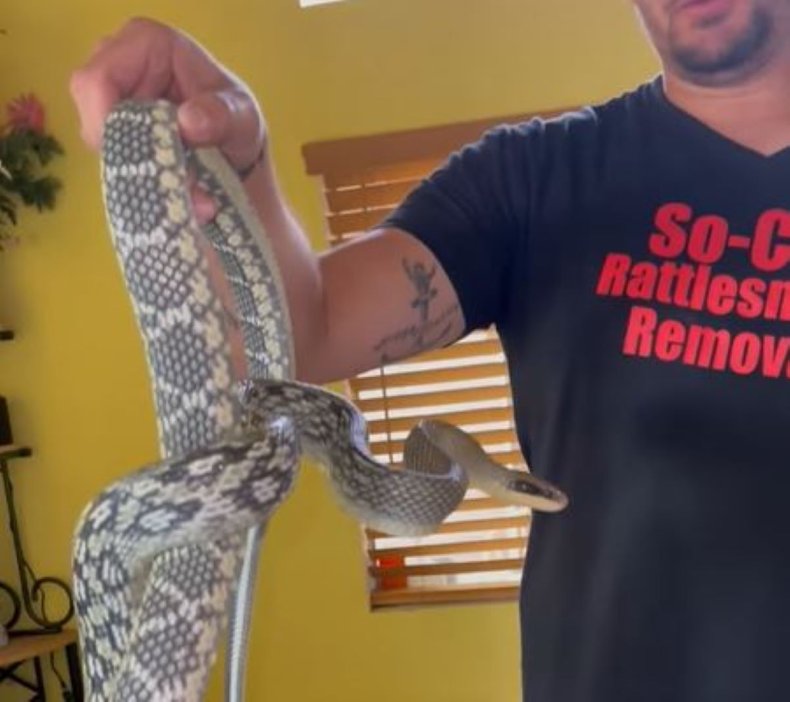 Update 04/06/22 at 3:35 a.m. ET: This article was updated to include comments from Alex Trejo.