California Nurses Strike Over Unsafe Staffing as COVID Hospitalizations Surge
A group of registered nurses across four California hospitals went on strike Wednesday in protest of inadequate staffing measures as COVID-19 hospitalizations surge in the state.
The strike, organized by Califonia Nurses Association/ National Nurses United (CNA/NNU), occurred at three KPC Global Hospitals– Anaheim Global, South Coast Global and Chapman Global– and Prime Hospital: West Anaheim Medical Center.
The nurses claim the hospitals have neglected to provide enough staff to ensure safe patient care, according to a December 22 press release from the union.
"We are getting slaughtered in the ER. We literally had to do a blood transfusion in the hallway," said Rasha Tran, a registered nurse at West Anaheim Medical Center, in the release.
"Ambulances are just leaving their patients in the ER because they are waiting too long for a bed, I don't even know how we can sustain this," Tran continued. "We still do not have the proper PPE so the increase in patients only means increased risk for RNs just when we need them the very most."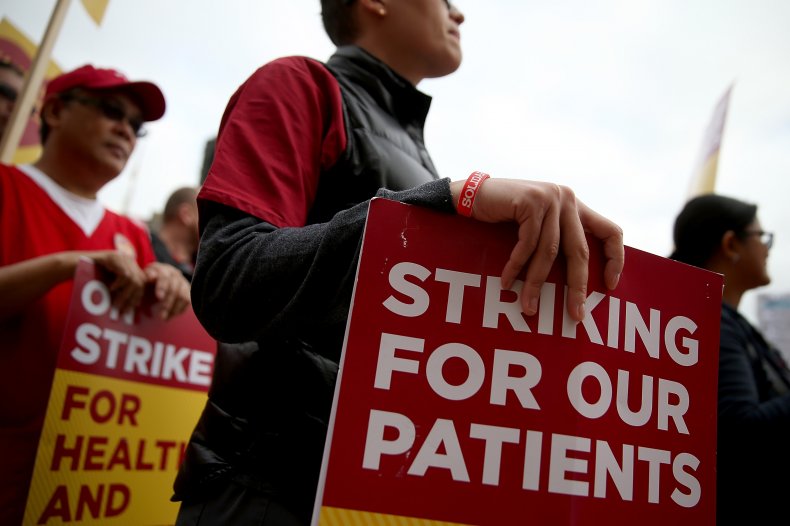 Other nurses urged the hospitals to call off elective surgeries amid the influx of COVID-19 hospitalizations.
"The employer should be making beds available by canceling elective surgeries for the foreseeable future," said Joseph Ho, a registered nurse at Anaheim Global Medical Center.
"Save those beds for those who most need them and at the same time give the RNs a chance to truly care for these patients by not forcing Nurses to take patients that don't need a hospital right now," Ho continued.
Another group of California medical staff, represented by the Southern California's Nurses Union (SEIU), were planning to strike for nearly two weeks beginning Christmas Eve.
The nurses claimed hospitals aggressively rationed PPE and provided insufficient COVID-19 testing for patients and staff, among other issues.
The SEIU, however, called off the protest on December 19 after the hospital promised "some strong pandemic safety guarantees" in the Union's recent contract.
Over 35,300 new COVID-19 cases and 270 deaths were reported in the state on December 22, according to data from The New York Times. California has seen an average of 44,763 new cases each day this week, an 83 percent increased compared with the two previous weeks.
The number of COVID-19 hospitalizations in California have also been on the rise since early November.
As of December 22, according to The Atlantic's COVID Tracking Project, 18,961 people were hospitalized in the state due to COVID-19.
The latest forecasts by the Institute for Health Metrics and Evaluations at the University of Washington project California to run out of hospital beds by New Year's Eve as the number of needed hospital beds, projected to be about 27,195, would exceed the number of beds available, 26,654.
Newsweek reached out to CNA/NNU, KPC Global Hospitals and Prime Hospital: West Anaheim Medical Center but didn't hear back in time for publication.