Cop Accused of Playing Copyrighted Music While Being Filmed to Block Video Sharing
A California police officer is being accused of playing music while being filmed to trigger copyright filters on social media sites that would stop the footage being shared.
Los Angeles activist Sennett Devermont posts videos and regularly livestreams interactions with police to more than 300,000 followers on his "always film the police" Instagram page.
But on Friday last week, a police officer began to play music off his phone when Devermont tried to livestream their encounter.
Devermont wrote on social media that he had arrived at the Beverly Hills Police Department (BHPD) to file a Freedom of Information Act request form and "wanted to ask if [he] needed a new form for each event with the same officer."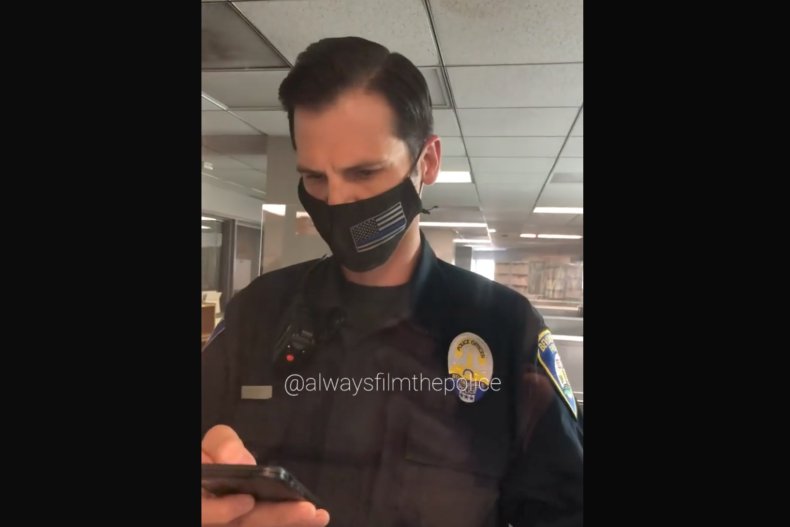 The activist started livestreaming his interaction with the officer, who he later identified on social media as Sgt. William Fair.
At one stage, Devermont can be heard challenging the police officer for wearing a "political mask." The officer responds by saying he is unaware of what type of mask he's wearing.
The officer soon starts to protest about Devermont's live stream and asks how many people are watching the live stream to which the activist replies: "Enough."
At this point, the officer can be seen pulling out his phone and putting on the song "Santeria" by Sublime.
The move has prompted accusations that the officer was trying to prevent Devermont from sharing the film of him on social media.
This is because Instagram has strict rules on posting copyrighted material and will potentially remove content that plays music, even in the background.
Later that afternoon, Devermont encountered the officer for a second time, this time outside on the street, and starts filming him again.
As Devermont starts to ask him questions, the officer turns on the music once more, saying: "I can't hear you."
Devermont told CBS Los Angeles that the filming was an "absolute violation of my first amendment right." He said: "This is a form of assaulting free speech. He's playing copyrighted music."
Devermont also claimed on Instagram that this is not the first time a Beverly Hills officer has pulled the same tactic on him.
He wrote: "He isn't alone. I have video of this happening with another officer who played music as I was talking. Is this an order from the top? Wait till I show you more."
In an archived clip from a livestream that Devermont reportedly said was taken weeks ago, another officer can also be seen starting to play music off his phone—namely "In My Life" by the Beatles, according to VICE News.
In a statement emailed to the publication, Beverly Hills Police Department said that "the playing of music while accepting a complaint or answering questions is not a procedure that has been recommended by Beverly Hills Police command staff."
BHPD added that it is investigating and the videos are "currently under review."
Newsweek has contacted the police department for comment.