Hundreds of thousands of Californian homes have been affected by power outages as a huge windstorm sweeps across the state, prompting multiple wildfire warnings.
Pacific Gas & Electric (PG&E) said customers in 34 counties have been affected by the largest "public safety power shutoff" (PSPS) this year, taking place from Sunday to Tuesday night.
The state is facing what has been described as the most dangerous windstorm of 2020 with the National Weather Service (NWS) issuing red flag warnings for wildfires.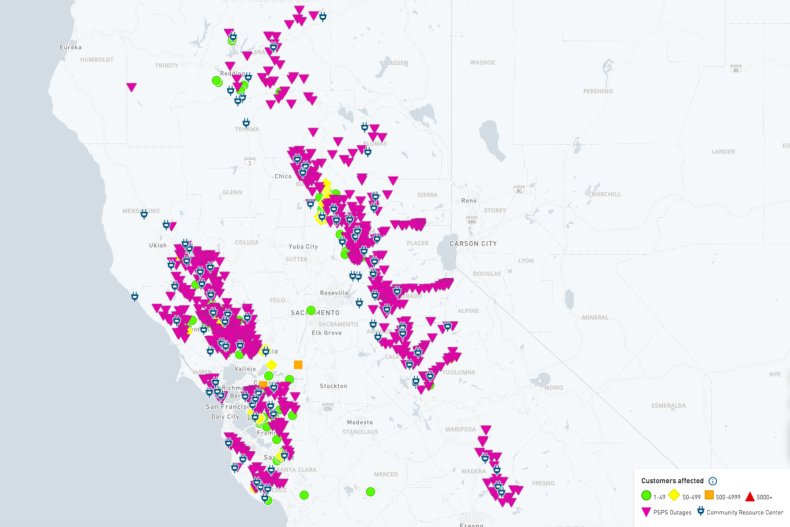 As a safety precaution, homes and businesses have gone dark in counties such as Napa, Marin, El Dorado, Butte, Nevada and Calaveras as the fierce winds batter parts of northern California.
As reported by CBS Sacramento, around 345,000 customers, an estimated 1 million people, were affected during the peak of the outage. PG&E said it has now restored power to more than 156,000 customers as of Monday evening.
It said it expects electricity to be back on at other homes and buildings by Tuesday night after crews conduct air and ground inspections for safety and repairs.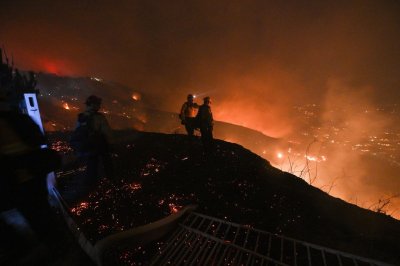 The latest PG&E outage updates
PG&E's live outage map shows which areas across the state are still without power.
As of 3 a.m. on Tuesday morning, households in Marin, Sonoma, Napa, Butte, El Dorado, Nevada, Calaveras, Shasta, Amador, Lake, Fresno, Madera, Tuolumne, Sierra, Yuba and Placer, still have no electricity.
PG&E said that by Monday night it restored power to more than 156,000 out of the total 350,000 homes. It added that 186,000 homes are still without electricity but they expect "essentially all" these customers to have power back on by Tuesday night.
But the company also warned that NWS still has wildfire warnings in place until 5 p.m. on Tuesday.
PG&E tweeted on Monday night: "The National Weather Service has issued multiple Red Flag Warnings today through tomorrow afternoon due to a combination of strong northeast winds and critically dry conditions. Red Flag Warnings are one of the factors in determining a PSPS."
Why the power was turned off in northern California counties
The PG&E wildfire safety blackout was brought in as a safety precaution as fierce Diablo winds raised the risk of wildfires spreading in northern California.
According to The Sacramento Bee, the winds first hit the northern end of the Sacramento Valley on Sunday and moved south into the Bay Area, raising the alert over wildfires as they went.
It comes after the state has seen some of the worst wildfires in its history this year with scientists attributing the drier conditions to climate change.
October and November are usually the worst months for fires. But as of October 25, California has already seen 7,221 fires in 2020 that have scorched 1,465,048 acres, according to government figures. This is compared to 4,964 fire and 131,137 acres for the same period in 2019. Thirty-one deaths have been attributed to the California wildfires since August.
How the blackout unfolded
The widespread outage began Sunday morning as customers in Shasta, Tehama, Glenn, Colusa and Lake counties reportedly became the first to lose power.
About 225,000 customers were affected by 6 p.m., and 136,000 customers went dark at midnight, PG&E incident commander Mark Quinlan told The Sacremento Bee.
Between October 25 and 26, wind speeds of more than 100 miles per hour were recorded at ski resorts around Lake Tahoe, according to NWS Sacramento.
In Kirkwood gusts hit 140 mph and Lake Tahoe itself saw 119 mph winds. Valley regions such as Redding saw highs of 50 mph.
The wind spurred on nearly two dozen wildfires in northern California on Sunday night and Monday but firefighters contained all without serious damage, according to CBS Sacramento.
An easing of wind late on Monday reportedly allowed PG&E to start restoring power but California is now preparing for another round of dangerous fire weather on Tuesday, although winds will not be as strong as Sunday and Monday.
An NWS red-flag warning of extreme fire danger remains in effect through Tuesday morning in the Santa Cruz Mountains and some coastal and valley areas.
The warnings also extend into Tuesday evening for some higher elevations in the San Francisco Bay Area.
PG&E meteorology chief Scott Strenfel told CBS that "bone-dry" humidity could continue to dry out vegetation, which can contribute to "catastrophic" fires.
He said that no offshore high-wind events are forecast for the next five days, but there is also no rain expected either.