California Resident Shoots Dead Man Carrying Out Home Invasion Robbery: Police
Police believe a man discovered fatally shot at a Southern California residence was one of six people robbing a home when the person living there opened fire.
Cops arrived at the scene in Oceanside in the early hours of Wednesday morning and gave the 31-year-old male first aid, but he was pronounced dead soon after.
Fox 11 has reported police also prevented a vehicle from leaving the vicinity and other suspected burglars were detained, including a second man with a gunshot wound. The
He was taken to a local hospital, where his condition was believed to be stable.
Cops have confirmed it was the unnamed resident's gunfire that was responsible for hitting the man who died.
However, it remains unclear whether the wounded man was also shot by the resident or by one of the other suspects who were also armed.
Newsweek has contacted Oceanside Police for updates on this story.
A report released late month by the Public Policy Institute of California suggests "trends in California's crime rate last year mostly mirrored national trends—with some key differences."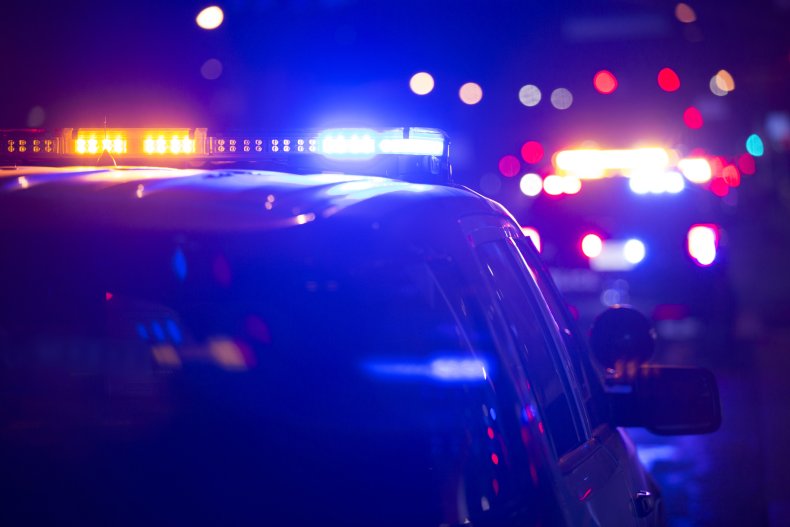 Although the state's violent crime rate fell slightly last year, the U.S. witnessed an increase, though homicides increased both nationwide and in the state. In California, aggravated assaults also increased, while robberies went down.
Actor and TV presenter Terrence J this week escaped uninjured after he was the victim of an attempted armed robbery after he was followed to his home in the Los Angeles suburb by four masked men.
A customer at a Vons supermarket in Santa Monica was earlier this week stabbed by a security guard after he allegedly became violent when employees demanded he wear a coronavirus mask.
A sleeping toddler was last month accidentally killed on a California highway by a stray bullet believed to be from a suspected gang gunfire.
The California Highway Patrol stated the victims were not targets and had instead became caught between two cars with people exchanging gunfire.
A man in Southern California was accused in August of robbing a bank and then bizarrely attempted to rob it again the very next day.
Less than 24 hours after the first incident, police were called to the same Chase Bank location to respond to another robbery by the same suspect.
And a student with a karate black belt in September revealed how she fought off a suspect who attacked her on the campus of Chapman University in Orange County.
The student said the suspect wore a mask during the attack that reminded her of the ones seen in the Scream movies. She said: "At first, it reminded me of the Scream, sort of, because the eyes were blacked out. I couldn't see any eyes."
And the body of a former Los Angeles County Sheriff's Department homicide detective has been found inside a California garage freezer.
The remains of Miriam E. Travis, 87, were discovered in September after concerned family members contacted cops after not hearing from her for an unusually long time.