San Francisco, Bay Area Air Quality Update, Forecast: Smog Traveling East
The wildfires burning in California affected the air quality across much of the state. In San Francisco and in the greater Bay Area, there was a noticeable amount of what looked like smog and fog, but was actually smoke hanging in the air.
The air quality index, or the AQI, for San Francisco on Tuesday was 169, which is considered "unhealthy," meaning "everyone may begin to experience health effects; members of sensitive groups may experience more serious health effects," according to AirNow.
Along with the AQI was a message warning those in poor health about the impacts the air might have. "People with heart or lung disease, older adults and children should avoid prolonged or heavy exertion. Everyone else should reduce prolonged or heavy exertion," said the message on AirNow.
The air quality was forecast to be 156 Tuesday and to drop to a "moderate" quality level by Wednesday. A moderate air quality level means, "Air quality is acceptable; however, for some pollutants, there may be a moderate health concern for a very small number of people who are unusually sensitive to air pollution."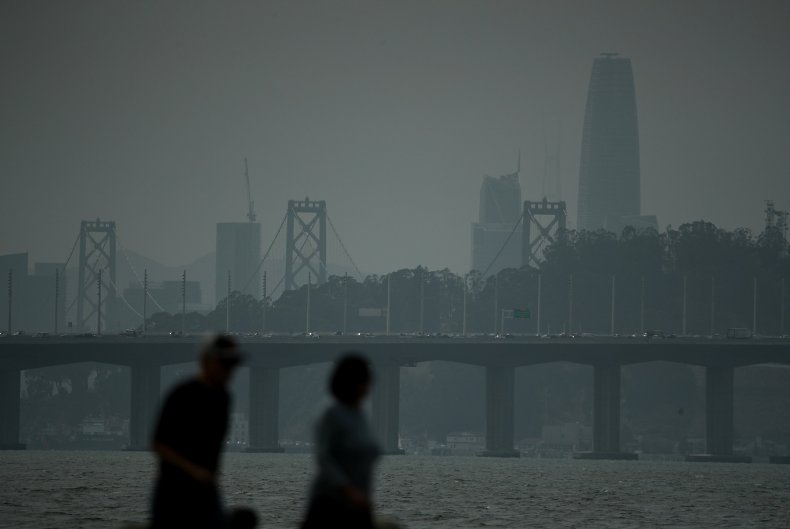 Other cities and towns in the area, such as Oakland, Antioch and San Rafael, also had "unhealthy" AQIs on Tuesday, while San Jose, Vacaville and Livermore were in the "unhealthy for sensitive groups" AQI range.
Authorities advised those close to the fires, where the air quality is rated to be unhealthy or poor, to stay indoors as much as possible and to wear masks to help filter out the smoke particles in the air.
The Camp Fire that destroyed Paradise, California, north of Sacramento, was burning at 151,373 acres Tuesday, and was 70 percent contained at that time. The Woolsey Fire that was burning in Southern California had reached 96 percent containment after more than a week of hard work from firefighters.
Both fires were some of the largest, and most aggressive and deadly California had ever seen. Hundreds of people were missing and more than 75 were confirmed dead as of Tuesday morning. The smoke from the fires had made its way across the country and was actually affecting the air on the East Coast.
In Philadelphia and Washington, D.C., the sky was a bit more hazy than usual because of the smoke from the fires. NASA was also mapping the damage from the fires, and the smoke was captured by satellites in space as it traveled.​