How California Atmospheric River Will Impact Snowpack in Sierras
An atmospheric river is set to descend on California in coming days, following a spate of wet weather across the state.
An atmospheric river is a corridor of concentrated, tropical moisture traveling through the atmosphere. The river has raised an alert for significant flooding throughout California, and experts have warned of severe disruption.
Snowpack in California is already at a record level due to the recent winter snow and rain. The state gets most of its water from the Sierra Nevada mountains. The mountains catch eastern-moving clouds before they reach Nevada. The mountain range accumulates snowpack throughout the winter months, which then feeds into the state's lakes, rivers and reservoirs when it melts in the spring.
So how will this incoming atmospheric river change this?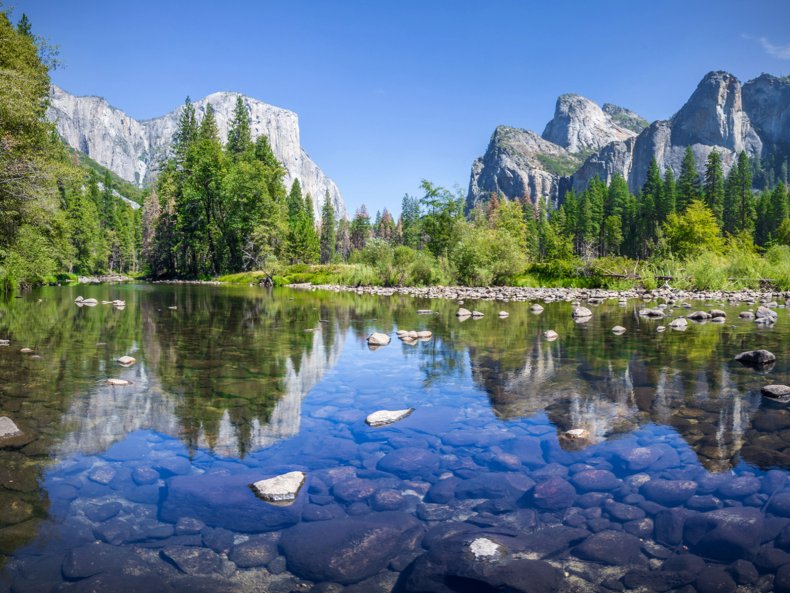 Tom Corringham, research economist at the Scripps Institution of Oceanography at UC San Diego, told Newsweek it all comes down to what temperature the atmospheric river ends up being.
If the temperature of the atmospheric river is cold, it will add to the already record levels of snowpack. However if it is warm, it could lead to devastating consequences. And experts have predicted that this will indeed be the case.
"How these coming atmospheric rivers will affect drought and flooding depends, in part, on temperature. Colder atmospheric rivers could add to our near-record snowpack. Hopefully this snow will melt gradually, further replenishing our reservoirs," Corringham said.
"But if next week's atmospheric rivers are warm, that could spell trouble as rain-on-snow may melt the snowpack faster than we can handle. This could lead to more devastating flooding."
California has already seen some bad flooding throughout the winter.
Unprecedented rainfall descending on the state in January caused flood warnings to be put in place for much of the coastal regions.
California has been in the grips of a drought for over a decade, meaning the increased rain and snow has helped the state's drying up reservoirs.
But often, when a state has been in a drought for so long, a sudden increase in wet weather can spell trouble, as this atmospheric river may do. When an area has been in a drought for so long, sudden rain can cause flooding, as the water does not saturate the parched ground.
The snowpack in the Sierra Nevada mountains has continued to increase throughout January as a result of storms battering much of the state. As of March 1, the northern Sierra Nevada precipitation index is at 43.5 inches, compared to the water-year average of 53.2.
"So we still need more big storms 2023 to be even an average year," hydrologist Roger Bales, a distinguished professor of engineering at the University of California Merced, previously told Newsweek. "The Central and Southern Sierra indices are above the water-year average, which is good for water supply, but potentially bad for flooding if we get a warm atmospheric river coming in that results in faster snowmelt. I also refer to the northern Sierra index, because much of our water supply for southern California and many irrigation users comes from that large, wetter part of the state."
The drought conditions have improved since the wet weather swept across the state. But it will still be a while until the state is completely out of the woods.
Andrew Schwartz, lead scientist and manager at the Central Sierra Snow Laboratory at UC Berkeley, previously told Newsweek: "The recent abundance of precipitation in the Sierra Nevada and throughout California has greatly reduced short-term drought conditions throughout the state. However, a significant amount of groundwater recharge is still needed before the long-term drought can be considered over and we will need several above-average years for that to happen."
As climate change worsens, atmospheric rivers are likely to become the norm. This could dramatically increase the amount of flooding seen around the globe. And although the drought conditions have been eased in the short term, they are still not perfect.
"Hopefully our reservoirs will continue to fill up. Many of our reservoirs have been restored to average levels, but there's still capacity in the system to hold more water," Corringham said.
Do you have a tip on a science story that Newsweek should be covering? Do you have a question about the Sierra? Let us know via science@newsweek.com.