'Atmospheric River' Threatens California With Flash Floods, More Snow
California is expected to receive more snow later this week, likely bringing more flooding to the state that has grappled with above-average rainfall throughout this winter.
AccuWeather senior meteorologist Alan Reppert told Newsweek on Monday afternoon that the "atmospheric river" will likely strike California's northern and central regions on Friday. The storm could bring up to 8 inches of rain to the Sierra Nevada mountain range, bringing the risk of floods to much of the northern part of the state, according to AccuWeather.
California, known for its dry conditions, has experienced continuous storms recently, bringing a high amount of precipitation that has caused substantial flooding and damage to the state's infrastructure, while also alleviating a years-long drought.
This week's anticipated flooding could affect highly-populated coastal areas like Santa Barbara and San Francisco, as well as the most northern parts of the state, such as Redding. The storm carries the risk of mudslides, avalanches, and road closures, according to AccuWeather.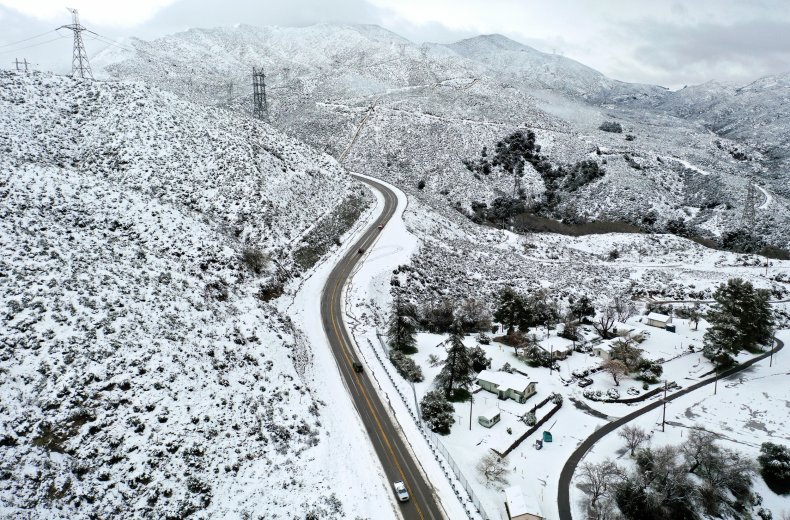 Some high-altitude areas of the Sierra Nevada mountain range, above 7,500 feet, could also receive several feet of new snow, according to AccuWeather. Meanwhile, areas further south, including Los Angeles and San Diego, are likely to receive only light rain.
Reppert warned that the rainfall will cause flooding near any rivers and streams, complicating travel for people who live in these areas. Furthermore, roads could also suffer damage during the storm. The senior meteorologist added that more storms are forecasted to bring more heavy rainfall next week, as well.
"It could really cause a lot of problems with anyone living or really traveling to the area," Reppert said.
What Is an Atmospheric River?
The National Oceanic and Atmospheric Administration (NOAA) describes atmospheric rivers as long, narrow regions in the atmosphere that transport water vapor out of the tropics.
When atmospheric rivers make landfall, they typically release this water vapor as either rain or snow, at times causing extreme rainfall or flooding, according to the NOAA. This sort of system previously struck California in January and has previously been attributed to causing mudslides.
California Sees Above-Average Precipitation Throughout Winter
The latest snow storm is set to arrive in California just weeks after the state was pummeled by other severe snowstorms in late February, prompting a rare blizzard warning in Los Angeles as snow fell on areas that rarely receive precipitation.
California, which has been in a drought for the past 10 years, also received a historic amount of rain between December 26 and January 19.
The high amount of rainfall has improved drought conditions, though most of the state remains classified as abnormally dry, while some areas remain in a moderate-to-severe drought. Since February 28, only 16.7 percent of the state is not in a drought at all.
While these storms have alleviated drought conditions, they have also caused substantial damage. At least 22 people were killed in winter storms that happened in January, according to the Los Angeles Times. The Federal Emergency Management Agency (FEMA) estimated a price tag of several hundred million dollars for repairs from December and January storms alone.
Reppert explained that this winter's weather is actually "closer to normal than we've seen in past several winters" for California.
"We have seen heavier snowfall, but this is just helping to bring things back to closer than normal from the lack of rain and snow we've seen from the last several years," he said.
California Governor Gavin Newsommet with emergency response officials on Sunday to receive an update on these recent storms after declaring a state of emergency, his office wrote in a press release. Deputy Director for Crisis Communication & Public Affairs Brian Ferguson told Newsweek Monday that Newsom has activated the state emergency operation center and is working closely with counties across the state amid these storms.
First responders have also been prepositioned with equipment in case they are needed ahead of the upcoming storm, Ferguson said.
Update 03/06/2023 6:39 p.m. ET: This story was updated with comment from Brian Ferguson.