U.S. Snow Cover Map After Epic Snowfall Hits California
The extent of the snowfall that has carpeted California in recent days has been captured in a U.S. snow cover map.
The map shows snowfall blanketing California and other parts of the southwest. Snow was even spotted falling in Las Vegas, Nevada.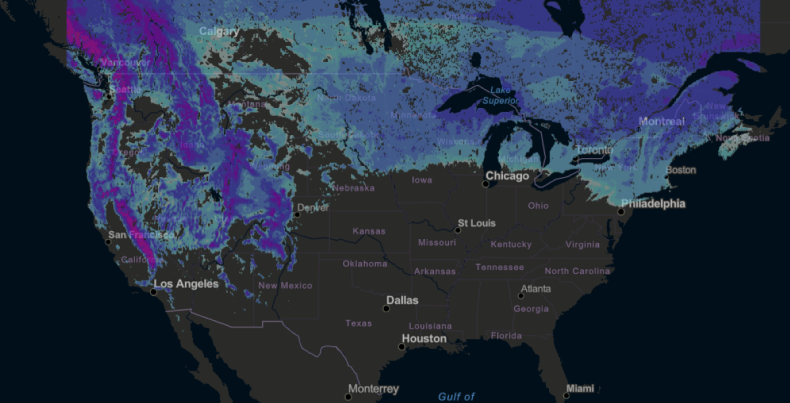 California was hit by strong snowstorms at the end of February. An incredibly rare blizzard warning was issued in Los Angeles, as snow fell on areas used to decades of incredibly dry conditions. The National Weather Service (NWS) warning was the first to be issued in the Los Angeles and Ventura counties for three decades.
In total, Los Angeles saw 4 inches of precipitation, while Beverly Hills saw 6 inches.
Satellite images posted by the NASA Earth Observatory showed snow blanketing a large portion of the San Gabriel Mountains, towards the north of Los Angeles, on February 26. Another photograph showed the same area on February 10, before the storm hit.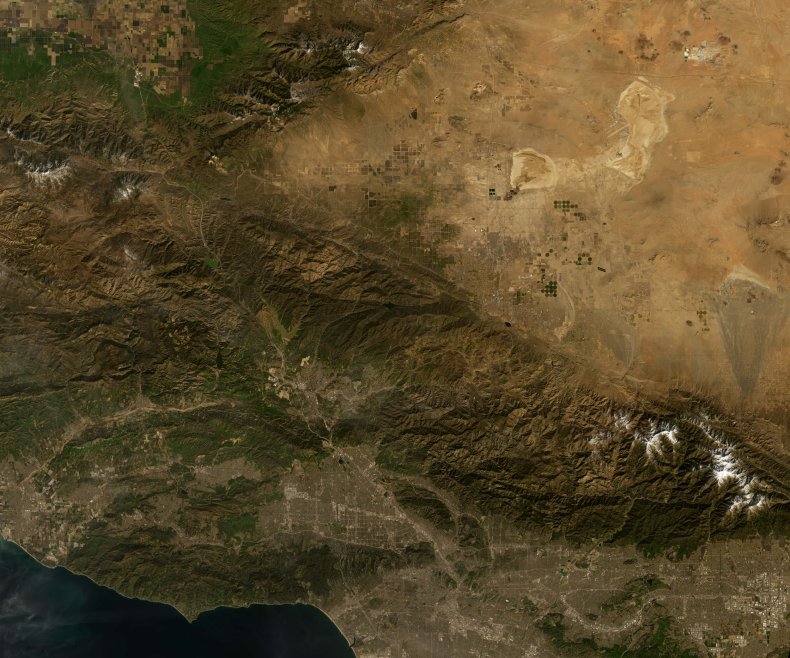 Some areas at high elevations saw nearly 8 feet of snow, the National Weather Service reported. Even lower elevations saw as much as 3 feet of snow accumulation.
Andrew Schwartz, lead scientist and manager at the Central Sierra Snow Laboratory at UC Berkeley, told Newsweek: "These types of storms happen from time to time around California. They don't occur every year but we've seen them before with December 2021 being a similar storm that impacted the central and northern Sierra Nevada. What's unique about this season so far is that our precipitation has been widespread in California and the western U.S., and there has been a lot of it."
The rare wet weather was welcome to many living in the region, who are used to dry conditions. However, it did cause some disruption. Thousands of people lost power in their homes, and streams flooded.
Despite this, the weather was a much-needed source of precipitation for the region. California is just one state currently in the grips of a megadrought, which is affecting most of the southwest.
In July 2022, one-third of all land in California, Texas, Oregon, Nevada, Utah and New Mexico was classified as experiencing extreme or exceptional drought, the U.S. Drought Monitor reported.
The region has been suffering from the drought since 2000, meaning it would take a lot more precipitation over several years to fully lift its drought status.
"The recent abundance of precipitation in the Sierra Nevada and throughout California has greatly reduced short-term drought conditions throughout the state," Schwartz said. "However, a significant amount of groundwater recharge is still needed before the long-term drought can be considered over and we will need several above-average years for that to happen."
The snowfall should help to build snowpack, which will hopefully help replenish reservoirs that have been drying up due to the dry conditions.
Snowpack is incredibly important for the region's water supply. It provides the majority of water for 20 million people in California and over 60 million people in the western U.S.
California's reservoirs were in a dire state until very recently, with some of the lowest water levels on record.
"California's reservoirs have already risen significantly and we have left behind the earlier days in this winter when many of the reservoirs were at historical lows. It's difficult to determine whether the current snowpack will completely fill the reservoirs around the state this year because a lot of it depends on the timing of the snowmelt," Schwartz said.
"If we get uncharacteristically warm temperatures for a prolonged period of time, we could get early melt and the potential for flooding, which would mean some of the snowmelt would be released from reservoirs. For the best chance at filling up the reservoirs, we need cool temperatures and for more snow to keep coming in."
Do you have a tip on a science story that Newsweek should be covering? Do you have a question about snow fall in California? Let us know via science@newsweek.com.