California Blizzard Warning Leaves Meteorologists Stunned: 'Unbelievable'
A blizzard warning in the Los Angeles area has left meteorologists amazed at the freak weather that has brought ice and snow across the country.
The warning issued by the National Weather Service (NWS) for Los Angeles and Ventura counties in California is the first in more than three decades in an area used to hot, dry or rainy conditions.
The local NWS branch later extended the warning to 4 p.m. Saturday, expecting snow accumulations of up to 5 feet and wind gusts in excess of 55 mph as a second storm front is expected to make landfall just as the first passes.
Evelyn Taft, a meteorologist for KCAL and CBS, said on Thursday morning that the conditions were "still on track and still just as unbelievable."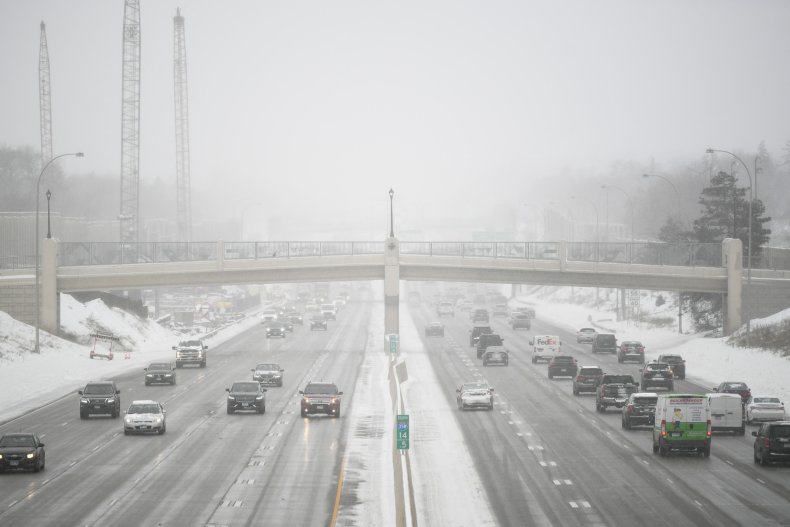 "I have to be totally honest, I've actually never seen a Blizzard Warning," she said during a broadcast on Tuesday night. "I've been here for almost 14 years now."
Melissa Magee, a forecaster for KNBC in Los Angeles, described the anticipated blizzard as "rare," with weather patterns bringing "some of the coldest air so far this season."
NWS Los Angeles clarified on Wednesday that the blizzard warning was not the first it had ever issued, but the first since a new coding system was implemented in 2006. It later credited Greg Diamond, a Fox meteorologist, for unearthing the last warning, on February 4, 1989.
"Even if this is not our 1st, this is a dangerous storm," it added in a tweet. According to an Los Angeles Times article from 1989, the last snowstorm caused "scores" of traffic accidents, killing at least one person.
"You don't see blizzard warnings here too often," said Tom Niziol, a retired winter weather specialist for Fox. "This is a VERY high-impact winter storm for California."
A coast-to-coast storm brought freezing cold wind gusts and blizzard conditions to much of the northern continental U.S., with states in the northern plains and Great Lakes regions experiencing the brunt of the snowfall. The storm has left hundreds of thousands of homes without power and thousands of flights canceled.
NWS expects the threat to shift as a new storm makes landfall from the Pacific Ocean. It expects "multiple rounds of new snowfall" to accumulate, with a heightened risk of flash flooding across southern California from Friday morning into Saturday.
In a forecast for the San Joaquin Valley, the NWS said heavy snowfall "has the potential to create white-out conditions late Thursday night into Friday morning."
The storm conditions have already hammered electrical grids with knocked-down utility poles and ice-encrusted power lines.
On Wednesday evening, Pacific Gas and Electric, one of California's main suppliers, acknowledged that customers were facing "extended outages," adding that it was working to restore power.
"The historic nature of this storm is expected to cause damage to power lines and equipment, resulting in power outages," the company said. "Extended outages are possible in areas where crews are facing access challenges."
The latest barrage of winter storms come just weeks after California was battered by a series of cyclones from the end of December into January that caused widespread flooding, leaving thousands of homes without power and leading to thousands of families being evacuated.