Winter Storm Power Outage Map as Blizzard Plunges 850,000 Into Darkness
Over 850,000 homes were without power in the early hours of Thursday morning as a coast-to-coast winter storm knocked down utility poles and ice coated power lines.
Meanwhile, thousands of flights have been canceled, many traveling either to or from Minnesota, Michigan and Illinois, where the National Weather Service (NWS) had predicted freezing wind chills and blizzards.
According to PowerOutage, a live data aggregator, as of 3.48 a.m. ET, there were nearly 650,000 customers without power in Michigan alone, out of 5.2 million homes. Illinois had over 104,000 homes without power, and almost 45,000 were in the dark in Wisconsin.
The NWS said just before 2:30 a.m. ET that the "major" winter storm would continue to bring blizzard conditions to parts of the West and the northern great plains and great lakes areas into Thursday, with "heavy" snowfall of as much as 12 inches in the latter, in some parts as high as 18 inches.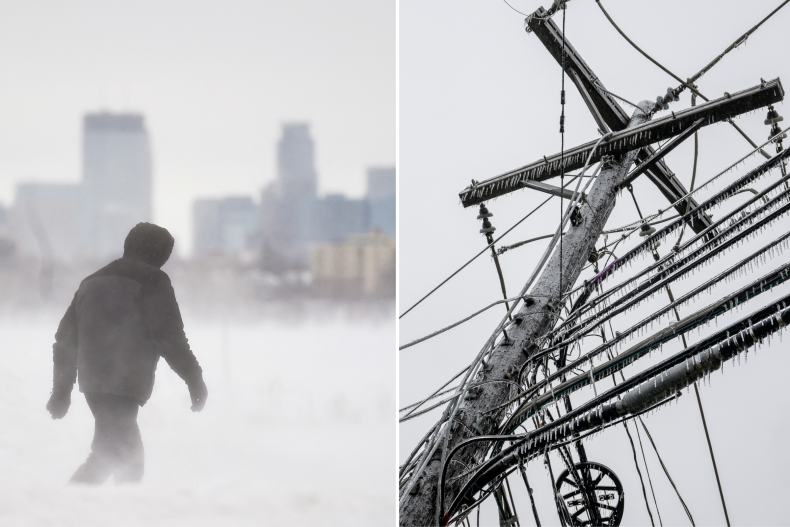 Combined with windspeeds as high as 50 miles an hour, it expects "major disruptions" to travel and infrastructure, with power outages most likely in areas seeing "a combination of stronger winds and accumulating ice."
Many schools were pre-emptively shut for the day in the region's states, according to the Associated Press, as has the Minnesota Legislature, which will reconvene next Monday.
As snowfall in southern Minnesota could approach two feet, the latest winter storm of 2023 to batter the U.S. could be locally record-breaking; the current record was in 1991, when 28.4 inches fell in Minneapolis and St. Paul.
Data from tracking service FlightAware shows there were nearly 2,800 flight cancellations in and out of the U.S. on Wednesday, and more than 6,500 delays across the country. Around 430 of those were due to depart or arrive at Minneapolis St. Paul airport in Minnesota, 150 via Detroit airport in Michigan and 290 in and out of Denver airport in Colorado.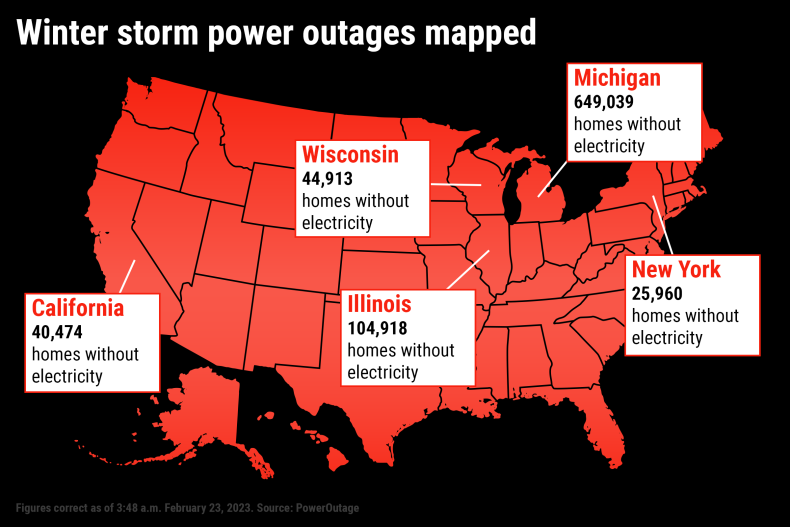 As of 3:50 a.m. ET Thursday morning, 700 flights have already been canceled for the day—many flying to or from Minneapolis and Chicago.
Delta Airlines has issued a travel waiver for seven airports in Minnesota, allowing passengers to rebook on later flights. Meanwhile, Southwest warned of disruption to services to or from airports in Michigan, Minnesota and Maine.
More than 40,000 customers were without power in California as of 3.48 a.m. ET, and over 25,000 in New York, PowerOutage figures show.
Blizzard warnings are in effect for parts of south and central California, with winter storm warnings across much of the state's north. In a forecast for the San Joaquin valley, the NWS said heavy snowfall "has the potential to create white-out conditions late Thursday night into Friday morning.
The storm conditions hammered electrical grids with knocked-down utility poles and ice-encrusted power lines.
Matt Paul, executive vice president of distribution operations for Detroit-based DTE Electric, told the Associated Press that a half-inch of ice on an electricity cable "is the equivalent of having a baby grand piano on that single span of wire, so the weight is significant."
On Wednesday evening, Pacific Gas and Electric, one of California's main suppliers, acknowledged that customers were facing "extended outages," adding it was working to restore power.
"The historic nature of this storm is expected to cause damage to power lines and equipment, resulting in power outages," the company said. "Extended outages are possible in areas where crews are faces access challenges."
NWS expects the threat to shift to being centered on California on Thursday and Friday, as a new storm makes landfall from the Pacific. The state is still recovering from a relentless parade of winter storms from the end of December and into January that left thousands of homes without power and led to thousands of families being evacuated.