Sierra Snowpack Hits Record Levels After Recent Storms
The snowpack in the Sierra Nevada mountains has reached record-breaking levels thanks to the deluge of snow smashing California this week.
According to data from the California Department of Water Resources (CDWR), the Southern Sierras—from San Joaquin and Mono counties to Kern county—currently have a snowpack 257 percent greater than the average for this time of year, and 247 percent larger than is average for the usual snowpack peak on April 1.
Central Sierra and Northern Sierra also have hugely inflated snowpacks, at 218 percent and 168 percent of the average for early March, respectively.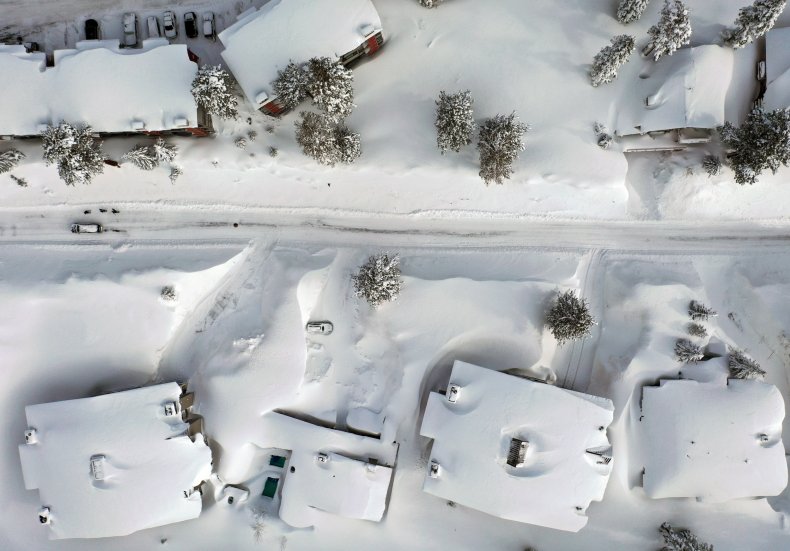 The Sierra Nevada mountains stretch around 400 miles from Northern California southwards to the Great Basin. They have been buffeted by snowstorms as a result of the atmospheric river systems plowing eastwards from the Pacific Ocean, leaving thousands of people without power.
"As of this weekend, the Southern Sierra now appears to have largest snowpack in recorded history (as measured by snow water equivalent, or SWE). Not just for the calendar date, but for *any* date!" tweeted Daniel Swain, a climate scientist at UCLA and the Nature Conservancy.
CDWR charts show that this year has overtaken the 1982-1983 season, which was the previous record-holding year.
There are hopes that the massive amount of water stored in this snow will help to combat California's drought conditions, as when it melts, the water will run down the mountains into reservoirs. Sierra Nevada snowmelt supplies about 30 percent of California's water requirements throughout the year.
"There is a tremendous amount of snow this year, so that's very encouraging," Donald Bader, the Lake Shasta area manager for the U.S. Bureau of Reclamation, previously told Newsweek. "That will come down later in the spring when it starts warming up, so we can anticipate that and add that to our [reservoir] storage volumes because we know we've got that extra storage sitting up there in the mountains."
However, when large amounts of water suddenly emerge as snow melts, rather than soaking into the soil and replenishing the essential groundwater, it often flows over the arid ground, causing flash flooding, before draining into the ocean.
"All that snow is going to melt eventually, most likely starting later in March and into April/May. And California has never experienced such a large snowpack in the context of a several-degree F warmer climate that we now have regionally," Swain tweeted. "It's impossible to make specific predictions about how severe flooding on Sacramento & in particular San Joaquin systems (as well as tributaries & eastern Sierra watersheds) will be weeks in advance. But this has the potential to be become a big problem by April."
This also means that the drought in California will maintain its grip on the state, as the groundwater stores will stay unfilled.
"Surface water levels are only part of the picture—groundwater levels will likely still remain chronically low, because (rain or no rain) we deplete more groundwater than is replenished," Aakash Ahamed, a hydrologist and co-founder of the Water Data Lab, previously told Newsweek.
Other risks of the enormous snowpack include avalanches, and even gas leaks.
"We do have some risks associated with increasingly snowy conditions, such as increased avalanche risk, strain on structures and equipment, and problems with travel during the storms," Andrew Schwartz, the lead scientist and manager at the Central Sierra Snow Laboratory, UC Berkeley, previously told Newsweek.
"One of the largest issues that we see in above average years around the Donner Summit area is propane leaks that develop from tanks buried under the heavy snow. It has resulted in explosions in the past."
Do you have a tip on a science story that Newsweek should be covering? Do you have a question about the Sierra snowpack? Let us know via science@newsweek.com