California Atmospheric River Storm Damage: Sinkhole Swallows Highway, House Slides Down Hill
The recent atmospheric river storm continues to wreak havoc across California, as roads have been damaged and mudslides have been unleashed. A highway has been closed after a section of it was swallowed up by a sinkhole, and a woman had a lucky escape as her home was destroyed by a mudslide while she was inside.
A section of Highway 243 near Lake Fulmor in the San Bernardino National Forest collapsed following the recent heavy rainfall in the area. In a statement posted on Facebook, the California Highway Patrol (CHP) described how SR-243 had simply "washed away."
The California Department of Transportation (Caltrans) District 8 division, which deals with the San Bernardino and Riverside counties, uploaded a video to Facebook showing a stream of water coming down the side of the road to the collapsed area.
"There are two closures in place. Hurley Flats to I-10, and at Saunders Meadow. This is why," the department said in the caption. "Please drive with caution during this storm and be patient."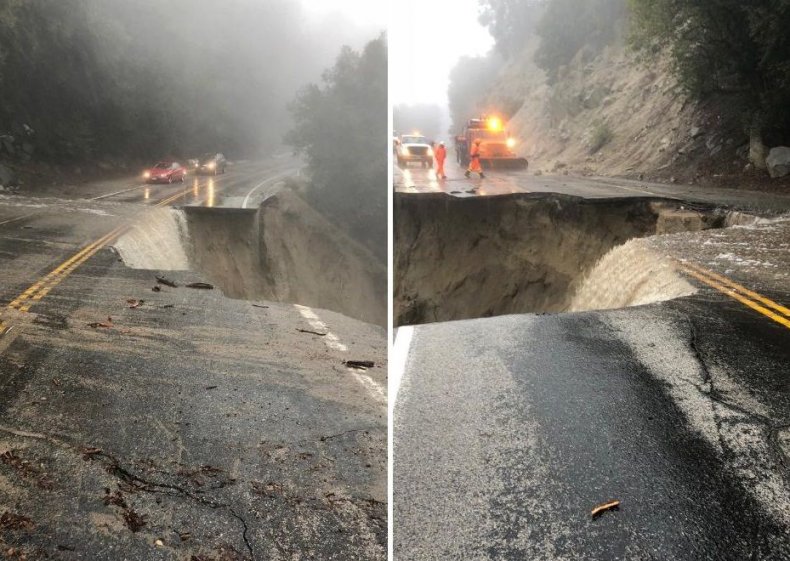 Caltrans 8 are warning people against traveling following the recent storm event which has resulted in mudslides, rockfalls and fallen trees across state routes. Other freeways are also experiencing flooding and potholes, causing dangerous driving conditions or complete closures.
Mandatory evacuation orders were also issued for homes in the Lake Elsinore, Corona and Trabuco Canyon areas following flooding in the areas.
A woman was rescued from the wreckage of her home after a mudslide carried it down a hill in the Sausalito neighborhood of northern California.
At least 50 homes were evacuated from the area across the Golden Gate Strait from San Francisco after the hillside gave way following a period in which 5 inches of rain fell in around 24 hours, reports the Associated Press.
"It is absolutely amazing that we're not talking about a loss of life at this time, Sausalito Mayor Joe Burns said, reports NBC.
Tens of thousands of people are still without power in California as a result of the weather, including more than 20,000 outages in Shasta County following severe snow fall, according to poweroutage.us.
The National Weather Service says the storm is weakening as it moves inland, but heavy snow is still expected across the Sierra Nevada up until the weekend.
Several road closures are also in place across the Palm Springs area of California, which experienced the third wettest day on record on February 14 after seeing more than 3.5 inches of rainfall, according to AccuWeather.
"It is very important to be mindful of the road closures," the Palm Springs Police Department said in a statement. "Just because it appears as though the road looks safe, that does not mean it is. Debris and mud become a forgotten secondary hazard. Please drive carefully and avoid hazards which could turn an ordinary drive into a rescue."
In their latest update, the police department said several roads will remain closed, including the N. Gene Autry Trail between I-10 via Escuela and Highway 111 in both directions starting at I-10 to Overture Road.
Caltrans District 8 reported that these roads are also currently closed due to the recent storm:
SR 2 remains closed from Big Pine to Islip Saddle
Sr 74 Is Closed From Grand Avenue To Orange County Line Untill
Sr 243 Is Closed From I-10 To Sr 74 (Road Loss)
Sr 18 Is Closed From Big Bear Dam To Boulder Bay (Loss Of Downbound Lane)
Sr 38 Is Closed From Big Bear Dam To Fawnskin (Downed Tree And Power Lines)
Sr 38 Is Closed From Garnet To The Mill Creek In Mentone (Downed Power Pole)
Sr 74 Is Closed From Lake Hemet To Borco East Of Valle Vista (Road Loss)
Sr 18 From Snow Valley To Big Bear Dam
Sr 38 From Valley Of The Falls To Seven Oaks Road
Sr 173 From Sr 138 To Summit Valley Road
Sr 83 From Sr 71 To Pine Avenue
According to the National Oceanic and Atmospheric Administration: "Atmospheric rivers are relatively long, narrow regions in the atmosphere—like rivers in the sky—that transport most of the water vapor outside of the tropics.
"These columns of vapor move with the weather, carrying an amount of water vapor roughly equivalent to the average flow of water at the mouth of the Mississippi River. When the atmospheric rivers make landfall, they often release this water vapor in the form of rain or snow," NOAA states.