California Teacher Arrested for Being Drunk and High in Classroom
California teacher Teagen Leonhart was arrested on Wednesday morning after police said she was drunk and high while teaching.
San Rafael Police Department was called at Terra Linda High School in Marin County, California, after a school employee alerted a school administrator about a teacher they believed to be "under the influence of alcohol and drugs," according to a San Rafael Police Department (SRPD) press release.
The incident was reported at 11:51 a.m., the release said. According to the SRPD, the school administrator went to the classroom where Leonhart was teaching after being alerted that she was displaying signs of intoxication.
The administrator then removed the teacher from the classroom and called the police. SRPD sent a trained drug recognition expert to interview Leonhart, who initially denied the charges, according to the police press release.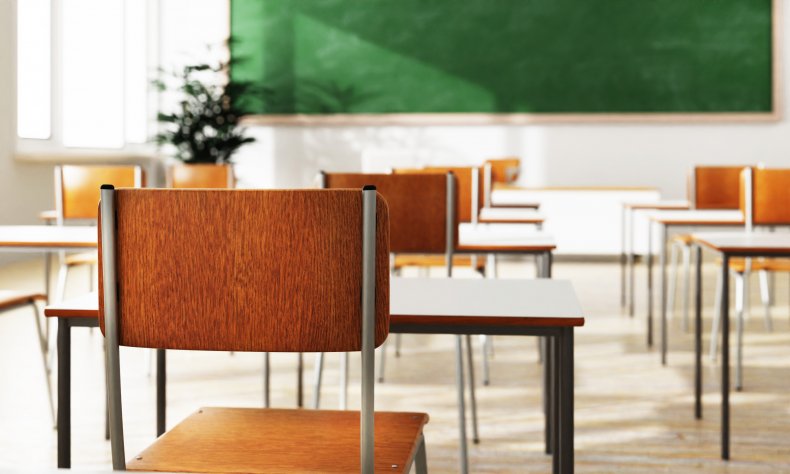 But a preliminary alcohol screening test showed that she was more than three times over the legal limit to be fit for driving, according to SRPD. Leonhart then admitted to consuming some alcohol that morning.
Leonhart was found to have consumed alcohol, a prescription drug and cannabis. She was arrested by SRPD on charges of public intoxication and child endangerment.
According to police, Leonhart had been teaching all day and had been responsible for the safety of 53 children.
"It was the opinion of the DRE [Drug Recognition Expert] officer that due to her intoxication level, Leonhart was unable to care for the safety of the children while they were in her classroom," SRPD Lieutenant Dan Fink wrote in the SRPD report.
Leonhart, who is 46-year-old and a resident of San Anselmo, is reportedly on paid administrative leave from the school.
"Terra Linda High School does not comment on personnel matters. The safety and well-being of our students are my highest priority. Ms. Leonhart is currently on paid administrative leave," Terra Linda High School's principal Katy Dunlap wrote in an email to television station KRON4 on Thursday afternoon, as reported by WRBL.
According to representatives at the Marin County Jail, it does not appear that Leonhart is still in custody, as reported by SFGate. According to Fink, this is normal considering new COVID-19 regulations and the fact that the charges against Leonhart were misdemeanors.
Child endangerment can be charged as a misdemeanor or a felony. As a misdemeanor, as in Leonhart's case, child endangerment can carry up to one year in county jail.
Under California's law—Penal Code Section 273a—a charge of child endangerment can be imposed on anyone who willfully exposes a child to "circumstances or conditions likely to produce great bodily harm or death," causes a child to suffer, "inflicts thereon unjustifiable physical pain or mental suffering, or having the care or custody of any child, willfully causes or permits the person or health of that child to be injured, or willfully causes or permits that child to be placed in a situation where his or her person or health is endangered."
If these same circumstances are true, but occur in conditions that were not likely to produce harm to the child, the defendant will be charged with misdemeanor child endangerment instead of a felony.
Fink told Newsweek that the District Attorney would judge on the case soon but no new information was available at the time of contact.
Newsweek has contacted Terra Linda High School for comment.