California Gov. Newsom's Thanksgiving Rules Blasted By Celebrities
California Gov. Gavin Newsom's strict restrictions on social gatherings ahead of Thanksgiving next month has sparked anger from many residents in the state, with a number of celebrities sharing their reactions to the rules on social media.
Gov. Newsom and the California Department of Public Health (CDPH) have released stringent new regulations in an attempt to curb growing cases amid the coronavirus pandemic.
"Gatherings are defined as social situations that bring together people from different households at the same time in a single space or place. When people from different households mix, this increases the risk of transmission of COVID-19," the CDPH said in a statement.
Among the new rules are; all gatherings must include no more than three households, masks must stay on after eating and drinking and singing, chanting and shouting are "strongly discouraged."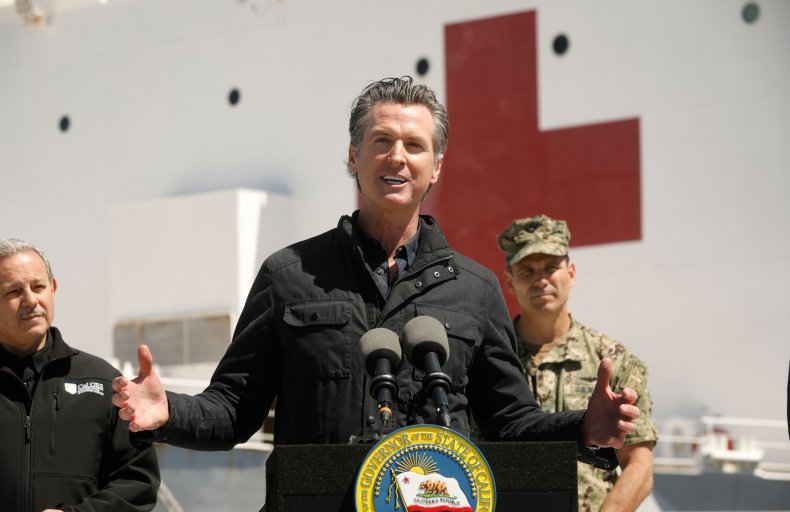 The rules have been met with a lot of hostility from some of California's famous residents.
Comedian Rob Schneider took to Twitter to mock the Governor over the rules, disparagingly calling him "Emporer."
"Dear Emperor @GavinNewsom. During our allotted 3 family limit this Thanksgiving, if my Aunt comes over, can I throw her a slice of turkey from the window?" he tweeted.
"We promise NOT to sing... we will all just whisper, 'PLEASE RECALL DIPS*** GAVIN NEWSON!'"
Full Metal Jacket actor Adam Baldwin is equally displeased with the restrictions placed on the holiday, deeming them "Ridiculously unenforceable."
Country singer Cody Wolfe tweeted (and since deleted): "Hey @GavinNewsom as a new California resident. I live in a condo. So therefore I can't have my Thanksgiving outside, but its okay I'm coming over to your place to spread some holiday cheer all over your dining room table."
He added: "Oh and as by legal right of the U.S. constitution I'm not wearing a mask as I deem it to be unlawful and unconstitutional. You should be impeached for committing treason."
Total confirmed cases in California have surpassed 887,600, with 17,192 reported deaths, as of Thursday, according to Johns Hopkins University (JHU).
Character actor Nick Searcy said he was not going to abide by the rules, writing: "We are having Thanksgiving at my house with a lot of people and @gavinnewsom can kiss my ass and bark at the hole."
"Gavin Newsom, LOFL. No one is listening to you anymore. You have lost your mind," actress Justine Bateman said.
"How many of you sheep are going along with Newsom's Thanksgiving protocols?" author Adam Carolla asked.
Not everyone is against Newsom however. Food writer Jenna Golden asked why people were not concerned with the help of others during the pandemic.
She tweeted: "I get that Governor Newsom's Thanksgiving rules are far from ideal. I want to spend the holidays with my family too. But, I don't understand when people decided that their own individual freedom was more important than the collective health of others?"