California Votes Down Bill To Make Human Trafficking a Violent Crime
Lawmakers in California have voted down a bill that would have made human trafficking a violent crime in the state.
Senate Bill 1042, introduced by Republican state Senator Shannon Grove, would have changed California law to include human trafficking in the list of crimes that are classed as "violent" and "serious." Under current California law, human trafficking is defined as a "non-serious" and "non-violent" crime.
The legislation would have also included human trafficking as a strike under California's Three Strikes sentencing law. Under that law, anyone convicted of a third violent or serious offence is sentenced to at least 25 years in prison.
The Senate Public Safety Committee on Tuesday heard testimony on the bill, but it failed in committee by a vote of 1-2, The Sacramento Bee reported.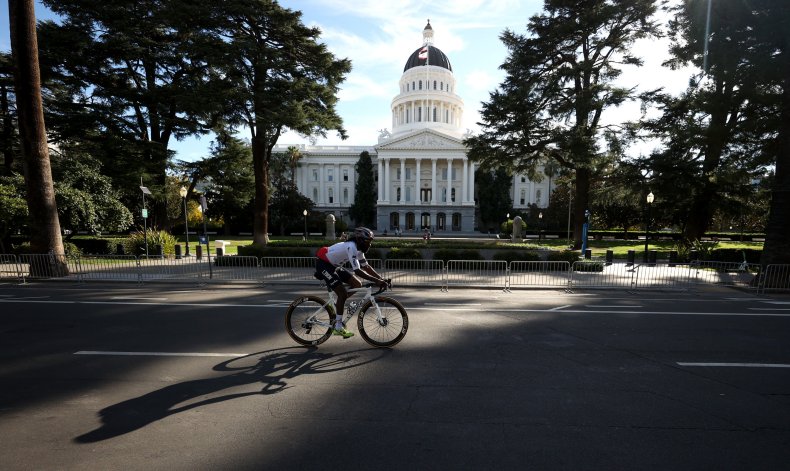 Assembly Member Jim Patterson, a Republican representing Fresno, was outraged by the outcome.
"If the politicians in this building fail to pass this bill, they are complicit in sex trafficking," Patterson said, according to KTXL.
At a press conference on Tuesday morning, Grove had said the bill "is long overdue in our state."
"A perpetrator's ability to get off and out of prison in just a few years is completely unacceptable," she said. "Individuals that perpetrate this specific horrific crime should be punished and put in prison for the longest time possible."
The bill was endorsed by a number of human trafficking survivors and law enforcement agencies.
"This legislation ensures traffickers are sentenced to prison, establishes increased penalties for repeat offenders, and prevents traffickers from receiving early parole," San Diego County District Attorney Summer Stephan said in a statement of support in March.
"We continue to attack human trafficking, the sexual exploitation of young people, and labor trafficking on several fronts. This change to the law will give prosecutors across the state another tool that has more serious consequences for those who would prey on some of the most vulnerable in our communities."
However, it was also opposed by some criminal justice reform advocacy groups.
"As direct service providers and organizations who interact and support survivors of human trafficking, we know that victims and survivors of human trafficking are often misidentified as perpetrators and arrested for human trafficking," Free to Thrive, a group that advocates for human trafficking survivors, said in a statement, according to the Bee.
"Therefore, this bill will hurt victims and survivors, and it will not prevent traffickers from recruiting, grooming, and trafficking more victims while prior victims serve out long sentences on their behalf."