Experts at Stanford University believe that the wildfires in California—which have burned through at least 4 million acres throughout the state this year alone—could cause at least $10 billion in damage.
Fellows at the Stanford Institute for Economic Policy Research (SIEPR) told KGO-TV they believe it will cost up to $1,000 per acre to clear damaged land. An estimated 10 to 20 million acres need to be cleared.
Michael Wara, a Stanford climate policy researcher, believes money spent by the state each year on firefighting could be reworked to lessen the wildfires' devastating impact.
"We spend about $2.5 billion on CAL FIRE (the California Department of Forestry and Fire Protection) firefighting in the State of California each year," Wara told KGO-TV. "If we spend about that much money, we could do a lot to make this problem much less of a kind of frontline crisis."
Without clear leadership on climate change at the federal level, the problem is likely to worsen in the long run, Marshall Burke, an SIEPR fellow, told KGO-TV. The economists say it will take a combined federal, state and local effort to combat the issue.
A New York Times report published in mid-September echoed the Stanford economists' estimations, finding that in three of the past four years, including 2020, fires in California are on track to cause damages in excess of $10 billion.
Newsweek contacted the SIEPR for further comment, but did not hear back in time for publication.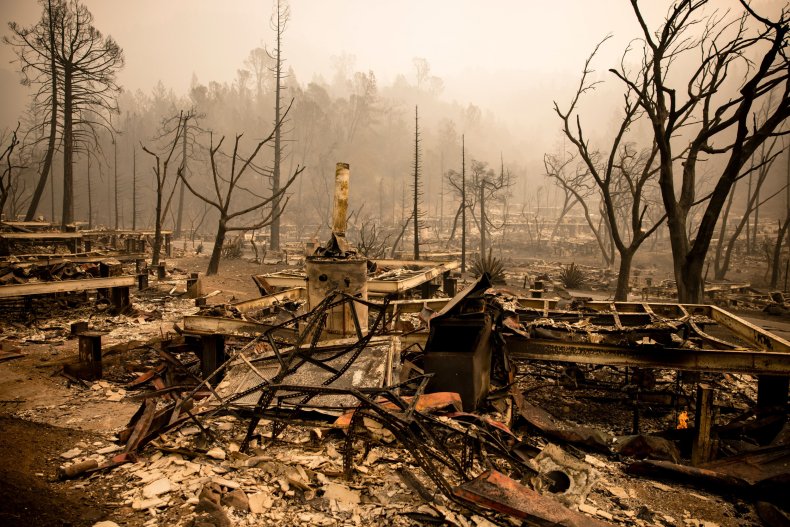 Tom Corringham, a researcher at the Scripps Institution of Oceanography, believed it could amount to even more.
"We're setting records year after year," he told told the Times. "It's a little early to say what the total impacts are going to be, but it wouldn't surprise me if the damages are over $20 billion this year."
And those are counting only direct costs, Corringham said, meaning the money associated with fighting the fires and damage to property. But there are other more hidden costs to these natural disasters, including health care bills, costs of disrupted businesses, lost tax revenue and decreased property values, the Times reported.
Over the past 50 years—with the exception of these last four—wildfires have averaged around $1 billion per year in California, adjusted for inflation, according to the Times.
The 2020 fire season has set another new list of records. According to Cal Fire's latest update posted October 10, more than 13,800 firefighters are continuing to work toward containing the 21 major wildfires remaining across the state.
Several of the fires are over 95 percent contained and no growth is expected, according to the update. Firefighters had to respond Friday to 19 new wildfires, but were able to bring full containment to all, Cal Fire said.
Since the beginning of the year, there have been more than 8,400 wildfires reported in the state. The 2020 fires have burned through more than 4 million acres—the largest amount recorded in California's modern history—destroying at least 9,200 structures and killed 31 people, according to Cal Fire.
While speaking to the Associated Press, Cal Fire's Scott McLean called the 4 million acreage mark "unfathomable."
"It boggles the mind, and it takes your breath away," he added. "And that number will grow."