California Wildfires: Two Children Confirmed Dead as Inferno Spreads, Looting Breaks Out
Thousands of firefighters deployed to combat wildfires spreading across California continued to fight the blaze on Sunday, as it emerged the inferno had claimed at least five lives.
Two children and their great-grandmother were confirmed dead as the fire ripped through the rural home where they were staying near the northern California city of Redding. The three victims have been identified as James Roberts, 5, Emily Roberts, 4 and Melody Bledsoe, 70. On Saturday, the population of Redding got an evacuation order as the flames spread.
The 89,194 acre Carr Fire recorded in Shasta County is one of at least 25 fires now burning in California. It has left a path of destruction in its wake. Fire department records suggest it was started by the mechanical failure of a vehicle. A total of 3,388 personnel worked "aggressively" this weekend in an attempt to stop the flames. But containment is at 5 percent.
"Extreme fire conditions continue to challenge firefighters last night," officials said in an update today. "Erratic winds and hot dry conditions resulted in greater growth and increased fire behavior during night operations," it added. "Red Flag Warning and heat advisory are in effect for the area through Monday. Winds, high temperatures and dry vegetation still have the potential to fuel fire growth. Crews will continue to asses the number of damaged structures as conditions allow."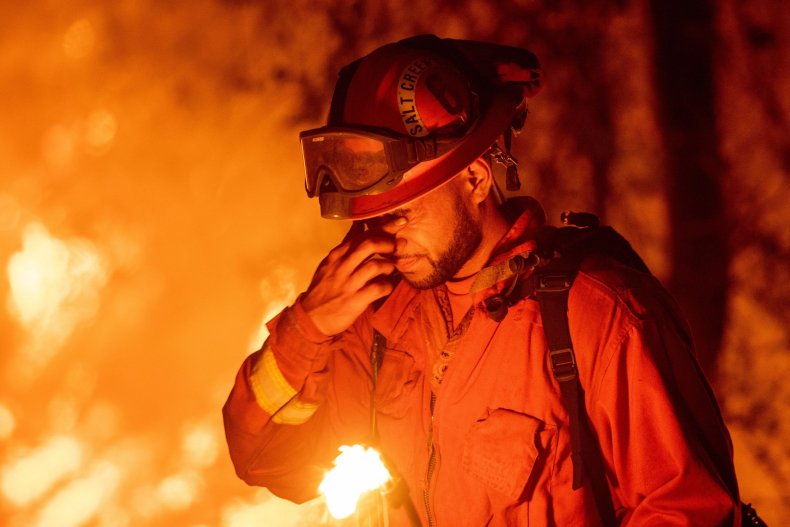 On Saturday, officials confirmed the Shasta County fire killed two men tackling the outbreak, Redding fire inspector Jeremy Stoke, 37, and bulldozer operator Don Ray Smith, 81. The Carr Fire alone has resulted in the destruction of hundreds of homes and businesses, with thousands under threat. Fire department officials have continued to release updates via social media.
The two children and their great-grandmother were reportedly caught off guard by the spread and were listed as missing after the fires took residents by surprise, the Associated Press reported. The unpredictable nature of the spread is being bolstered by low humidity and high winds.
In an emotional Facebook post on Saturday night, Amanda Woodley, Bledsoe's grand-daughter, opened up about the tragic deaths after meeting with the sheriffs office.
"Grandma did everything she could to save them she was hovered over them both with a wet blanket," Woodley wrote. "The family that lives in town are all together mourning 3 amazing souls, my heart is crushed. I can't believe this is real I just keep seeing all of their beautiful faces it has been a really tough couple of days but today we have sadly received confirmation."
On top of the deaths, fresh reports suggest that looting has started to break out in some of the neighborhoods affected by the fires. Redding Police Chief Roger Moore confirmed "a lot" of cases and said that one suspect—who was on parole—had been detained and would be charged. Others are driving across evacuated regions and trying to break into homes, he added.
"We're not getting a break with the weather," commented Cal Fire spokesperson Chris Anthony this weekend. "It just continues to be really hot, really dry and we continue to get those winds," he added. "This fire's getting so big and there are so many different parts to it."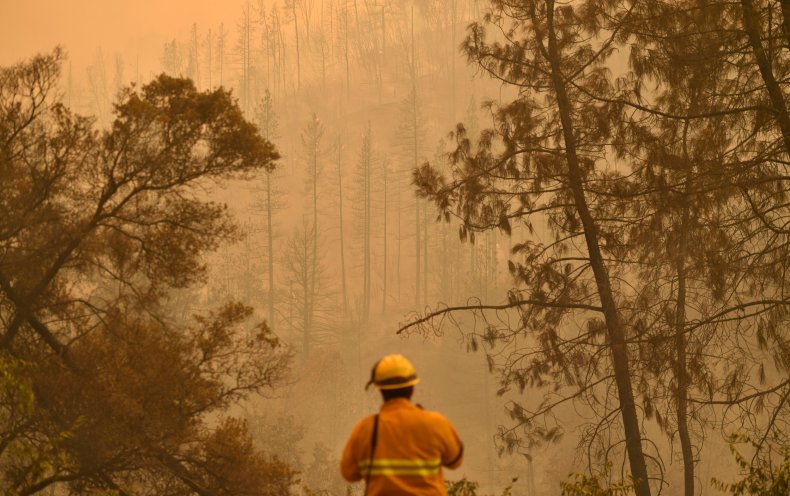 According to the BBC, at least six people are still unaccounted for. And tornadoes of fire, known as fire whirls, have been spotted in some regions, said Cal Fire chief Ken Pimlott. The Carr Fire is only one of 90 large blazes burning across 14 U.S. states, officials said Sunday.
The U.S. government approved federal assistance to California on Saturday night.
The assistance includes "air assets to mitigate the impacts of this fire, shelter supplies and water for evacuated residents, and support with mass care, ambulatory transport and the evacuation of individuals with access and functional needs as well as large animals," the governors office said in a release. "This aid will help save lives, and protect property, public health and safety."
Last Thursday, governor Edmund Brown declared a state of emergency in Shasta County and deployed the California National Guard to help with evacuations, which are ongoing. In Redding alone, he said the fire had forced approximately 38,000 residents to abandon their homes.