California Wildfires: Two Dead as 'Firenadoes' Engulf Hundreds of Homes
The wildfires tearing through northern California have grown in size overnight, and hundreds of homes and businesses have been lost to the flames.
Two people have been killed so far by the Carr Fire, and another three firefighters have been injured, CNN reported. By Friday night, the blaze had destroyed an area of more than 48,000 acres.
The fire raging in Shasta County has killed a bulldozer operator and a firefighter, according to the California Department of Forestry and Fire Protection, the U.S. National Park Service and the Shasta County Sheriff's Office.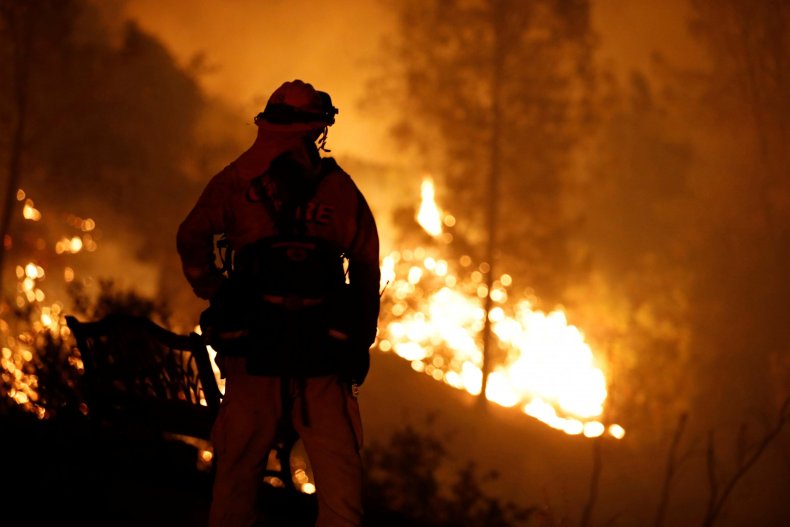 The town of Redding and its 92,000 people are in the path of the fire, which spread across the Sacramento River overnight. Emergency services have only managed a five percent containment thus far.
At least 500 homes, business and other structures have been consumed by the fire, with another 75 damaged. As many as 5,000 buildings are still threatened by the inferno, which has doubled in size in just 12 hours. Around 38,000 people have been evacuated from the burn area, and 800 troops from the state national guard deployed to assist firefighting efforts. The "mechanical failure of a vehicle" started the fire in Whiskeytown on Monday, officials said.
Low humidity and high winds are exacerbating the blaze. The winds are causing the formation of fire tornados, or "firenadoes," which are strong enough to overturn vehicles according to Scott McLean, a spokesman for the crews battling the Carr Fire. He told the Associated Press that the fire is "taking everything down in its path," and that the situation is "very dynamic" and "a heck of a fight." More than 3,400 people are fighting the spreading flames, using 328 engines, 17 helicopters and 62 bulldozers.
Evacuation orders have been causing heavy traffic as residents flee. The fire's rapid spread caught many residents off guard. Even local television channel KRCR had to halt its broadcast and leave the news station. During a live show, anchor Allison Woods told viewers, "Right now we are being evacuated—that's why we are kind of closing out right now. We are going to leave the station because [it] is now unsafe to be here."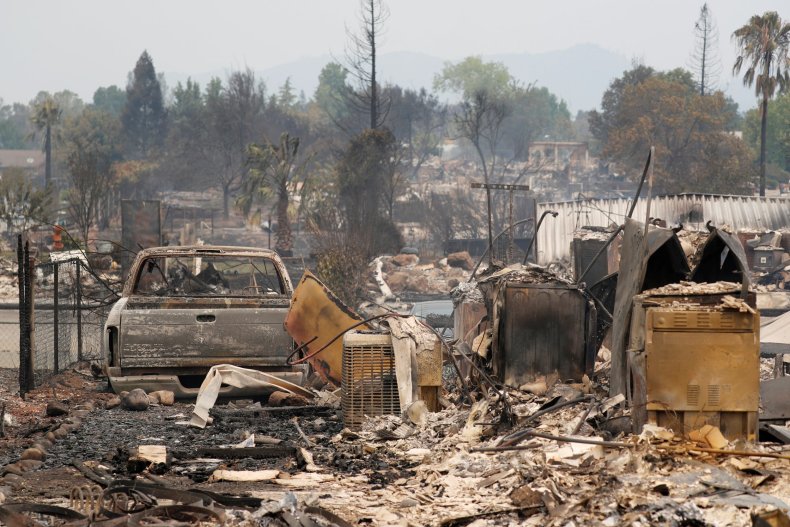 California Governor Jerry Brown has declared a state of emergency for the Riverside and Shasta counties in response to fires. He wrote to President Donald Trump and the Federal Emergency Management Agency (FEMA) requesting assistance for the communities affected by the blaze.
"Supplemental federal assistance is necessary to save lives and to protect property, public health and safety, and to lessen the effects of this imminent catastrophe," the governor wrote. Brown asked for "shelter supplies and water for 30,000 evacuated residents in Shasta County; U.S. Department of Agriculture's assistance in evacuating large animals; mass care; evacuation assistance for individuals with access and functional needs; and ambulatory transport."
The Carr inferno is one of 89 active large fires burning in 14 U.S. states, six of which are in California. Another, the Ferguson Fire, has forced Yosemite National Park to close after one person was killed and several more injured. So far, 46,675 acres have been destroyed. Around 3,800 firefighters are responding, and have achieved 29 percent containment.