Two California wolf packs have welcomed 11 new pups in a "conservation milestone."
According to a quarterly report published by the California Department of Fish and Wildlife (CDFW), two of California's existing wolf packs—the Lassen pack and the Whaleback pack—have welcomed a flurry of pups into their families this year.
The Lassen pack welcomed five pups, while the Whaleback pack had at least six, the report said.
Wolves in California are scarce. There are only three known wolf packs in the state, including the Lassen pack, the Whaleback pack and the Beckwourth pack.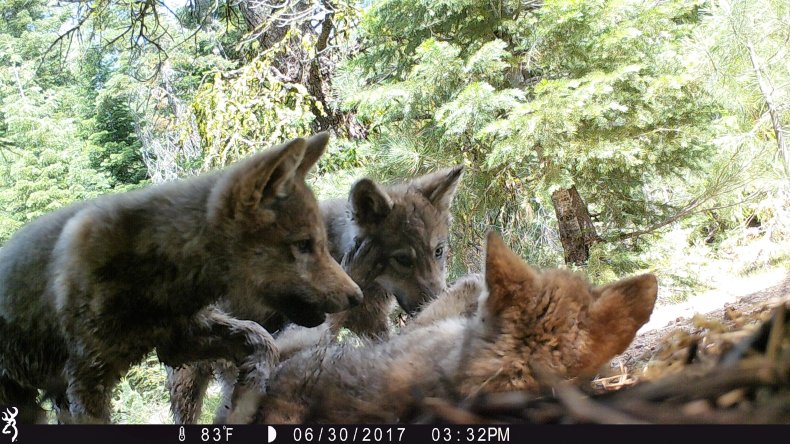 Wolves were wiped from California nearly a century ago. The last of the state's original wolves were hunted in 1924.
The Lassen pack's territory covers the Plumas and Lassen counties, in Sierra Nevada. The Whaleback pack roam in eastern Siskiyou County, to the north of the state. The new additions bring the Lassen pack's numbers to at least 12, and at least 13 in the Whaleback pack.
"These furry little tykes are really something to celebrate," Amaroq Weiss, senior wolf advocate at the Center for Biological Diversity, said in a Center for Biological Diversity press release. "Wolves were absent from California for nearly a century, so having two packs with new pups for two years in a row is a conservation milestone. This confirms what the science has said all along: California is wolf country. Wolves belong here."
The species was not re-introduced to the state—they returned on their own from neighboring states, mainly from Oregon. The Lassen pack was first confirmed in the state in 2017, while the Whaleback pack was first established in late 2020.
Two years ago, the Trump administration removed gray wolves from the Endangered Species Act. This meant they were no longer protected by federal law. In February this year, this was overturned, meaning there are now less threats in place for the species, and more restrictions on hunting.
Since 2017, the Lassen pack has had pups every year, while the Whaleback pack only had its first litter of pups in 2021.
The Beckwourth pack remains an enigma, as it was only discovered in 2021. Since experts found the pack, they are not believed to have welcomed any pups. There was no new information gathered on this pack in the quarterly report.
"I'm thrilled that California's handful of wolf families is now producing pups each year," said Weiss in a press release. "Continued state and federal protections offer the safety net these wondrous animals need to survive. But wolf recovery here is in its infancy, and our few wolf families are still establishing a toehold. So we'll do everything in our power to ensure that more wolves survive and reproduce in California."
Newsweek has contacted the CDFW for comment.
Correction 08/08/2022 2.19 a.m. ET: The name of the CDFW has been corrected.