Wolf Pups Captured Exploring and Playing in Disney Plus Documentary Footage
A litter of Minnesota wolf pups has been captured exploring and playing in documentary footage.
The footage aired as part of National Geographic's America the Beautiful, a new documentary now streaming on Disney+.
It begins by showing a wolf pup emerging from its den in the Voyageurs National Park. The pup can be seen howling at the sky, calling for its mom.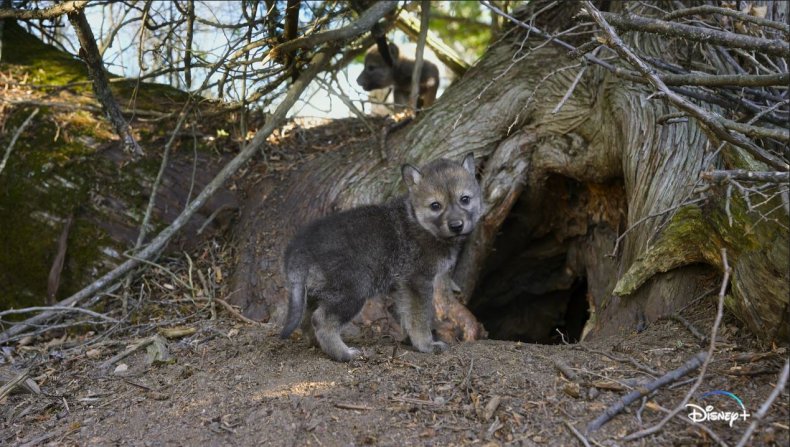 "Mom's gone off hunting. And at every entrance of the den, there's a pup calling for her," the narrator, Michael B. Jordan, says. "They're definitely missing mom, but her absence is an opportunity to go exploring."
All eight pups can then be seen emerging from the den to have a look around. They begin roughhousing with each other, which according to Jordan, builds strength and establishes their rank in the pack.
The footage was captured with the help of the Voyageurs Wolf Project, a University of Minnesota research project. The project tracks the elusive wolves of the Voyageurs National Park by using camera traps set up in remote locations. Its aim is to discover more about what the species do during the summer.
According to the National Park Service, 30 to 50 wolves, split into six to nine packs, live in the Voyageurs area.
Project leader Thomas Gable told Newsweek: "We were able to assist and help the film crew locate wolf dens through our research efforts. We visit wolf dens every spring to count the number of wolf pups born in each litter and to tag the pups as well. We are able to find dens by tracking the movements of GPS-collared adult wolves."
Footage such as this is rare, as filming in such remote, densely forested locations can be an "outsized challenge."
"Finding wolf dens in places like Minnesota without the help of GPS-collared wolves is like looking for a tiny, tiny needle in a massive haystack. In this case, we were able to visit wolf dens for our research and help the film crew capture some amazing footage of pups at their den," Gable said. "Many factors make it very tough but fortunately the film crew was very skilled, and I think did a fantastic job at capturing some wonderful footage."
The pups in the footage were born in spring 2021. Wolf pups face many challenges in their first year of life, and in Voyageurs, the majority that make up a litter do not survive.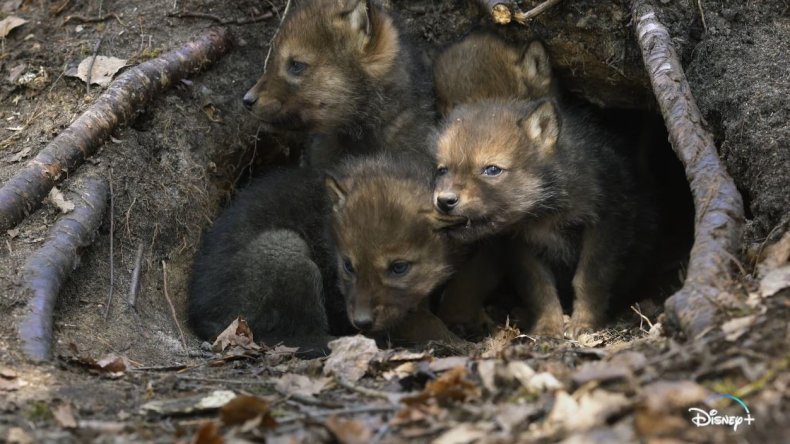 However, Gable said that several of these pups are still alive today.
"You can see in some of the footage that there was a very large litter... The biggest challenge for pups is getting enough food," Gable said. "The pups rely on their parents and other wolves in the pack to hunt and kill enough food for them. In many instances, the parents and other wolves in the pack simply aren't able to find enough food for all of the pups and some pups die of starvation."
Gable said it was "particularly exciting" to have the wolves living in and around Voyageurs featured on the documentary, as it is not often they get the limelight—as Gable notes, most nature documentaries feature wolves from Yellowstone or the Arctic, where the open landscapes make it easier to film and observe them.
"Minnesota is categorically different from those landscapes because of the dense forests which makes observing and filming wolves an exceptional challenge. I cannot think of a single documentary where wolves from Minnesota have been featured, in part, because filming them is so difficult," Gable said.
"Similarly, the area in and around Voyageurs National Park, where we do our research, hasn't really been featured in nature documentaries and many people haven't even heard of Voyageurs National Park, even though it is an incredibly special and beautiful area.
"So to be able to assist the film crew capture this footage and then to see the wolves of Voyageurs and the Voyageurs area shared with a broad audience is very satisfying and rewarding. The Voyageurs area and its wildlife are truly a national treasure, and it is always special and rewarding when the area gets the recognition and appreciation it should!"
All episodes of America the Beautiful are now streaming on Disney+.