California Woman Apologizes for Holding Sign at Lockdown Protest Comparing Wearing Masks to Slavery
A woman has apologized for holding a sign comparing contemporary COVID-19 face masks to slavery-era human muzzles during a May 16 anti-lockdown protest in north California.
At the protest in front of the Humboldt County Courthouse, Gretha Stenger and Larkin Small were photographed holding a sign which showed a drawing of Escrava Anastacia, an African woman who was enslaved in Brazil during the 19th century.
The image of Anastacia wearing a muzzle and a metallic collar has made her both an iconic image of slavery's dehumanizing cruelty and a venerated unofficial saint in Brazil, noted for her defiant beauty despite attempts to silence her. Worshippers see her as a saint who can heal the sick, strengthen the oppressed and forgive oppressors.
Next to Anastacia's picture on the protest sign were the words, "Muzzles are for dogs and slaves. I am a free human being." The picture of the white women holding the sign quickly went viral after being published on the local website Redheaded Blackbelt.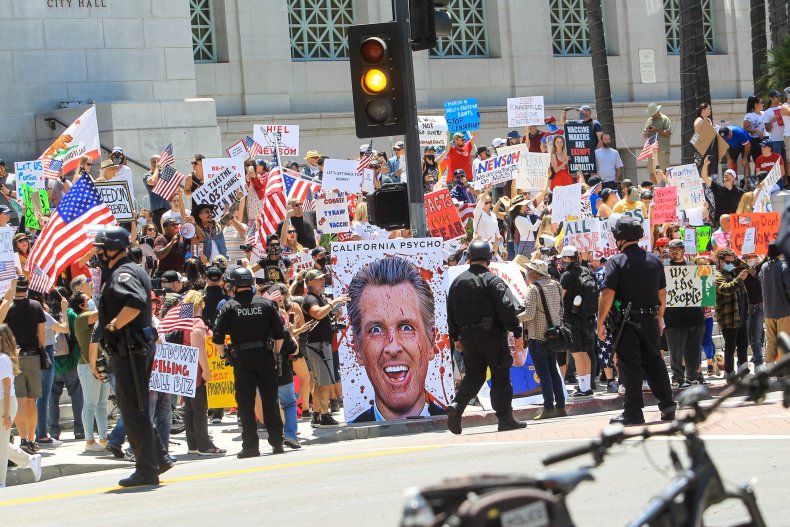 While some Twitter users thought the sign demonstrated that the women condone muzzling human slaves, others took offense at comparing the two-month-old COVID-19 lockdown to the 400-year Atlantic slave trade that kidnapped and sold 12.5 million Africans into lifelong servitude, physical abuse and rape.
After being publicly identified on social media, Stenger apologized on Monday.
"Holding that sign up at the lockdown protest was a grave mistake and I ask forgiveness from all those who I have caused pain," she said in a statement to The Times-Standard. "As I had no sign of my own, it was handed to me by another protester and a photographer took the picture before I considered the racist implications."
"My intent was to take a stand for the freedom of all human persons," she continued, "and I mistakenly held a sign that conveyed the opposite. Please know that I respect the dignity of all people and I sincerely regret any suffering it has caused."
Small has not issued any statement about her holding of the sign.
The women's sign is just the latest to spark an uproar at anti-lockdown protests across America.
On May 3, Michigan's Democratic Governor Gretchen Whitmer criticized anti-lockdown protesters who demonstrated outside of the state capitol for carrying Nazi symbols and Confederate flags.
"Some of the outrageousness of what happened at our capitol this [past] week, you know, depicted some of the worst racism and awful parts of our history in this country," Whitmer told CNN's State of the Union. "You know the Confederate flags and nooses, the swastikas...the behavior that you've seen in all of the clips is not representative of who we are in Michigan."