Michigan Governor Whitmer Says Anti-Lockdown Protests 'Depicted Some of the Worst Racism and Awful Parts of Our History'
Michigan's Governor Gretchen Whitmer, a Democrat, criticized anti-lockdown demonstrators in her state for carrying Nazi symbols and Confederate flags during protests last week at the state capitol in Lansing, saying this "depicted some of the worst racism and awful parts of our history."
Hundreds of demonstrators converged on Lansing on Thursday, with a group of protesters entering the state's legislative building with guns and anti-lockdown banners. Some of the protesters wore or carried Confederate flags, while others held signs with Nazi symbols.
Whitmer addressed these demonstrations in an interview with CNN on Sunday.
"Some of the outrageousness of what happened at our capitol this [past] week, you know, depicted some of the worst racism and awful parts of our history in this country," Whitmer told CNN's State of the Union. "You know the Confederate flags and nooses, the swastikas...the behavior that you've seen in all of the clips is not representative of who we are in Michigan."
Whitmer reiterated that the coronavirus pandemic is ongoing, saying "this isn't something we negotiate ourselves out of as a political matter." She asserted that this is a "public health crisis that has taken the lives of almost 70,000 Americans."
"We've lost in the last 24 hours almost the same number of Americans that were killed on 9/11," the Michigan governor pointed out. "And that's just in the last 24 hours."
Earlier in the segment, Whitmer noted that she can understand the frustration expressed by protesters, but urged people to follow the advice of public health officials and scientists.
"We have to listen to the epidemiologist and health experts and displays like the one we saw at our capitol is not representative of who we are," she said.
Michigan United for Liberty, a group organizing the demonstrations, pushed back against the governor's criticism.
"Quarantine is for sick people. When you lock healthy people in their homes, it has now become about control! We will not have our basic human rights and our constitutional freedoms be stripped away in the face of fear," a spokesperson for the organization told Newsweek in an email.
"We do not fear this virus. We are much more concerned about the families who are now living in poverty. Who are now unable to put food on the table for their families," they said. "Those who will not be able to recover from loss of revenue due to having to close their small business."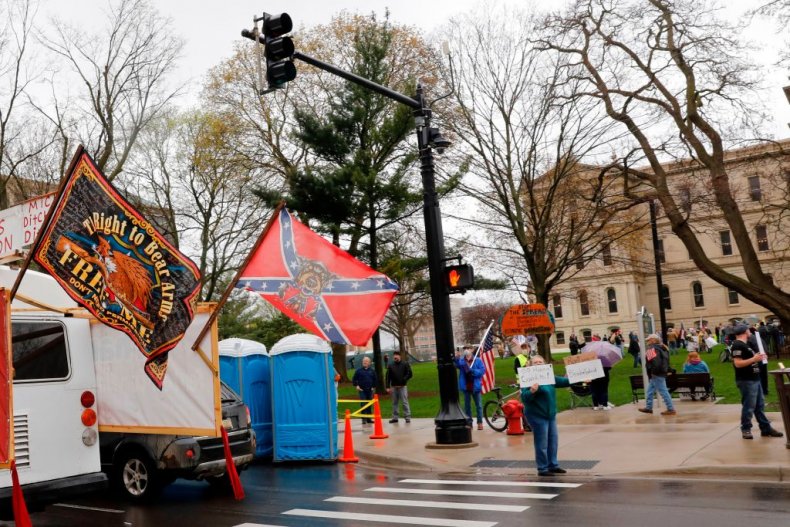 President Donald Trump has voiced support for the demonstrators in Michigan, as well as protests that have taken place in other states across the country.
"The Governor of Michigan should give a little, and put out the fire," Trump wrote in a Friday tweet. "These are very good people, but they are angry. They want their lives back again, safely! See them, talk to them, make a deal."
While Whitmer has extended the state of emergency in Michigan until May 28, she has eased some social distancing restrictions. However, dine-in service at restaurants is still banned, while bars, casinos and public events remain closed in the state.
Dr. Deborah Birx, the coordinator of the White House coronavirus response team, raised concerns about the protests in Michigan during an interview with Fox News Sunday.
"It's devastatingly worrisome to me personally because if they go home and infect their grandmother or their grandfather who has a comorbid condition and they have a serious or an unfortunate outcome, they will feel guilty for the rest of our lives," Birx cautioned.
"So we need to protect each other at the same time we're voicing our discontent," she said.
Although the protests have garnered significant national attention, multiple polls in Michigan have shown that the majority of voters in the state support the governor's response to the pandemic. Polling has also shown that more residents approve Whitmer's handling of the crisis than approve of Trump's response.