Majority of Michigan Residents Support Governor Whitmer's Coronavirus Response, Despite Anti-Lockdown Protests, Poll Shows
The majority of Michigan residents approve of Governor Gretchen Whitmer's handling of the coronavirus pandemic, despite last week's large protest against the state's stringent stay-at-home order, polling has shown.
The new survey, published Monday and conducted by the Detroit Regional Chamber, found that 57 percent of respondents approved of Whitmer's coronavirus response in Michigan, while just 37 percent disapproved. Meanwhile, only 44 percent of those polled approved of President Donald Trump's response to the crisis, while 50 percent disapproved.
Among those surveyed, 39 percent self-identified as Democrats, while 35 percent identified as Republicans and 26 percent said they were independents. In total, 600 Michigan residents were polled.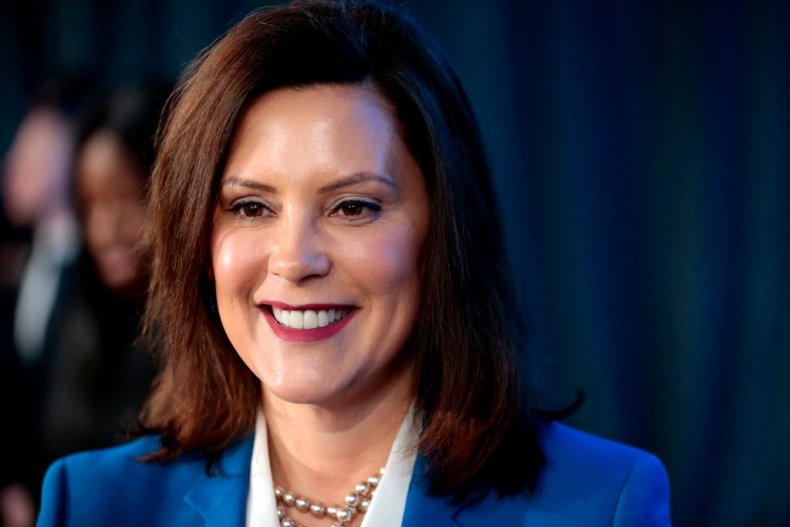 Last Wednesday, thousands of protesters descended on Lansing to demonstrate against the social-distancing requirements put in place by Michigan's Democratic governor. While organizers encouraged demonstrators to remain in their cars as they drove through the city holding signs and waving flags, some protesters exited their vehicles and disregarded social distancing measures.
Demonstrators held signs that read: "Security Without Liberty Is Called Prison," "Liberty Once Lost Is Lost Forever" and "Recall Whitmer," USA Today reported. Trump later voiced his support for the anti-social-distancing protests in Michigan as well as in other states around the country. "Liberate Michigan!" the president tweeted on Friday.
"A small segment of the state is protesting, and that's their right," Whitmer told CNN on Wednesday. "The sad part is, though, that the more that they're out and about, the more likely they are to spread COVID-19 and the more likely we're going to have to take this posture for a longer period of time," she warned.
As of early Monday afternoon, Michigan had more than 30,000 confirmed cases of the coronavirus. Of those, 2,374 people have died.
Tori Meyer, a resident of Berrien County in southwest Michigan, told Newsweek that she supported Whitmer's stay-at-home order and believed the governor was taking appropriate steps to protect the people of her state.
"Hands down, I trust Whitmer more than Trump," Meyer, 30, said. "Instead of leading us, he's gone back and forth with his stance on the coronavirus, refuses to fully address the issues and instead let the states fight it out with each other, so to speak."
Meyer said she wasn't surprised that people had protested the lockdown but felt embarrassed by the demonstrations.
"It's embarrassing for others to see that and think maybe all Michiganders are that way," Meyer said. "No one wants to be stuck at home right now, but I look at this as my civic duty. Is it inconvenient and kind of boring? Yes. But the more we are all in this together and staying home, the faster this will be over."
She also said she was "infuriated" by Trump's tweet about Michigan. "He's fanning the flames and blatantly inciting violence in our state, which is the last thing we need right now," Meyer told Newsweek.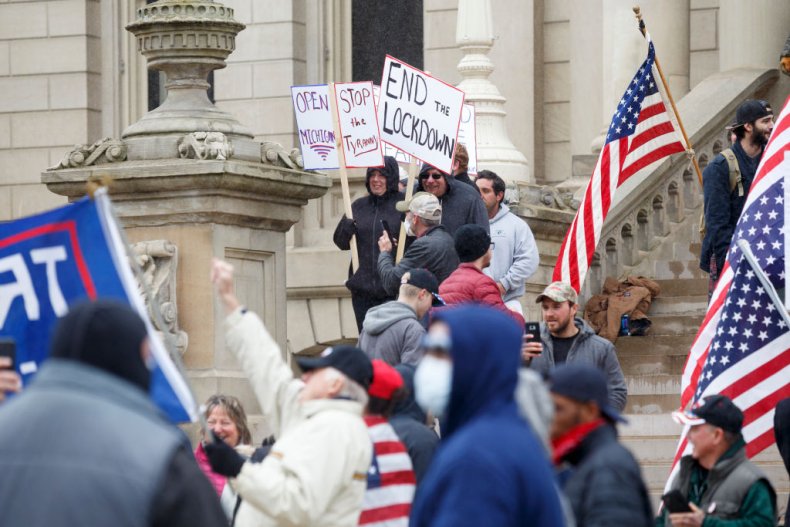 Several governors have criticized Trump for supporting the demonstrations against social-distancing measures. Maryland Governor Larry Hogan, a Republican, who faced a similar protest in Annapolis on Saturday, told CNN on Sunday that the demonstrators were essentially protesting against guidelines laid out by the White House.
"So then to encourage people to go protest, the plan that you just made recommendations on on Thursday, it just doesn't make any sense," Hogan said. "We're sending completely conflicting messages out to the governors and to the people, as if we should ignore federal policy and federal recommendations."
National polling has shown that the majority of Americans support stay-at-home orders, with most respondents more concerned that the government will move too quickly to reopen the economy than too slowly.
A survey released Sunday by NBC News and The Wall Street Journal showed that 58 percent of respondents were concerned that the U.S. would ease stay-at-home guidance too quickly, while only 32 percent said they were concerned the economy wouldn't be reopened quickly enough. A similar poll released last week by Pew Research Center found that 66 percent were concerned that state governments would be too quick to ease their coronavirus restrictions.