'Call of Duty: Black Ops Cold War' Season 1 Release: What Time Does It Start?
Call of Duty: Black Ops Cold War Season 1 is hours away from release, and we want to make sure you're ready for the new Battle Pass and all its big changes. Below, we outline the season's release time and the major features found in the game's recently deployed 1.08 update.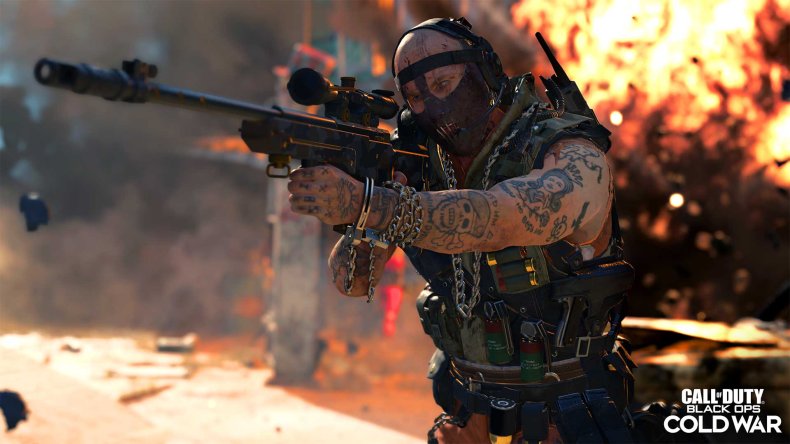 What time does Call of Duty: Black Ops Cold War Season 1 start?
According to the Call of Duty experts at Charlie INTEL, Call of Duty: Black Ops Cold War Season 1 is set to begin December 16 at 2 a.m. EST.
While the season hasn't officially started yet, all players should be able to download the latest update for the game that includes the new content in advance. Patch sizes vary by platform, so we suggest taking the time to get everything installed well before the unlock time listed above. If you do that, you'll be able to start playing right at 2 a.m. EST.
What to expect from Black Ops Cold War Season 1
Even though the free DLC for Season 1 hasn't been made playable, fans have known about the major features of the game's 1.08 update for quite some time. More complete patch notes are expected in the coming hours, but here's a quick recap of the highlight additions available December 16.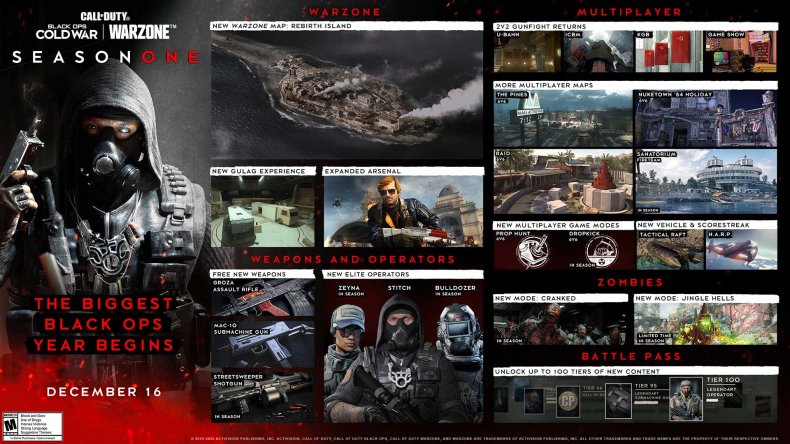 New Operator (Stitch): The KGB weapons specialist is unlocked alongside the purchase of the Battle Pass.
MAC 10 SMG: Has a fast fire rate, moderate damage and fast handling. It's balanced by high recoil. Players can get it by reaching Tier 15 of the Battle Pass for free.
Groza Assault Rifle: It's a fully auto assault rifle with good damage, handling speed and a fast fire rate. Unlock it for free at Tier 31.
2v2 Gunfight: Gunfight returns with four new maps. Duos spawn with a random loadout and work to be the first to win six rounds. Maps include Game Show, ICBM, KGB and U-Bahn.
Prop Hunt: Teams alternate as props and hunters. Matches end if all props are destroyed or if at least one prop survives the time limit.
Combined Arms: hardpoint: This is a 12v12 take on Hardpoint. Capture the rotating Hardpoint on the map to rack up points for your team. There are four 12v12 maps to choose from for Season 1.
Maps: The first maps include the Pines, Raid and Nuketown '84. The Pines is set at a mall in New Jersey, while the other two are remade Call of Duty classics.
Rebirth Island: For Warzone the highlight feature is Rebirth Island. It's a small-scale map with a Russian theme. It's designed for fast matches and small groups. In the new Resurgence mode, it's possible to respawn if your team survives for a long enough time.
New Verdansk Gulag: The old map has a fully redesigned Gulag for unique 1v1 play.
Combined progression: Black Ops Cold War Season 1 is the start of the combined progression system that unites Call of Duty: Black Ops Cold War, Call of Duty: Warzone and Call of Duty: Modern Warfare. You can rank up by playing any of these three games. There's also a brand-new Prestige system too. Learn more about that in our Black Ops Cold War Prestige guide.
Weapon balance: The previous Black Ops Cold War update didn't have much in the way of balance, but this one will. Expect the game's overpowered guns to be nerfed.
Those are the broad strokes of the start of Season 1, but players can expect more maps, modes and other additions in the coming weeks.
Call of Duty: Black Ops Cold War is available now on PS5, PS4, Xbox Series X|S, Xbox One and PC.
What are your thoughts on Black Ops Cold War Season 1? Will you start playing as soon as it releases? Tell us in the comments section!