'Call Of Duty: WWII' Update Adds Headquarters Surprise & Ground War Soon
Call Of Duty: WWII 's massive Divisions overhaul updated the game last week, but players can look for even more multiplayer action in the days ahead. In Sledgehammer Games' most recent Community Update, developers teased a few surprises are coming soon.
One of them is shown in this screenshot below. As you can see, it's the standard Headquarters map from a first-person perspective with a weapon equipped. We don't quite know what it means, but the lack of teammate markers in the UI suggests Headquarters might become a playable free-for-all map in the near future. After suffering through a rocky launch this past November, Headquarters hasn't been quite as popular as Sledgehammer would've liked. What better way is there to put those optional assets to good use than to transform them into a playable map? It's also possible there may be a live Headquarters event that arms players as well.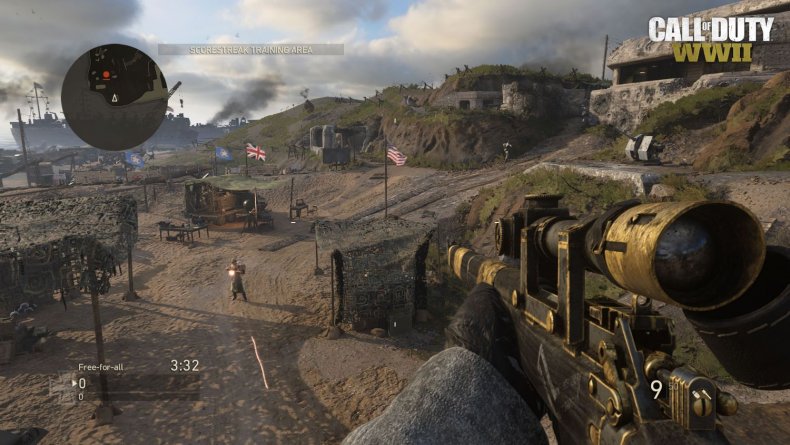 On Sledgehammer's behalf, the blog post simply refers to the screenshot as a "sneak peek for next week."
If the possibility of additional maps isn't enough to get you excited, maybe new multiplayer modes will do the trick. The post also says a Ground War playlist will go live at the same time. Appearing in every Call Of Duty title since the original Modern Warfare, the Ground War playlist is the only one to support a total of 18 players across modes like Team Deathmatch, Domination and Kill Confirmed. The experience is more or less identical, except with more players on each team.
There are a few smaller changes both available and incoming as well. If you're a fan of loot, you'll be glad to know Weapons Orders are now daily as opposed to weekly. So, if you'd like to get WWII's latest guns, now you have many more chances to do so. That grind also carries over to Nazi Zombies with the upcoming arrival of Zombies Orders next week. While you wait for everything to arrive, feel free to enjoy Double XP, Double Division XP and Double Weapon XP through April 16.
Call Of Duty: WWII deployed one of its biggest updates yet to coincide with the release of The War Machine DLC on Tuesday. The Divisions system has been totally overhauled to offer increased flexibility and more fluid boots-on-the-ground movement. Next week's tweaks won't be quite as extensive, but they sound exciting nonetheless.
Call Of Duty: WWII is available now on PS4, Xbox One and PC.
What are your thoughts on Ground War and the latest Headquarters teaser? Did War Machine bring you back to Call Of Duty: WWII? Tell us in the comments section!