Calls to Fire Chuck Todd For NBC Airing Trump Town Hall Against Biden's At Same Time
Social media users are calling for NBC News'political director Chuck Todd to be fired over the town hall scheduling clash between President Donald Trump and Democratic presidential candidate Joe Biden. The hashtag #FireChuckTodd was trending on Twitter Thursday morning.
The television network announced Wednesday that it would be hosting the president's town hall event after he pulled out of the second presidential debate. The time slot conflicts with Biden's own town hall event, hosted by ABC.
Trump's town hall event will be helmed by NBC News Today anchor Savannah Guthrie, while Biden's will be chaired by ABC News chief anchor George Stephanopoulos. Both are scheduled to air today at 8:00 p.m. ET.
Author Tomi Ahonen, who has added "FireChuckTodd" and "BoycottNBC" to his name on Twitter, writes: "On NBC Town Hall, Chuck Todd #FireChuckTodd is one of main architects of this mad move to damage voter information by scheduling their Trump Town Hall against previously scheduled Biden Town Hall. Chuck Todd needs to be fired & NBC & its owner Comcast investigated #BoycottNBC."
According to CNN anchor Brian Stelter, an NBC executive had contacted ABC asking for Biden's town hall to be pushed back to 9:00 p.m. from 8:00 p.m. ET.
"On Wednesday evening, I'm told, an NBC exec reached out to their ABC counterpart to see if ABC would be willing to shift the Biden town hall to 9pm. Nope. ABC was first, and made a commitment to the Biden campaign. Why change now to help bail out NBC?"
The movement to get #FireChuckTodd trending on Twitter was seemingly amplified by Twitter account @people4kam. The account also suggested that Todd, who is political director for NBC News, secured the slot for Trump.
Newsweek has contacted NBC for comment.
"Can we please get #FireChuckTodd trending? Comment #FireChuckTodd below," @people4kam tweeted. The account shared a screenshot hours later showing the hashtag trending on Twitter, writing: "WE DID IT!!!!"
Todd hosts Meet the Press—a political reporting and analysis show that looks at national trends and updates researched by the NBC News politics team. Taking place on Sunday mornings, the public affairs show, which has interviewed American politicians and world leaders, has been running since 1947.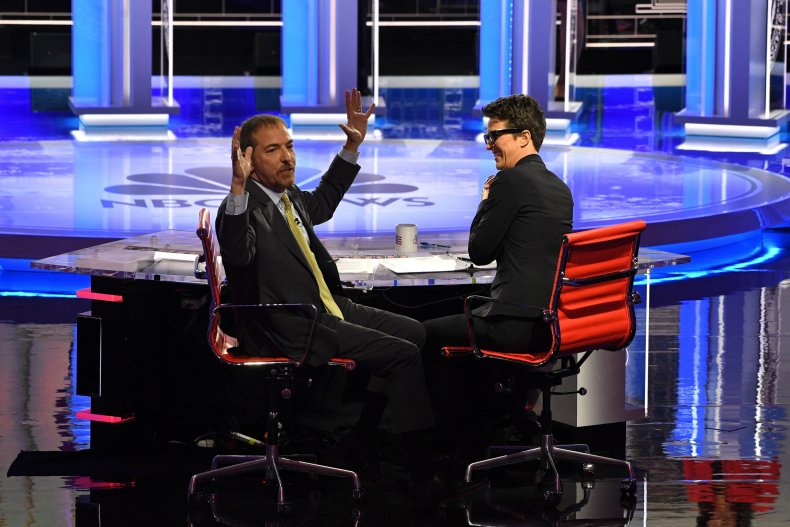 Other political commentators shared their dismay at the move by NBC.
Carl Bernstein, journalist and author: "How is that NBC News has allowed itself to get conned by Donald Trump and (as of 11 pm Wednesday) continues to abrogate the public trust by not re-scheduling or taping-and-delaying broadcast, or canceling if Trump continues to demand the network's obeisance?
"What's happened here? First Trump evades debate commission rules and protocols; then NBC allows him a town hall on equal footing with Biden, who has agreed to and followed the commission's rules [ok, perhaps barely defensible this part]."
Bernstein, an investigative journalist known for working with Bob Woodward and reporting on the Watergate scandal, also suggested that the broadcaster is being manipulated by the president.
"I was Washington Bureau Chief for ABC in 1980-1981 when myself and CBS/NBC bureau chiefs made decisions that neither POTUS Carter nor POTUS Reagan could get free airtime from the White House for slyly political broadcasts.
"Point being that our networks would not let even the President dictate how and when we covered him: and we resisted being manipulated. Forty years after we established the principle, NBC has been manipulated and conned."