Cam Newton or Colin Kaepernick? Newton Cut on Day Before 5-Year Mark of Kap Kneeling
Wednesday marks the 5-year anniversary of former NFL quarterback Colin Kaepernick taking a knee during the national anthem at a preseason game. One day before that anniversary, Cam Newton was cut from the New England Patriots as its quarterback.
Newton and Kaepernick were drafted in the same year, and their careers have taken both similar and different paths. Both were at the top of their game. Both took their teams to a Super Bowl. Both were dual-threat quarterbacks and both are household names.
Over the last year, they've been compared to each other for their quarterback prowess. Newton played for the Carolina Panthers for the bulk of his career, but he was released in the summer of 2020. During his free agency, many fans thought Kaepernick should be signed by an NFL team.
Newton landed with the Patriots last offseason while Kaepernick remained unsigned by any team.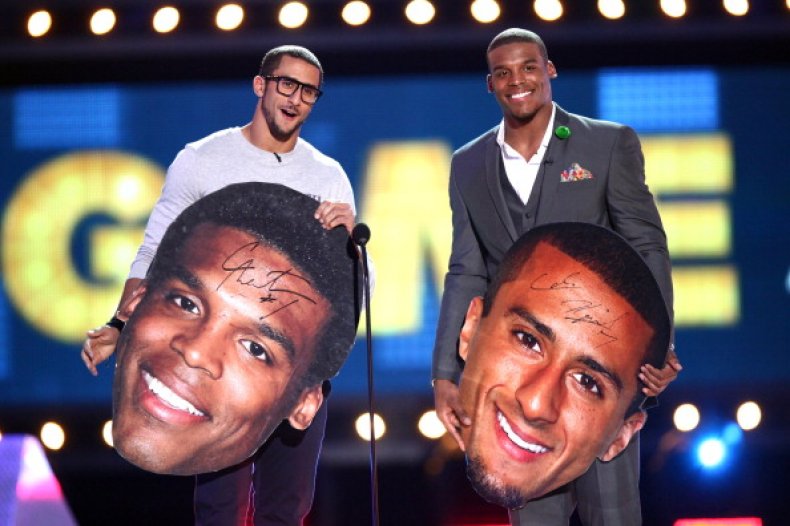 Newton was cut by the Patriots on Tuesday as they've named rookie Mac Jones from Alabama as its starter next week against the Miami Dolphins.
Wednesday marks the 5-year anniversary of Kaepernick taking a knee during the national anthem to protest police brutality against Black people in America. In the summer of 2020, after nationwide Black Lives Matter protests following the death of George Floyd in Minneapolis, people said Kaepernick deserved another shot at the NFL.
When Kaepernick began kneeling during the anthem in 2016, he said it was "bigger than football" and more of a way to bring attention to "bodies in the street."
"I am not going to stand up to show pride in a flag for a country that oppresses black people and people of color," Kaepernick said in a post-game press conference in 2016. "To me, this is bigger than football and it would be selfish on my part to look the other way. There are bodies in the street and people getting paid leave and getting away with murder."
Newsweek contacted a Kaepernick representative ahead of the 5-year mark, but they said his schedule was too busy for an interview.
Now that Newton and Kaepernick are both available for any team needing a signal caller, and there are teams needing either a backup quarterback or better starting quarterback, here are the stats and history of the two players.
Age
Kaepernick: 33
Cam Newton: 32
Year/Round Drafted
Kaepernick: 49ers (2011, Round 2, 36th Overall)
Cam Newton: Panthers (2011, First Overall)
College Highlights
Kaepernick: Only NCAA QB to pass for 10,000 yards and rush for 4,000 yards in a career (and still the only one). Guided Nevada to 34-31 win over Boise State in 2010, ending the Broncos' 24-game winning streak.
Cam Newton: Won the 2010 Heisman Trophy and every major quarterback and player of the year award with Auburn while guiding the Tigers to a 14-0 record and national championship. In 2009, Newton guided Blinn College to the NJCAA national championship.
Super Bowl Appearances
Kaepernick: (2012, Lost to Baltimore)
Cam Newton: (2015, Lost to Denver)
Major NFL Awards
Kaepernick: None
Cam Newton: 2015 NFL MVP
Career Regular-Season Record
Kaepernick: 28-30 (48% win percentage)
Cam Newton: 75-63-1 (54%)
Career Playoff Record
Kaepernick: 4-2 (66%)
Cam Newton: 3-4 (43%)
Career Passing Yards
Kaepernick: 12,271
Cam Newton: 31,698
Career Passing Touchdowns
Kaepernick: 72
Cam Newton: 190
Career Completion Percentage
Kaepernick: 59.8
Cam Newton: 60.1
Seasons with 3,000-plus passing yards
Kaepernick: 2 in 6 seasons
Cam Newton: 8 in 10 seasons
Career Rushing Yards/Touchdowns
Kaepernick: 2,300 yards/13 TDs
Cam Newton: 5,398 yards/70 TDs
Game-Winning Drives
Kaepernick: 7
Cam Newton: 17