A weather camera in Round Rock, Texas, captured an intimate glimpse of a tornado touching down as extreme weather raged through the state.
Emily Giangreco, a reporter with Austin ABC affiliate KVUE, shared a video of one of the station's weather cameras taking "a direct hit from the tornado that touched down in Round Rock" to Twitter on Monday. The camera was positioned near the Austin suburb's Kalahari Resort.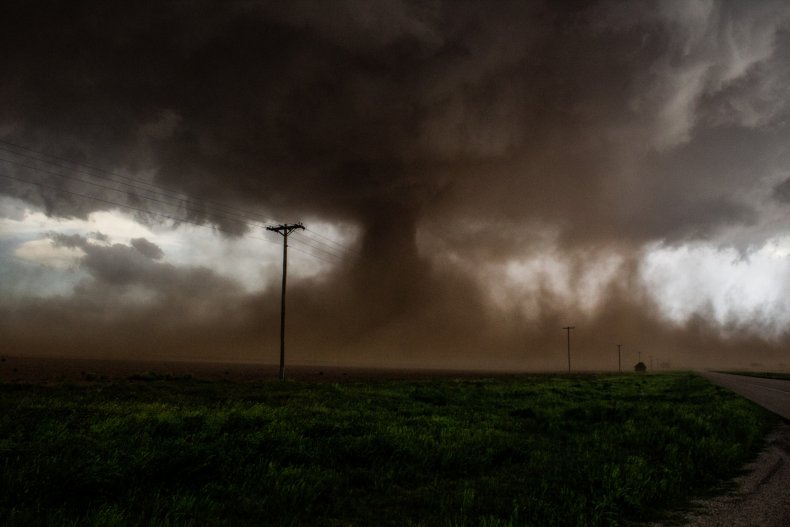 "What you're watching is a time-lapse of what was a tornado sweeping through Round Rock on our Kalahari Resorts and Conventions cam," a KVUE reporter says in the video. "That is a very large and organized tornado. And it caused some damage also, we saw the footage."
Several other videos posted to social media also appeared to show the tornado touching down, ripping apart buildings and overturning vehicles in its wake. A dramatic video taken at a local Walmart shows debris flying through the air as the tornado approaches, with a person pleading with those still in the parking lot to "run" to shelter inside.
Earlier in the day, AccuWeather had warned of "explosive weather" across Texas and Oklahoma. The forecaster later reported that tornadoes caused "extensive damage in multiple states," including a Bank of America building that was "almost completely wiped out" in Round Rock.
The Round Rock Police Department tweeted that officers were "assessing the damage caused by the reported tornado" at around 6 p.m. local time, adding that there were "reports of structural damage to multiple homes and businesses." Locals were asked to keep off of roads and remain sheltered. Temporary shelters were established in at least two locations.
During a press conference held at around 8:30 p.m., Round Rock Fire Chief Shane Glaiser said that crews had nearly completed a "primary search." No significant casualties were found, although crews were "starting some of the secondary searches just to confirm that nothing was missed."
"As of right now, we do not have any confirmed fatalities, minor injuries only," Round Rock Police Chief Allen Banks said during the conference. "Extreme structural damage and we have vehicle damage as well.... We are currently assessing the damage in the air."
A National Weather Service (NWS) spokesperson confirmed to Newsweek that Round Rock's Kalahari Resort had suffered tornado damage, with a nearby Chili's restaurant also taking damage. A tractor trailer was spotted overturned on Interstate 35, while several other vehicles were also reportedly damaged.
The spokesperson said that the Austin/San Antonio NWS office plans to survey damage caused by the "likely tornado" in the "entire area" on Tuesday, noting that significant tornado damage was also spotted to the east of Round Rock in Hutto and to the northeast in Granger.
In addition to the Austin suburbs, significant tornado damage was also reported about 200 miles north in Jacksboro, Texas. Photos on social media appeared to show Jacksboro High School's gym destroyed, while an elementary school and an animal shelter were also said to have taken damage.
Monday's extreme weather extended from southern Oklahoma and northern Texas to San Antonio and the Brazos Valley, which is located just north of Houston. The full extent of the related damage and casualties is not yet known, with the storm expected to continue its path and touch Houston on Tuesday.
The storm came about three months after an unprecedented wave of tornadoes struck six Southern states in December, resulting in nearly 100 deaths, hundreds more injuries and billions of dollars in property damage.